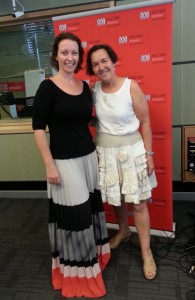 Jane is excited to be merging her creative and communication skills into a campaign of her own making after years of running them for others.
Sew it Again 2014 will see Jane demonstrate upcycling through daily garment creation, share knowledge through social media and talks, empower others through upcycling workshops, and enjoy wearing clothes that are ethical, sustainable and original.
The project links Jane's memories of childhood, training as an agricultural scientist, communications expertise, agribusiness networks and love of nature into the important ecological health issue which is our burgeoning global mountain of textile waste.
Research during 2013 with the Australian Rural Leadership Foundation and James Cook University confirmed Jane's instinctive belief that we are churning through textiles at an unsustainable rate – global consumption of textiles has grown three-times faster than the world's population.
According to recent figures*, world apparel fibre consumption grew from 39 million tons in 1992 to 70 million tons in 2010 – an 80 per cent increase in fibre consumption over an 18-year period, with most of the growth being in synthetic (non-cellulosic) fibres. During that same period, the global population rose 25 per cent, from 5.5 billion in 1992 to 6.9 billion in 2010.
This escalating growth in consumption of fibres seems a kind of madness driven by unconscious greed, 'look-at-me' fast fashion and a churning desire for newer, brighter and supposedly 'better' clothing.
Of course we all enjoy new clothes and dressing well but like fast food, fast fashion is leading to over-consumption for the wrong reasons which may include chasing trends, wanting to fit in, retail therapy and stress relief.
Jane has been rescuing discarded natural-fibre clothing from op shops and other sources for years because she values them as natural resources. That's why she is making this commitment to upcycling garments from her own and others' wardrobes as a way of creating and sharing a different way of dressing that is mindful of the Earth's finite resources.
It is a commitment Jane hopes to meet, even while travelling to various locations in Australia – around Queensland, Western Australia, New South Wales and the Northern Territory – and perhaps overseas as well – inspiring upcycling wherever she goes.
Jane launched the campaign in December 2013 in an interview with ABC Local Radio's Rebecca Levingston Follow the project on www.sewitagain.com