We believe in being conscious of the social and ecological impact our choices. We have identified five key ethical issues associated with contemporary clothing culture.
Increasing consumption
In the past two decades, world apparel fibre consumption doubled (increased 100%) while global population increased by 30%. Individual annual average consumption was 7kg in 1992, and increased to 13kg/person by 2013. The graph below complied by Textile Beat using data from various sources, show the comparison between global population increase (blue line) and individual textile consumption (red line).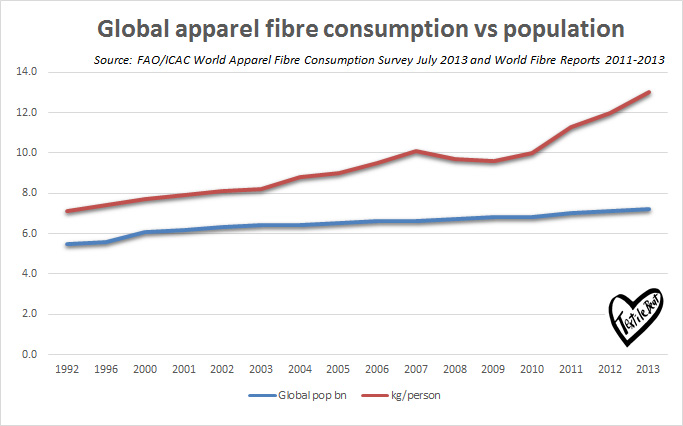 The graph below shows Australians buy 27 kg of textiles annually, making them the second-largest consumers of new textiles after north Americans who buy 37kg each, and ahead of Western Europeans at 22kg while consumption in Africa, the Middle East and India averages just 5 kg per person. (Graph from Textile World, 2015)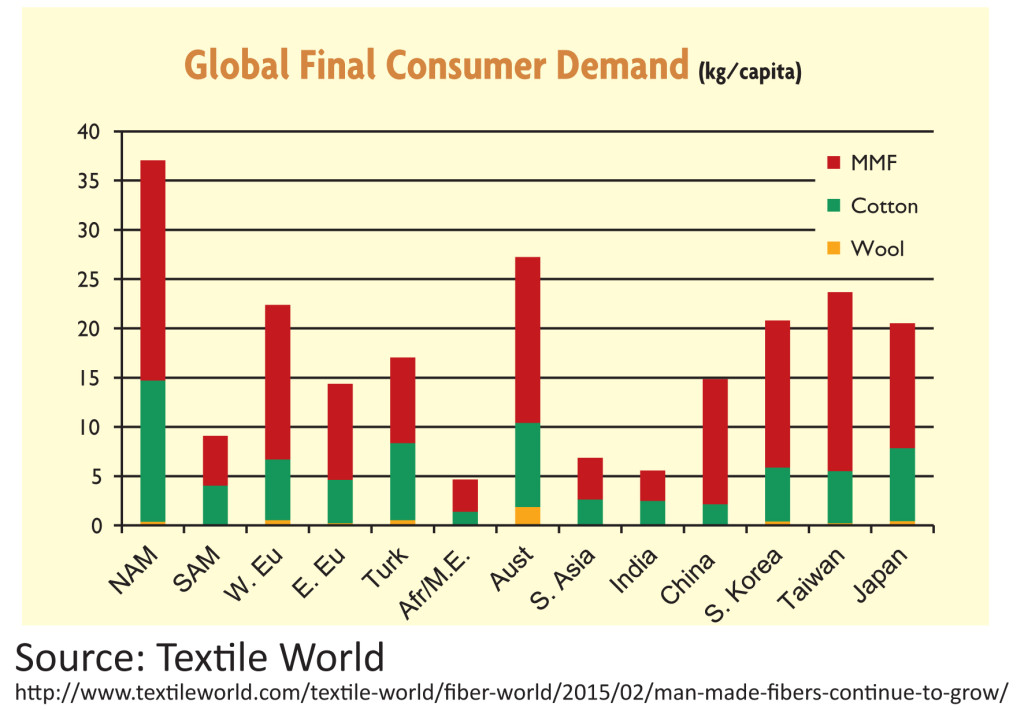 Change in fibres
Two-thirds of new clothing is made of synthetic fibres, which are derived from petroleum. Research in 2011 by ecologist Dr Mark Browne found thousands of microplastic particles are being shed from synthetic clothing with every wash. Synthetic fibres are plastic and take decades to decay in landfill. Natural fibres are biodegradable.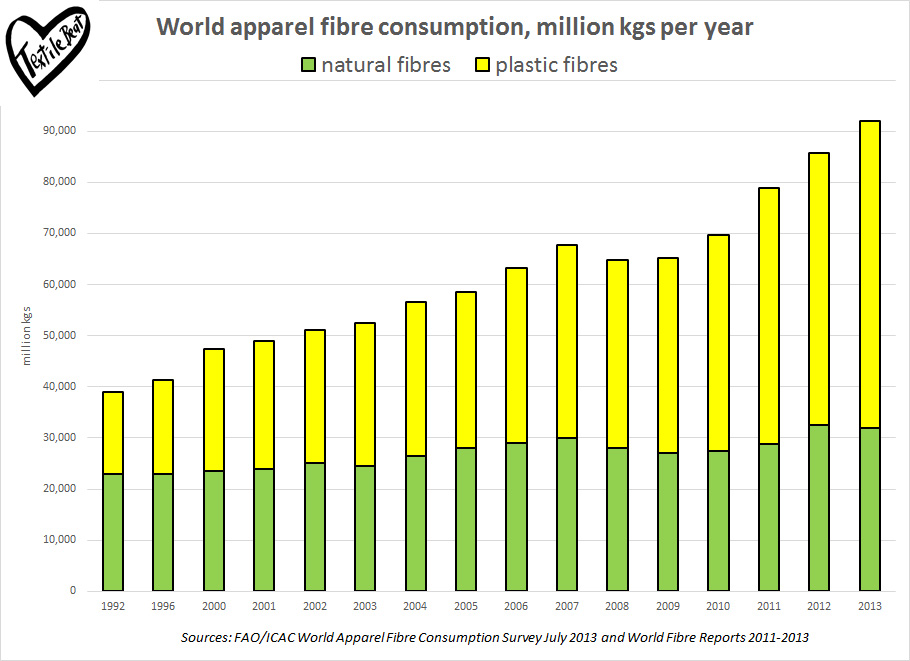 Modern-day slavery
The dark underbelly of fast fashion and cheap clothing was exposed when the Rana Plaza factory collapsed in April 2013, injuring thousands and killing 1133 people. We are part of Fashion Revolution and Fashion Revolution Day on April 24 which honours those workers and encourages us to ask #whomakemyclothes and Be Curious, Find Out, Do Something. 
Waste
Nearly 1/3 of clothing goes prematurely to landfill in the UK – and similarly in Australia.
Australia annually ships 70 million kilograms of cast-off clothing to developing nations, sold for $1/kg. While this has some positives, it is a way of exporting our waste.
Many people have bulging wardrobes, with many garments rarely worn.
Australian Bureau of Statistics figures indicate 500,000 tonnes of leather and textiles are discarded each year and only a fraction of this is recovered through charitable recycling.
Loss of skills and knowledge
There is a lack of respect for the time and resources involved in making clothing
The loss of simple sewing skills means an inability to repair, or replace buttons
This lack of knowledge and skills creates dependency and a lack of autonomy
Textile Beat's philosophy aligns with The Earth Charter which recognises our global environment has finite resources. It specifically relates to ecological integrity as outlined in Principle 7a: Reduce, reuse, recycle the materials used in production and consumption systems. It also aligns with the United Nations' 2030 Agenda for Sustainable Development goal to ensure sustainable consumption and production patterns.