Jane Milburn of Textile Beat shares the slow clothing philosophy by working with councils, teachers, schools and community groups, and presenting talks and workshops.
Read more here: Introducing Jane Milburn of Textile Beat 2018
Our schedule of rates and offerings is outlined here: Textile Beat offerings 2018   To discuss opportunities, contact Jane on 0408 787 964 or jane@textilebeat.com
ACTIVITY for 2018 includes:
Soul Craft Festival talk and workshop, Melbourne – June 9
Turramurra Library workshop, New South Wales – May 19, 1-4pm
Logan West Library talk – April 21, 2-3.30pm
Beenleigh Library workshop, April 21, 10am-noon
Women on Farms Gathering, Mornington Peninsula, Victoria 15-17 March
Hunter Valley library sessions, New South Wales – 8-10 March
Simple Living session, Toowoomba – Saturday March 3
Logan North library talk – February 17, 10.30am
Artisan, Fortitude Valley Brisbane, conversation about clothes – February 10 at 2pm
Frank Fenner Foundation talk, February 7 at 5.30pm ANU Canberra SlowClothingflyer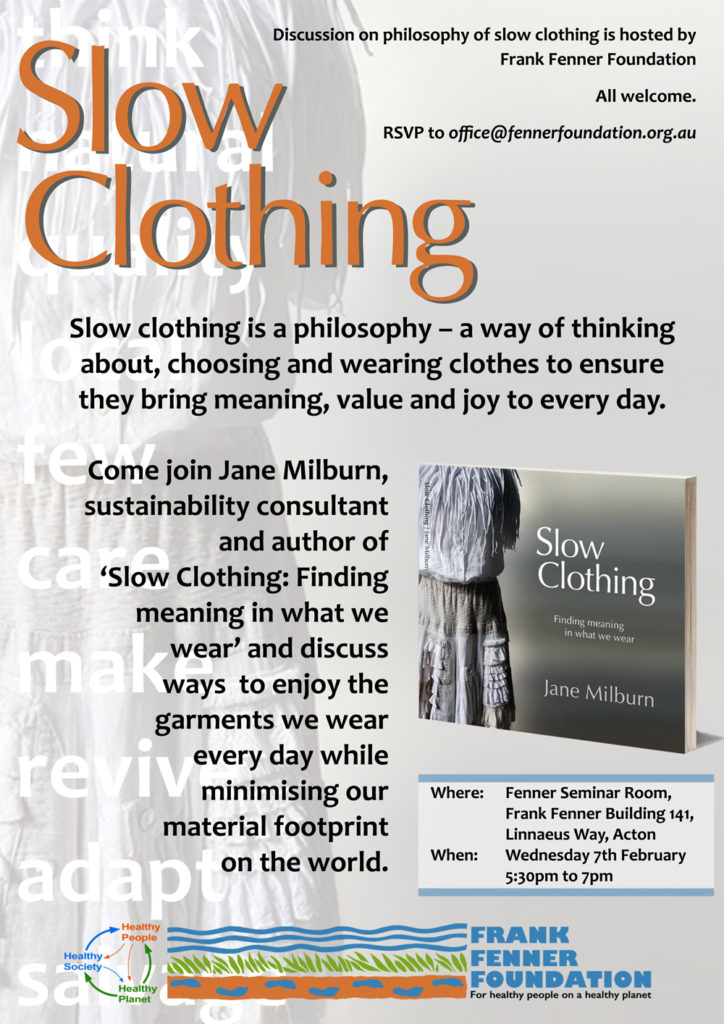 Slow Clothing Canberra with Richard Denniss – Canberra launch February 7 at 12.30pm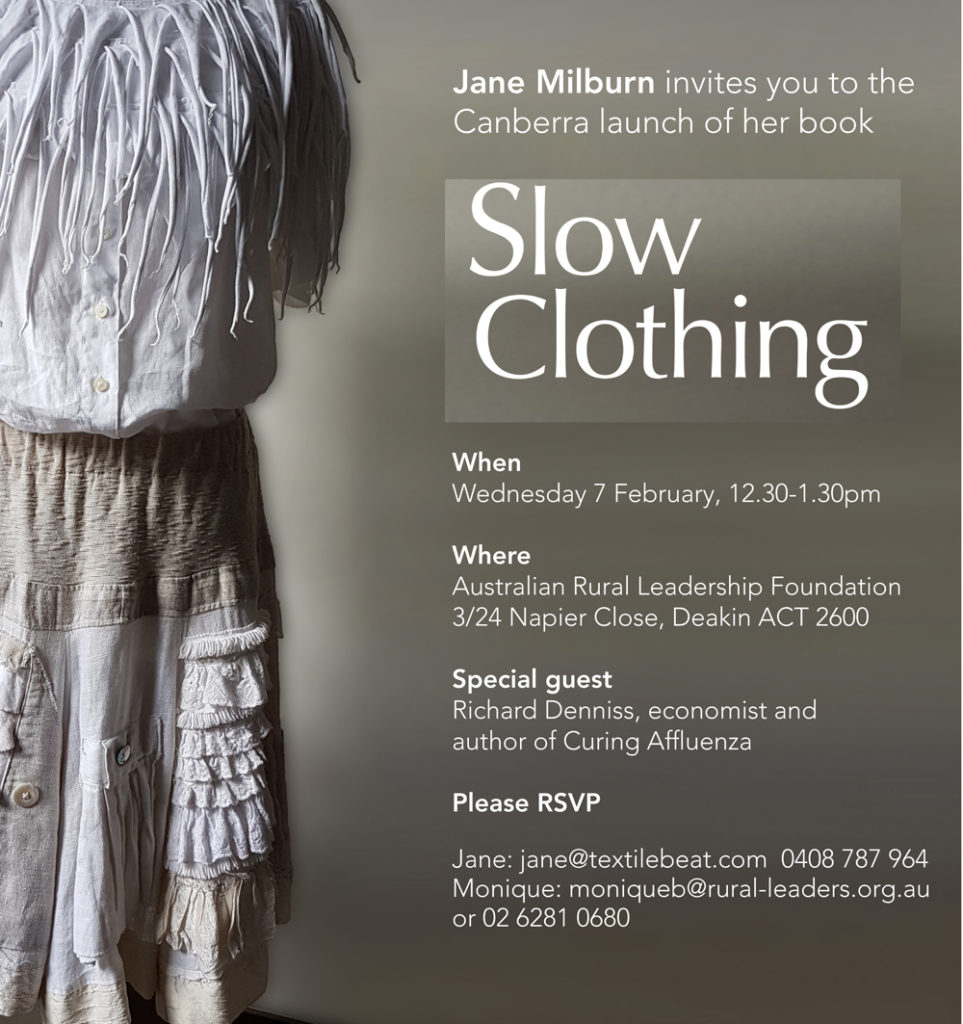 Scenic Rim Regional Council libraries – January 15-16
ACTIVITY for 2017 included:
Slow Clothing the book – Brisbane launch only December 9
Slow Clothing the book – Sydney launch December 5 from 6pm at The Happenstore
Clothing Repair Cafe – November 18 – Reverse Garbage Queensland
Eco Fashion Week Australia – eco-seminar and workshop – November 25
Slow Clothing talk at Fair Harvest Permaculture Margaret River WA – November 26
Slow Clothing – Brisbane book launch – December 9
TEDxQUT – April 8
April 22 – Beaudesert – Earth Day 
Fashion Revolution Week – April 24-30
Hillbrook Sustainability Day – May 13
May 19-21 – Makers Escape at Montville with Ministry of Handmade
Griffith University Eco-centre talk – May 24 book a place here
Clothing Repair Cafe – Reverse Garbage – 5 August 1-3pm
Natural fibres conversation – Ekka – 16 August
ReviveBNE – August 18 – pop-up secondhand fashion festival with workshops
HEIAQ regional workshops –  Townsville 25 August and Cairns 14 October
Bribie Island Seaside Museum – upcycling – August 31
WORKSHOPS
We are limited only by our imaginations. We have fun. We work with whatever we have, with all age and experience levels. We adapt, refashion, repurpose, restyle and reinvent using no-sewing, hand-sewing and machine-sewing techniques. We prefer to work with natural fibres.

TALKS
Our clothing story – covers ethical dilemmas

Slow clothing manfesto – ways to be sustainable and reduce your material footprint

Turn passion into purpose – harnessing your creativity for good

CONSULTANCIES, COMMISSIONS and other things
We influence and inspire change by campaigning for a more sustainable clothing culture.        We provide writing, editing and strategic communications advice for clients.
We create skirts and shifts from favourite clothes that are no longer useful as they are.             History skirts/shifts – made with a story of recreation from bits/pieces of favs/castoffs               Memory skirt/shift/quilts – made as a wearable memory, from clothes of a loved one gone.
Values 
Textile Beat values authenticity, individuality, autonomy and purpose. We are committed to inspiring creative reuse of natural fibres, sharing traditional skills of sewing, mending and modifying. Our work aligns with the United Nations' 2030 Agenda for Sustainable Development: goal for sustainable consumption and production patterns.Contact Jane on 0408 787 964 or jane@textilebeat.com