Bron Berkin's wardrobe is 100 percent restyled, secondhand clothing, upcycled, and vintage pieces. Her love of vintage fashion, stunning fabrics and workmanship of a bygone era – and her attraction to the unique – led Bron into upcycling and recycling preloved clothes as her work evolved from loving and selling original vintage to hand-making individual pieces using vintage fabrics and material that was retro quirky and different.
She now runs a small business designing, sewing and upcycling at Yeppoon in central Queensland. 'It has been amazing to see people embracing what I was doing and enjoying the 'one-off' pieces!"
Bron grew up watching her mum and grandmothers sew, crochet and knit as a means to hand-make all of their clothes, which growing up on a farm all those years ago was done out of necessity.
"This upbringing instilled in me the love of sewing and creating. Observing something transform from a square piece of material to being able to wear it is so satisfying," she said.
"My own favourite garments are vintage dresses and others I have handmade from recycled, secondhand fabrics and garments."
Bron sources the majority of fabrics from secondhand shops, op shops, trash and treasure markets where I seek out vintage crochet tablecloths, vintage curtains, bedspreads, blankets materials, T-shirts, buttons, doileys and other textiles.
"I pride myself on not conforming to up-to-date fashion and always add my own twist of
uniqueness!"
Bron has teamed up with The Slow Clothing Project because she believes it is a worthwhile and exciting challenge – and it is her passion to change people's perceptions of disposable mass-produced society as the norm and to share the creative process of upcycling.
One of her favourite upcycles is a reworked T-shirt dress made from a man's over-sized T, from which she cut off the sleeves then used the leftover material to add length to the T-dress and used the hem part of the shirt for shoulder straps so that most of the original garment is utilised.
The photos below are of Bron's Wolf Tee Dress, which was a pre-loved T shirt from which the back was removed and replaced with vintage fabric so it becomes a halter-neck style dress known as The Wolf Tee Dress.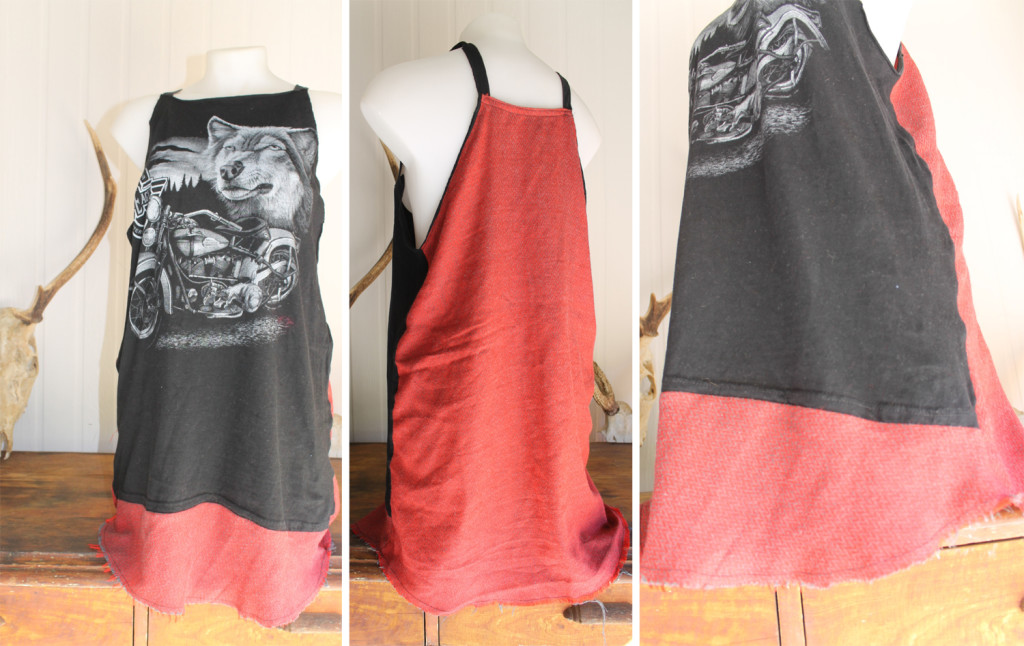 Another of Bron's favourite re-creations is turning vintage tablecloths into easy-to-wear dresses, sometimes even wedding dresses!!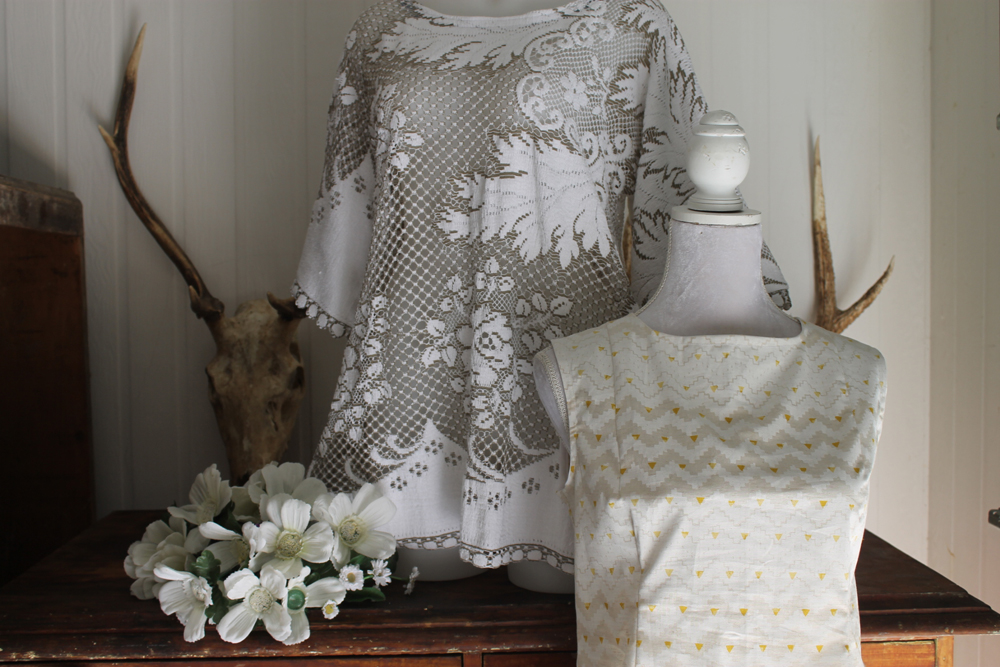 "I am passionate about trying to make a small difference and influence change, when it comes to fast fashion and mass production. I find the culture of consumerism is typical of today's society with the 'quick-fix syndrome' better known as the so-called retail therapy.
"Like everything in society, there is fast food, fast fashion, quick fixes and no responsibility or awareness of the conditions from which our many consumables are made.
"It is refreshing to find many of us becoming more and more aware of becoming conscious consumers – and we need to have more sewing classes in schools to teach the importance of sustainability by reusing, recycling and upcycling clothing."
Bron was the 2015 winner of the Art to Wear Awards at Yeppoon in central Queensland run by Desley Cowley. You can find Bron's creations on Facebook at The Gypsy and The Officer.