Although it may not be practical for everybody to go back to making everything for themselves and being completely self-sufficient, Western Australian Julie Livingstone believes it is good for our mental wellbeing to be able to create something.
This is part of what's described (in Womankind Magazine #9) as 'living directly' or facing the world in its raw form, rather than through mediated experiences. Examples of living directly are cooking, sewing, chatting to others in person or patting the cat – whereas mediated living is experiences where someone else (film director, advertising executive or social media tools) is shaping the reality for you. 
Based on a semi-rural property in the hills outside Perth, Julie likes to 'live directly' spending time just pottering around in the garden. "There is a terrific feeling of satisfaction to be gained from getting one's hands dirty, and making something oneself. As an example, a couple of years ago I picked up an old wooden office chair from the side of the road when it was council clean-up time, and although it sat in the shed for some time before I was able to start, I have now fixed it and re-upholstered it. I'd far rather do that than go to a big box store and buy a new one," she said.
"We simply can't go on the way we have done in the past, it just isn't sustainable. And I think it's not healthy either, in an emotional way. It's so easy for people to think they have to have the latest thing, and strive to get it, but once they have it there is always something else on the horizon which seems equally desirable. The satisfaction is very short lived, and that's not right."
Julie is part of The Slow Clothing Project because she supports the ethos and is horrified to realise how much clothing just goes to waste every year. She loves the idea of creating something new and wearable from clothes that other people have discarded – and quite often reconstructs or remodels clothes bought from op shops.
While it does sometimes give her pause that she has taken several perfectly good garments, and made only one new one – she knows that a large percentage of the clothes donated to op shops don't get sold and end up being shipped overseas (often to finish as landfill) so that makes her feel a bit better about it.  She wears the garments she makes, and the leftover scraps are often kept for future projects. "It's true that what I do throw away ends up as landfill in this country, but I've had the satisfaction of making something I enjoy, and I buy less new fabric to feed my sewing habit," Julie said.
She is fascinated by the effect of wear on fabrics, and how they are changed by being made into clothes and worn. For this project, Julie unpicked parts of denim garments, which fade and acquire beautiful patterns along seams, hems and waistbands. There is an effect reminiscent of shibori dyeing, which she thinks can be too beautiful to throw away.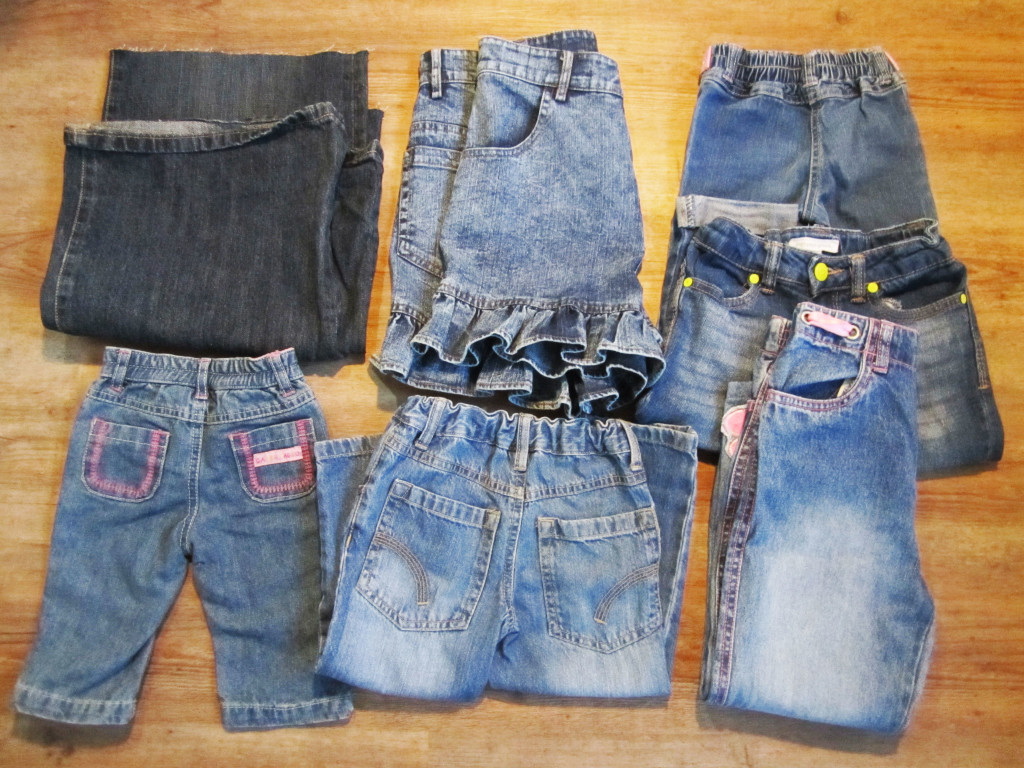 The vest is made from denim, several pairs of children's jeans and some legs cut from jeans after converting them into shorts. Children's jeans are cheap in the op shop, usually only $1 or $2, and they have a bigger proportion of waistbands, hems etc to fabric, plus the fabric is not as heavy as adult jeans and therefore easier to work with. I unpicked the waistbands, hems, pockets, and any other suitable areas that I could find – many hours with a seam ripper! I chose a jeans jacket pattern, stitched pieces together again to create fabric large enough to make a denim vest which I lined with fabric taken from an old sundress (from the op shop), and piped around the facings etc. with a contrasting bias strip."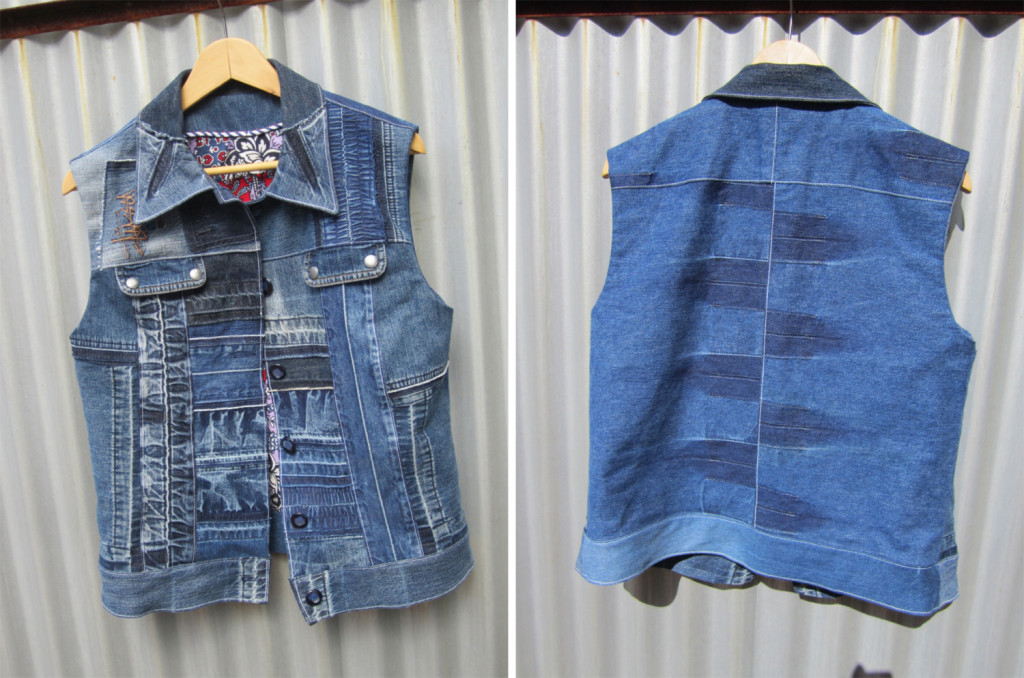 This vest and a jacket were Julie's entries into this year's Castaway to Couture contest run by the Australian Sewing Guild. Julie won second prize with the jacket! All of the winning entries can be seen on the Guild's blog here.
Julie actually started learning to sew so long ago that she doesn't really remember how! But, what she does know is that she hasn't finished learning yet – there are always new ways of doing things and more skills to perfect.
"I've sewn clothes for myself, children, other family members, soft furnishings, dance costumes to name just a few. Oh, and fancy dress for my daughters when they were young, and their ponies. Not as much of my wardrobe is handmade as I'd like, I tend to spend quite a lot of time making just a few things, but I like to make as many of my own clothes as possible."
"I have been sewing as a hobby all my adult life and now that my children are grown up and have left home, I have more time to develop my skills and creativity. I joined the Australian Sewing Guild two years ago, and I'm finding it an excellent way to network and connect with others with similar interests," Julie said.
Advice for people starting to sew and make more of their own clothing? "Just get on and do it! There are often sewing classes, and if you can't get to a class there are plenty of videos, tutorials etc all over the internet. Or ask family or friends, maybe some of them know how to sew and would help." And you might want to get in touch with the Australian Sewing Guild because its mission is 'sharing and furthering the art of sewing'.