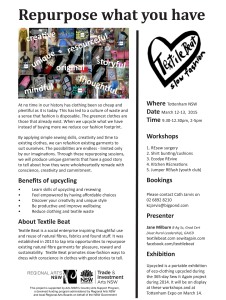 Amid society which celebrates constant consumption of new stuff, a small community in the geographic heart of New South Wales is planning an event to embrace the repurposing of old.
Tottenham has chosen repurpose as the theme of its community expo on 14 March 2015, with upcycling workshops planned for March 12-13, a Waste to Art competition and the Sew it Again portable exhibition to illustrate creative reuse opportunities.
Through a series of five workshops, Brisbane-based upcycler Jane Milburn will guide locals in the discovery and exploration of their creative potential through the medium of under-utilised natural fibres.
"There are more clothes in the world now than at any time in our history. Because they seem to be so plentiful and relatively cheap to buy new, they're often treated as disposable and only worn once or twice before being cast aside," Ms Milburn said.
"What we'll be doing at the Tottenham workshops is taking a second look at existing clothing, textiles and old kitchen linen – then using simple techniques like home-sewing, cutting and eco-dyeing to repair, restyle or repurpose them for another go at life.
"I upcycled every day last year with the 365-day Sew it Again project www.sewitagain.com. I'm looking forward to sharing ideas with resourceful country people who are not (geographically) in a position to run off to the shops and appreciate the value of our natural resources.
"Upcycling can be as simple as taking up a hem, cutting off the sleeves or neckline and replacing buttons. Just as we've rediscovered the value of traditional home-cooking for health and nutrition, home-sewing and repair skills enable us to dress with conscience and story."
Ms Milburn is an agricultural scientist who values sustainable resource use, champions natural fibres and believes in slow-fashion awareness of who made your clothes and what from.
"When you buy cheap new clothes you are often buying into a global supply chain that is exploiting people and the environment. When you buy synthetic fibres (which 2/3 of new clothing is) be aware these fibres are derived from petroleum, coal or gas and shed microplastic particles into the wastewater stream every time they are washed," she said.
"When you repurpose natural-fibre clothing resources that aren't used in their current form you are engaging in conscious, individual and affordable dress. You also have a good story to tell about what you wear – it is sustainable, zero footprint, organic and the ultimate in green."
Tottenham Community Expo is run by Tottenham Welfare Council and is providing upcycling workshops on March 12-13 with a grant from the Regional Arts NSW Country Arts Support Program. For more information about the workshops, contact Catherine Jarvis on 02 6892 8210.