Slow clothing is a grassroots response to fast fashion that considers the ethics and sustainability of garments, values provenance and artisan skills while focusing on timeless style, comfort and connection.
Brisbane-based textile artisan Jenny Jackett is the latest maker to feature as part of The Slow Clothing Project and she knows all about slow making! Jenny spins natural fibres, dyes with natural dyes and hand-weaves her own and purchased yarns on a foot-powered loom to make unique handmade creations – such as this spectacular coat of many colours made from offcuts.
Jenny has eight garments in her wardrobe that she has handwoven and made up for myself, with quite a few others sold and in stock for sale through her Textile Artisan website.
"The word handmade typically implies good quality," Jenny said. "It means that an item has been created with thought and care and to fulfil a need. The skills to create our needs are often learnt from our parents or other tutors and can also be self-taught."
"I think that if children can be taught the value of consideration in all aspects of life it would a good basis for a better world. The word 'consider' is derived from the Latin verb 'to examine'. Simply put, we should learn to think more about the consequences of all of our actions, especially as parents and educators."
Growing up in earlier times, Jenny was fortunate to learn to sew on her Mum's treadle sewing machine when she was young and she has made all sorts of garments, including school uniforms and sewing repairs as a small business.
"After Dad returned from World War II, the family moved into a shack on a bush block in the lower Blue Mountains. It was quite a change for my mother who had, with a friend, been a designer and maker of garments above Elizabeth St in Sydney. Without mains power, Mum used a treadle sewing machine to make and mend all our clothes and furnishings. I loved making things and was encouraged to use the machine as soon as I mastered the treadle. My childhood was a happy one. We learnt vicariously to make the most of what we had and to be proud of what we made. Hand and machine sewing were taught in primary school back then," Jenny said.
"I sewed for myself and my three children using the Enid Gilchrist pattern books. Whilst living in north-west New South Wales, I purchased a spinning wheel from the David Jones catalogue. This led me to natural dyeing and to making an Inkle loom to weave men's neckties which I sold. Weaving with hand-spun yarn became a compulsion and I have continued with it for more than 50 years!!"
"In weaving, I create from the fibre to the finished item including label and swing tags. I have observed the weaving traditions of other cultures where lives are lived simply, and the throwaway mentality is not apparent. Simple looms are used to create wonderful textiles."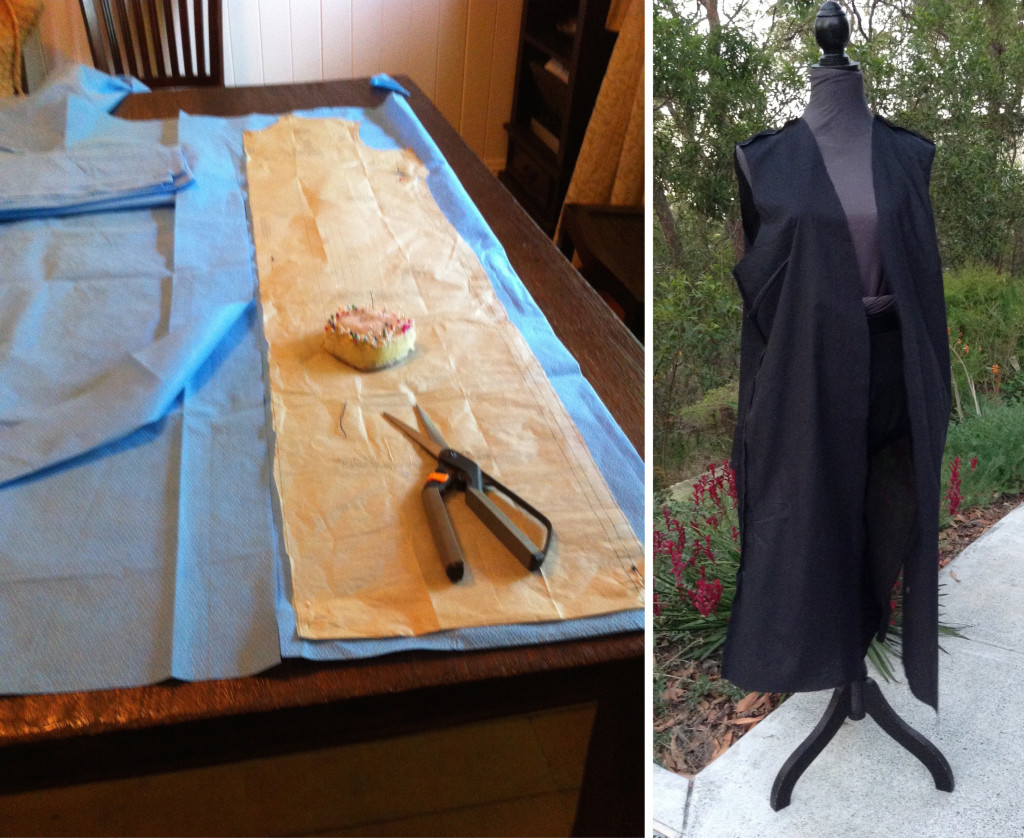 For this garment, Jenny used a range of upcycled materials including: offcuts of her handwoven fabrics that have been cut and made into garments, autoclave sterilization material used for cutting out the pattern, a roll of men's trouser waistband lining which Jenny separated into the stiffener and black bias fabric which she cut down and used to join the handwoven pieces in a true patchwork-style, some black cotton fabric from her stash that was used for lining, four repurposed black buttons and various sewing threads.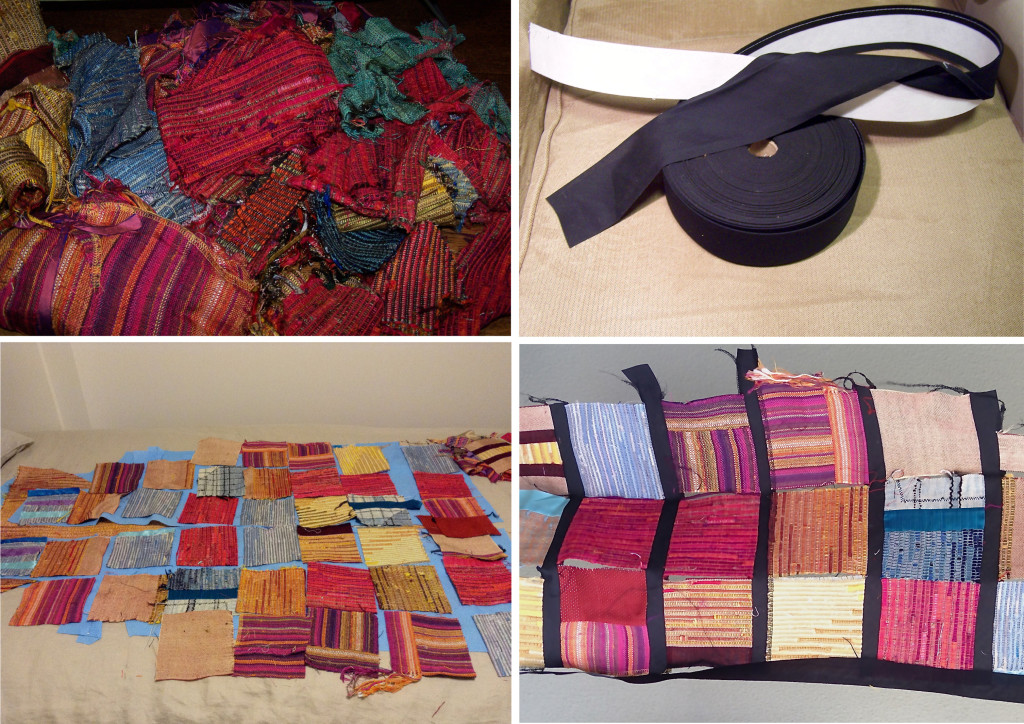 "It was definitely a slow process but it is through the making process that we learn the values of time, effort and quality. We also experience the satisfaction of being independent which leads to feeling confident, happy and useful," Jenny said.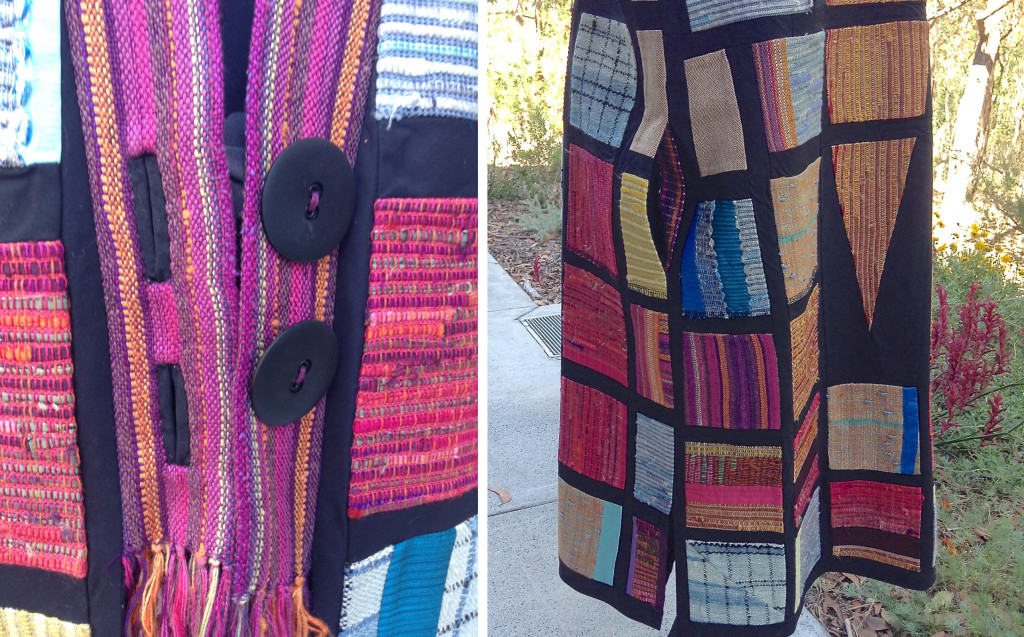 "I fear that consumerism is an out of control juggernaut in every sphere of our lives.  I don't know how it can be slowed except that individuals need to understand the consequences of excesses and take responsibility for their consumption and waste of 'stuff and things'. I consider myself lucky to have grown up in a family and a time when 'make and do' was the way of life for many and my parents were both self-sufficient people."
What if you – like most young people in today's society – grow up without the benefit of learning to sew and are only reaching out to learn now? Jenny's advice is this: "Buy a good pair of scissors. Buy a pattern and follow it carefully. Be patient and be proud of your work. The more that you do, the better you will be!"
Thanks Jenny for your thoughts and fabulously inspiring coat of many colours – it is truly magnificent. 🙂