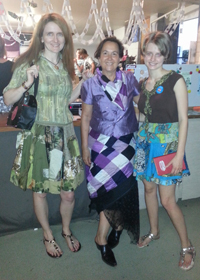 There's nothing like fresh perspective to recalibrate what is important in your life, how best to invest energy and utilise  talents to achieve something for the greater good.
Studying last year for a Graduate Certificate in Australian Rural Leadership through James Cook University and the Australian Rural Leadership Foundation helped crystallise things and this year bring it all together with a creative campaign of my own.
I'm an agricultural scientist by training and my first professional job was as ABC rural reporter working in radio and television in Victoria and Queensland. Now I'm on a 365-day journey with the Sew it Again project to inspire creative upcycling of natural fibre garments and help revive home-sewing as a life-skill akin to cooking.
In between these endeavours, as a communications consultant, I've run issues-based campaigns including the 612 ABC Swap It Challenge for health groups, Save the Aussie Banana for growers and water fluoridation for dentists.
The ARLF leadership study reoriented my thinking about what really matters – and it isn't money or power. I'm interested in values-based leadership mindful of Earth's finite resources, so I'm on a journey of creativity, empowerment, thrift, sustainability, ecological health and wellbeing.
My thinking aligns with that of Huffington Post editor-in-chief Arianna Huffington's Third Metric campaign which is "redefining success beyond money and power to include well-being, wisdom, wonder, compassion and giving".
Sew it Again bridges memories of childhood, professional expertise, agribusiness networks and a love of nature with a desire to raise awareness about our escalating rate of textile consumption which is rising at three times the rate of population growth. FAO-ICAC-Survey-2013-Update-and-2011-Text
Every day this year, I am upcycling and sharing the story of garments created from my own and others' pre-loved natural resources refashioned for a second life to demonstrate a different way of dressing. You can see my creations on the Sew it Again website, or on Pinterest and follow me on Twitter @janemilburn or @textilebeat, or Instagram @textilebeat.
I'm grateful for support from generous family and friends, each helping me in special ways – either financial, technical, inspirational or social – to follow my heart on this creative shift into eco-leadership and an authentic space of my own making.
Also, I'm grateful to Fairfax Agricultural Media for the scholarship I received in 2009 to be part of the Australian Rural Leadership Program which is a gift that just keeps giving.
Photo from left: Gen Robey, Jane Milburn and Belinda Burgess wearing Textile Beat at the Reverse Emporium Love Up-cycled exhibition opening on February 8, 2014.