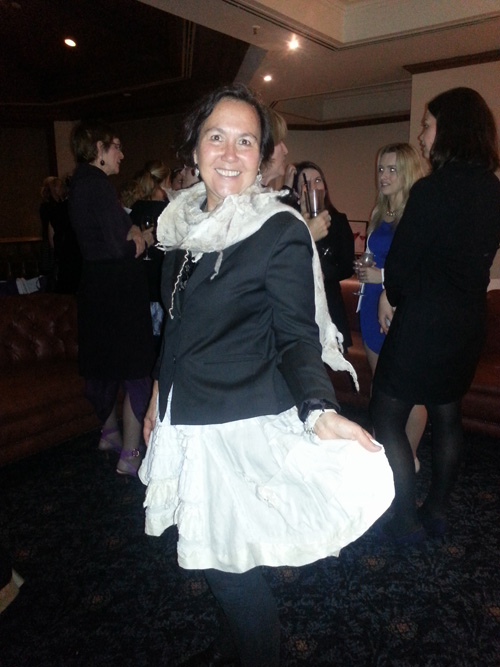 Albert Einstein said no problem can be solved from the same level of consciousness that created it.
Excess consumption of clothing grabbed Jane Milburn's attention because FAO figures show it is has increased by 80 percent in the past two decades, from 7kg each in 1992 to 11kg, when global population only increased by 25 percent. Most of the increase is in cheap synthetic-fibre clothing, made from petroleum.
Jane's consciousness was raised by recent personal experiences and postgraduate study that provided reflection on ways to bring her wide-ranging career and life experiences together in a creative and meaningful way. 
Her 2014 Sew it Again project is a journey into creativity, empowerment, thrift, sustainability, ecological health and wellbeing – woven with threads of childhood, professional expertise, networks and nature.
This year Jane has come full circle. "Like a homing pigeon – I've been out there and now I'm coming back to base. I'm applying everything I've learned through various career roles and professional development opportunities to create a homespun campaign to shift our thinking about what we wear," Jane said of Sew it Again.
"My mother Elizabeth Capon was a home-economics teacher who co-authored a textbook called Focus on Living in 1975 which was a high-school textbook for decades. There are life-skills in every chapter of that book, and amazing foresight in chapters such as The Consumer Role, Your Image and You, and Living Space considering it was written at a time when our me-too consumer culture was just emerging.
"Even though Mum died (from cancer) when I was only 21, at the beginning my career and before I had children – my values, skills and approach to life came from what she taught us.
"It was therefore fabulous, poignant and inspiring for me to be invited by the Home Economics Institute of Australia (Qld) to tell my Sew it Again story at a ceremony to welcome graduands to the profession. And it was fitting to wear my favourite History Skirt – made from textile waste including lace scraps left over from my mother's sewing projects in earlier times."
Jane is sharing ideas every day on sewitagain.com to show how we can reuse what we have in creative ways to conserve and revive existing resources.