Cathy Stuart from Newcastle in New South Wales believes that the act of making something, particularly from reused or old stuff, can create a deep sense of satisfaction, achievement and self-worth for the maker. Resourcefulness and resilience are enhanced. Being able to re-use and re-purpose an object is, in Cathy's view, a key skill in becoming more environmentally sustainable. It reduces our need to consume new resources as well as makes us responsible for managing our own waste.
Cathy is increasingly disturbed by the new 'normal' in how our society of planned and perceived obsolescence operates, driving totally unsustainable levels of consumption. "We are somehow lulled into believing that this is the only way our economy and therefore society can survive. I worry about the world my teenage daughters are growing up in, where cheap fashion is close to worthless one season after it is bought, and op shops are even now struggling to cope with the deluge of clothing and homewares they receive," she said.
"With raising our two daughters, it is very important to us that we challenge the normal way our society consumes. Inherent in driving consumerism is the need to ensure that people are dissatisfied with what they have, who they are and what they look like. I believe this dissatisfaction is driven by advertising, magazines (fashion, beauty, home and lifestyle), TV shows (lifestyle, reality), high usage of social media and going shopping, and is contributing to increased levels of depression and anxiety in our young people (as well as older generations).
"Fortunately, our daughters don't like shopping, are not really interested in Facebook or Instagram or Snapchat, we don't buy magazines (I used to, and felt constantly dissatisfied with our home), limit commercial TV (but do watch Gruen and The Checkout on ABC together!) and often talk about how society tries to tell us what we need to buy to feel better about ourselves.
"I have encouraged 'making' strongly in our home, and if any of us wants something, we try to go down the making, second-hand and borrowing options before buying new (think scout gear for camps, snow gear for recent school trip, dresses for school formals, clothing generally, laptop covers, desks, curtains).
"Our daughters are, I'm glad to report, capable in the kitchen, in the garden (though somewhat begrudgingly), on a sewing machine or with a needle, and with basic tools. They are very happy to have second-hand and upcycled clothes and do not follow the latest fashion fads, in fact aren't really aware of what they are. More often than not, gifts to their friends and family are homemade – shelf unit made from an old pallet, floor cushion and pencil compartment case made from old jeans and fabric, jewellery made from seed beads and wire, and of course multitudes of creative, homemade cards. They do not have a long list of wants for birthdays and Christmas, are mostly happy, engaged, creative and busy (though not with a lot of structured activities) and have healthy self-images and relationships with family and friends. I guess these are the outcomes I consider important in trying to live a life that embraces less materialism and consumerism."
Cathy has always been passionate about textiles and has dabbled in most textile crafts including knitting, crocheting, embroidery, spinning, weaving, fabric painting and printing, macramé, felt making, millinery and papermaking. "As a child, I made clothes for my dolls, at 12 I was making clothes (horribly!) for myself and my younger sisters, I loved sewing at school and in my late 20s, decided I wanted to learn sewing skills to a higher level, so did some subjects of a TAFE Fashion Advanced Certificate. I have learnt a lot by soaking up whatever skills I can through workshops (particularly Textile Fibre Forums), books, classes and now online from the huge worldwide community of makers willing to share their knowledge and ideas," she said.
"I've had a go at making most things over the years – skirts, dresses, pants, jackets, jeans, underwear, shirts for my husband, kids clothes and costumes, bags, cushions, bedspreads, curtains and blinds. I have sewn wedding dresses for myself and friends, formal gowns and wearable art for exhibitions. I made hats for about 10 years, but did very little sewing from 2004 till the last year or so. In that time, apart from being a mum (late in life) and owner-builder, I became very aware and concerned about climate change and environmental issues."
Since returning to sewing with a vengeance, Cathy is now really only interested in using old and discarded garments and textiles, as her making has become deeply influenced by concerns about the waste and huge levels of over-consumption in our modern society. "As such, my wardrobe is mostly second hand and/or upcycled. As I now teach upcycling workshops and sewing classes based in upcycling (I don't buy new materials for students' samples apart from threads and elastic, and strongly encourage the use of pre-used garments and reclaimed fabrics for all projects), I use my own clothes to demonstrate the potential for upcycling old garments. I now also sew things like laptop covers using old ties, or old jeans and yoga mat. I've re-covered a director's chair with a cubism design patchwork denim, made a rag rug from old t-shirts and a school backpack from old jeans," she said.
"With upcycling, you need to work individually with whatever garments you have so things cannot be mass produced. I am re-discovering hand sewing, being inspired by the work of India Flint (author of Second Skin) and the Japanese Boro techniques of patching and mending.
"The outfit I created for The Slow Clothing Project is a skirt, jacket and camisole top. It is a further exploration into the potential of using old t-shirts and jeans to create a formal outfit, or creating clothing that has a significantly higher value than its composite parts. It was made using parts of about 15 t-shirts and 4 pairs of jeans, the purple pair used in the sleeves – a child's pair with a tear in one knee. I like to think that one outfit I make is helping to 'soak up' a lot of discarded garments.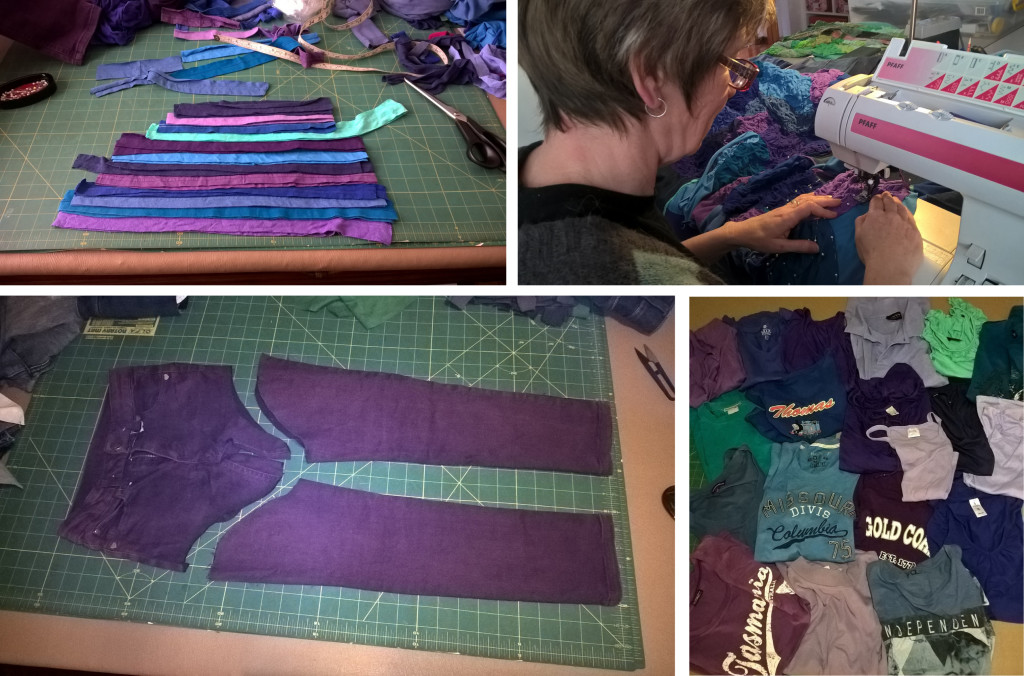 "For outfits like this, I form them on a dressmakers dummy rather than use a pattern, though I did create an arc pattern for the skirt waistband that I then extended out to give the length (variable) that I wanted. I also tried it on myself or my daughter during construction to make adjustments.
"The original garments were from op shops, most were on the $1 rack. Some were actually discarded from op shops, to be exported as unsaleable in Australia. The fabrics were mostly cotton, viscose, but with small amounts of elastane as is often in t-shirts and jeans now. I like to use the elements of old garments as much as possible, rather than simply the fabric. The top section of a pair of jeans (with front and back pockets, fly and waistband intact) was used as the base of the jacket, jeans legs for the sleeves, waistband of another pair used as a collar, and button closures from jeans used for the jacket front buttons. With the t-shirts, I carefully cut off seams and hems. The hems were stitched together as the jacket sleeve and bottom hems, and the seams used as trims and tassels on the skirt.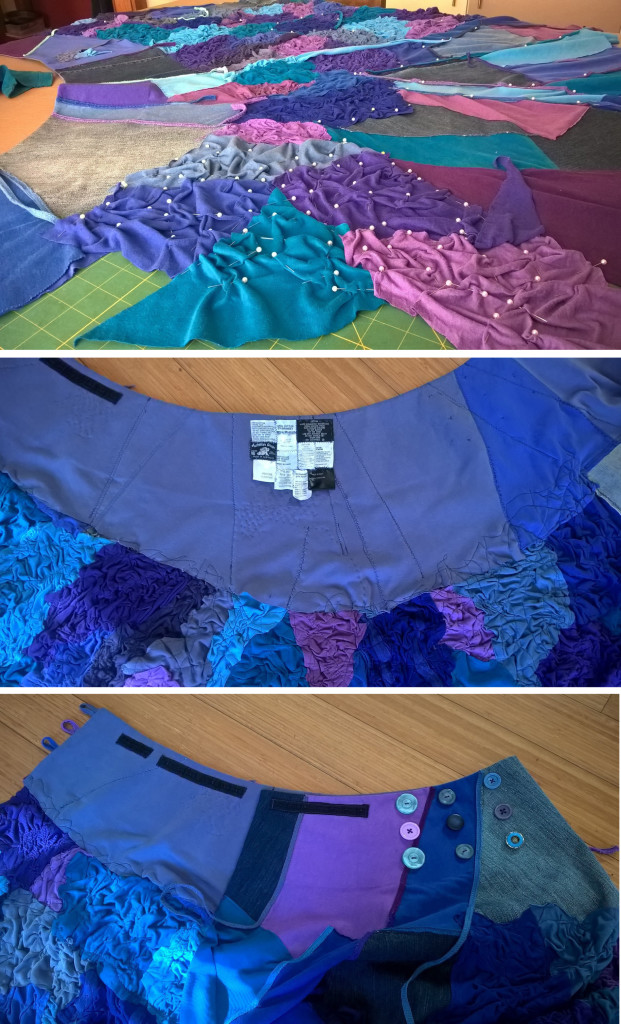 "I have two friends who sew that I send 'work in progress' photos to, for comments and feedback. They are good at letting me know if it's working or not. Sometimes I change things based on their feedback, sometimes not!"
So what advice does Cathy have for newbie makers? "Essentially, just start doing it. Make time for it. Take a class. Take an old item of clothing, decide what you like about it, and change it a bit – take up a hem, or add a patch pocket, or cut it up the sides and add panels of fabric from another used garment. Some things work better than others, don't give up, keep going. Get inspired by what people are teaching online – yes, YouTube and Pinterest I do enjoy – just try to limit your time on these and make time to do your own creating."
Hoorah for Cathy and her amazing upcycled couture. You can see more of Cathy's creations through the Newcastle Upcyclers on Facebook