People use double the clothing they did two decades ago, with average global apparel fibre consumption* rising from 7 kilograms each in 1992 to 13 kilograms per person in 2013.
This has occurred as part of a transformational shift in the way we source clothing and the substance from which those clothes are made. Most clothing is now produced in factories for global supply chains and two-thirds of it is made using synthetic fibres derived from petroleum, according to Jane Milburn of Textile Beat.
During this National Recycling Week (9-15 November), Ms Milburn will discuss our clothing story as guest speaker at the Keep Australia Beautiful Australian Sustainable Cities 2015 Awards in Brisbane on November 13. The awards are running in tandem with the Recreate handmade market and Paper Fashion Parade in King George Square.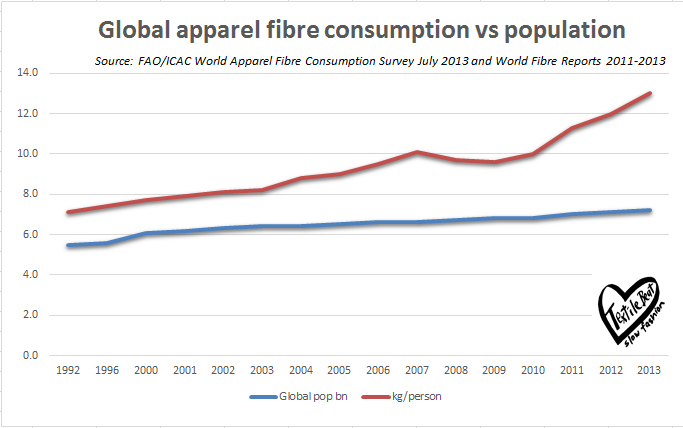 "Dressing is an everyday action that defines us. We love clothing for many practical and impractical reasons. Yet our clothing habits are creating waste and impacting on our ecosystem, as well as exploiting people and resources, and leading to inequality and a loss of simple sewing skills."
"A key reason clothing is so affordable is that workers are being exploited in factories with limited supply chain transparency – this was exposed to the world in the Rana Plaza factory collapse in 2013 and sparked a Fashion Revolution," Ms Milburn said.
"Fast, cheap fashion has changed our dressing culture in the same way fast, cheap food influenced dining. Yet just as people are now interested in food growing and cooking from scratch, they are becoming more conscious about their clothing footprint and thinking more about how they choose, use and dispose of clothes."
"There's a global movement towards sustainable and ethical clothing, with consumers, government and industry working on a range of fronts to reduce our collective clothing footprint."
Textile Beat has developed a slow fashion manifesto as a consumer guide for dressing with conscience for the good of ourselves, society and planet.
think – make thoughtful, kind and informed choices
natural – treasure fibres from nature and limit synthetics
unique – be original, cultivate own style, unfollow, reduce
quality – buy well once, value remains after price is forgotten
make – embrace home sewing as a life skill just like home cooking
local – support local makers, those with good stories, and fair trade
care – mend, patch, sponge, wash less, use cold water, line dry
adapt – refashion, eco-dye, create new from old to suit yourself
relove – enjoy vintage, exchange, op-shops and swaps
salvage – donate, recycle, rag, weave or compost
Sources: *FAO/ICAC World Apparel Fibre Consumption Survey July 2013 and World Fibre Reports 2011-2013