There is much evidence that our planet cannot continue to provide the resources for mass manufactured garments and that so much is wasted in oversupply. Textile enthusiast Elizabeth Kingston believes that if people can be educated to shift from being 'in fashion' to being 'in style' then the concept of what it means to have a new wardrobe every season can move sidewards.
"For those of us who can make, it is vital that we continue to do so as these skills are becoming a dying art and an example needs to be set that it should be all about quality not quantity. For those who can't/choose not to learn how to sew, then to support the artist/designer/creator of these handmade/limited creations through purchase is the next best option," Elizabeth said.
"Certainly, the handmade option of any piece comes at a price – to the maker (initial cost of materials + time) – to the buyer (increased price of garment/accessory due to labour intensive outlay + fewer items affordable per year). But the outcome is so rewarding for all parties concerned. These beautiful creations are more highly appreciated and respected for the fact that one had to 'save up' for their acquisition and they are often a great talking point due to their history, story and special connection.
"I have always considered myself to be a maker – opting to make my own clothes, soft furnishings and at times accessories. Over the years I have dabbled in weaving, dyeing, printmaking, felt making and tassel making, bringing each of these into the creation of my garments and/or décor. I love embellishing the surface of my fabrics, and have found beading and/or the use of embroidery threads to be an excellent method of doing this. I also enjoy cooking – and have always aimed to create wholesome meals for my family which haven't come out of a packet or a jar. Whenever I can, I love to make my own pasta."
Elizabeth's mother Pauline taught her to sew and from the age of eight she was hand-sewing clothes for her doll from remnant fabrics. She honed her sewing skills and learnt other techniques during Home Economics in Year 8, and started making her own clothes from that point on.
"My collection of sewn items spreads the full spectrum of garments (tops through to dresses, suits and coats, as well as accessories; including leather bags). I pursued my interest in fashion by developing an award-winning range of womenswear under my own label Tpinjii Designs from 1986-1993, designing and printing my own fabric using lino-block and screen-printing techniques," she said.
"These days, well in excess of 50 per cent of my wardrobe is handmade, teamed with vintage pieces and items I've thrifted – some of which I have restyled.
"The thought of creating unique pieces has always appealed to me. In more recent years, knowing that by doing so, is more eco-friendly and far more sustainable for our planet, has fuelled this passion even more so. I applaud Jane Milburn for championing this fabulous Slow Clothing Project in Brisbane, and bringing this awareness of sustainable fashion closer to home on a local level and I'm delighted to be involved."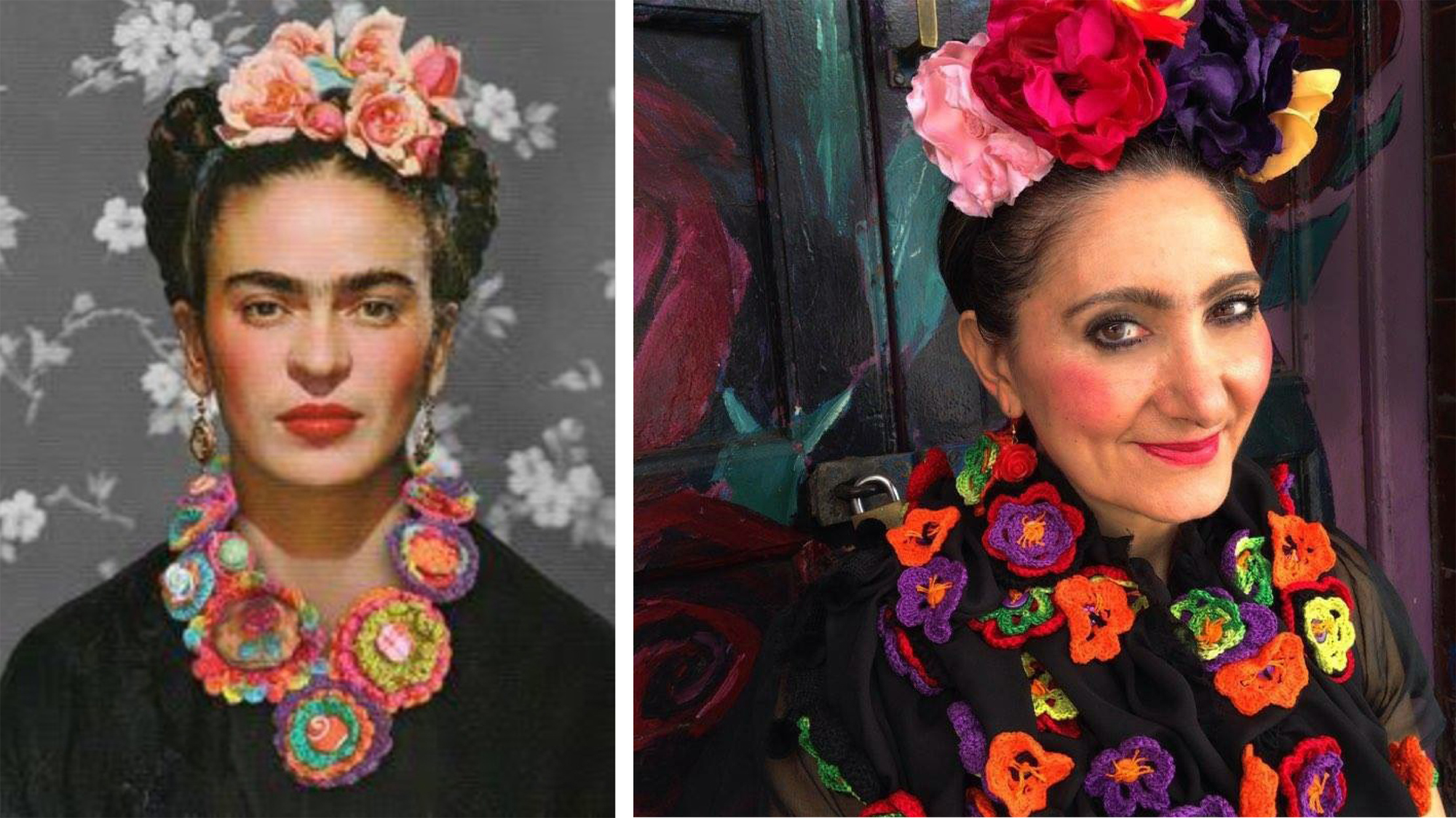 The story of the ensemble Elizabeth created for The Slow Clothing Project begins with a painted door.
"The front door to The Zoo an iconic music venue in Fortitude Valley (Brisbane), is painted purple and decorated with bold red roses and deep green leaves. When I first sighted this door, it immediately evoked the memory of Frida Kahlo. My love of her as an artist and cultural icon, set me along the path of creating a tribute to her. I decided that to honour the essence of this great woman, my pieces should be handmade and/or preloved," Elizabeth said.
"The main component of my ensemble, around which all the other pieces fell into place, is the full-length dress which I refashioned from two separate garments – a preloved floral print dress in silk/linen (gifted to me by a friend) and a black jersey dress (thrifted from Lifeline on Ann in Brisbane). The accompanying photos shows the deconstruction of these garments and the outcome of their reconstruction. The main issue I had was utilising the existing 50cm invisible zipper set into the floral dress. As I needed to cut and reshape this bodice and then set it on to the skirt of the jersey dress (which was going to become the mid-section), I had to make the decision of whether to cut the zip down to 25cm (the final back length of my new bodice) or leave it full length and work out how to set it into the jersey. After brainstorming the idea with a friend, the former option was chosen. Other than reshaping the black jersey through the side seams to be more flattering, the remainder of the construction (gathering the ruffled floral tiers on to the base of the jersey) was straight forward. Both the sheer black upper layer (which I wear back-to-front) and lime-green underskirt were thrifted from the same Lifeline store.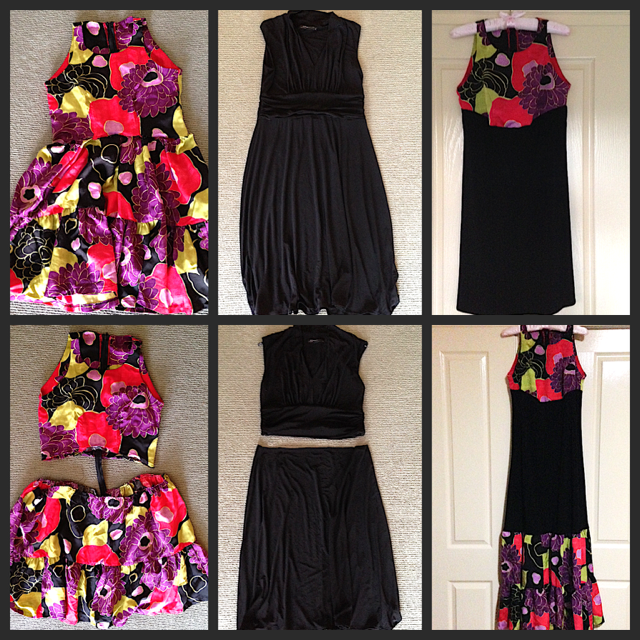 "The concept of the scarf developed from an adaptation of a neckpiece I saw Frida Kahlo wearing in a photo. My mother assisted by crocheting over 70 flowers of various sizes, which I arranged on to a gathered length of black georgette fabric as either single, double or triple layers secured with a central button and cotton perle thread. The floral headpiece (borrowed from a friend) was created by a mutual friend who designs under the name of Flora Fascinata. My bangles and rings were all thrifted and my shoes are a preloved hand-me-down from a friend."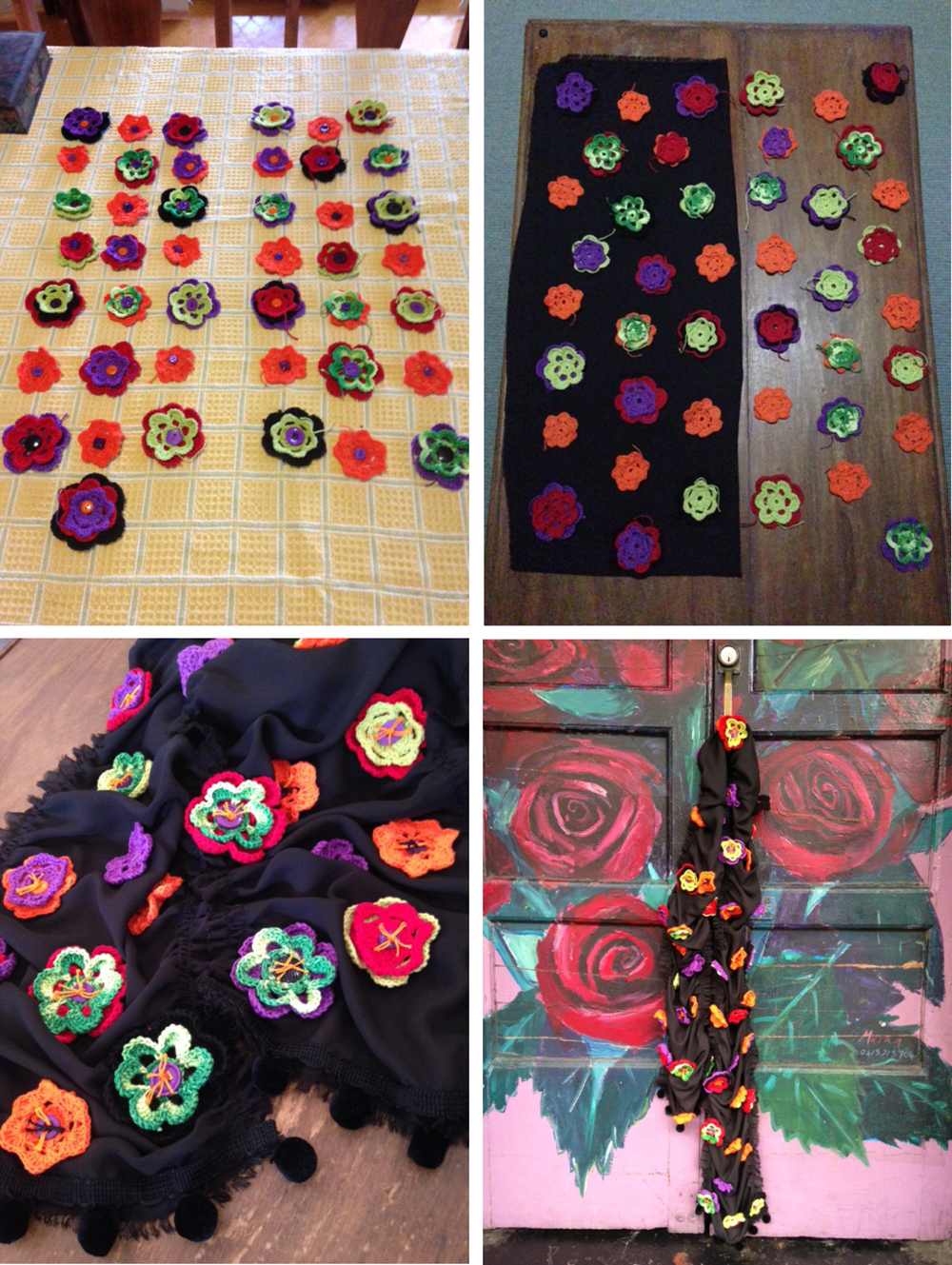 If you don't know how to sew, Elizabeth's project may seem daunting, yet her advice for newbies is to begin with a simple idea. "A basic commercial pattern is a great starting point, so that the general concept of the body and how pieces fit together in construction can be understood. An alternative to that is buying a second-hand garment or using an old favourite (which has seen better days), and unpicking it to then reconstruct it through modifications or use as a pattern to create a fresh new piece. Revisiting the same garment style, but using different fabrics and then exploring alternative styling options is a fabulous way of gaining confidence in the development of your sewing skills and creativity. From there you can step up the degree of difficulty and enjoy your new adventure of unique creations!!!!"
Thanks Elizabeth for sharing your timeless styling ideas – and see you on Insta @timeless_styling