Slow clothing is following the lead of slow food as a way of responding to waste, pollution, and exploitation issues in the way we dress.
Australian social entrepreneur Jane Milburn, founder of Textile Beat, has spent five years studying the need to transform a culture of excess to a more thoughtful and engaged approach. She believes slow clothing is the antidote to fast fashion.
In her new book, Slow Clothing: finding meaning in what we wear, Jane presents a compelling case for wearers to change the way we dress so that we can live lightly on Earth.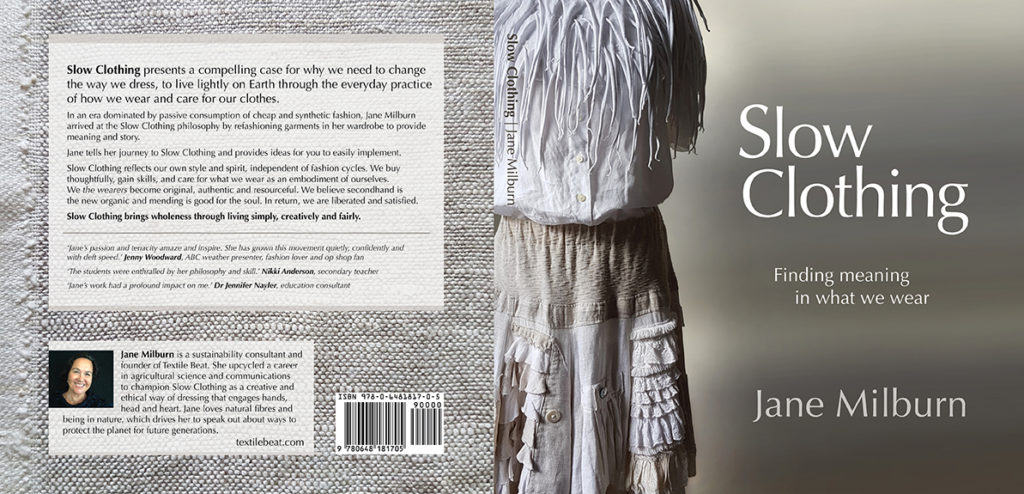 Slow Clothing is being launched in Sydney by ABC-TV's War on Waste crusader Craig Reucassel who revealed 6000kg of textiles are going to landfill every 10 minutes in Australia.
'With Slow Clothing, we reflect our own style and spirit, independent of fashion cycles. We buy carefully, gain skills, and care for what we wear as an embodiment of ourselves. Through this action we, the wearers, become original, authentic and resourceful,' Jane said.
'Australians annually consume double the global average of new apparel fibre and are the world's second-largest consumers after north Americans.
'In 2015, we consumed 27kg each compared to the average 13kg, according to data presented in my book compiled from World Fibre Reports and the Food and Agriculture Organisation World Apparel Fibre Survey 2013.
'Two-thirds of new clothing is now made from synthetic (ie plastic) fibres, derived from petroleum, which research has shown to be shedding microplastic particles into the ecosystem.'
Rethinking clothing culture is also essential to turning the tide on the exploitation of garment workers caught within global supply-chain empires that foster fast-consumption attitudes.
'We eat and dress every day to survive and thrive, and in the same way we have become conscious of food and its impact on health and wellbeing, we are becoming conscious of the substance and origins of what we wear,' Jane said.
'Slow Clothing is based on individuals gaining autonomy and agency through 10 conscious beliefs and actions—think, natural, quality, local, few, care, make, revive, adapt and salvage. It is part of the revaluation of material things through minimalism, mending and tinkering.'
'When we can mend and make our own mark on things, we are liberated from commodification and an endless search for meaning though buying more stuff.'
Craig Reucassel will launch Slow Clothing, the book, in Sydney on December 5 with ABC Weekends host Rebecca Levingston doing the honours in Brisbane on December 9.