Genevieve Manhal made a resolution to buy nothing new this year (except a few items of underwear when necessary) and she's noticing even more the media stream of fast fashion that is in her face all the time, on television, in magazines and on social media. "No wonder there are so many people struggling with body image issues and the notion of not 'fitting in' when this consumerist image is constantly being shown and targeted at every age group," said Genevieve who lives in the Bass Coast area of south Gippsland in Victoria.
Growing up in a household that valued being sustainable and repurposing items, building your own from scratch and thinking environmentally, the idea of fast fashion has always been an issue of concern for Genevieve. "Also studying design at TAFE it was always in your face, what was in 'trend', what you needed to look 'cool' and I have always felt, even after being out of secondary school for 10 years, that a big factor with peer pressure and fitting in is by wearing 'correct' fashion.
"Therefore what interests me about slow clothing is the ability to demonstrate the possibilities and versatility that our pre-existing or second-hand/upcycled wardrobes can have. There are so many alteration possibilities and changes you can create, with a sewing machine, or with hand-stitching, embellishment, dyeing and fabric manipulation that can give you a garment that is unique, and if you want it to, also look in trend, and this links to the garment I made. I have loved looking at what has already been created for the slow clothing project and cannot wait to see what others create.
"Being a textiles teacher, I want to teach students to know how and where their clothing and textile products are made, along with how long it should take someone to make them properly and how to fix and alter them. Understanding fabric types and how we discard clothing is an important element of the fast fashion industry that is often overlooked. I think the more young people become aware of what fast fashion is doing to our world the better off we will be and the more thought they will put into purchasing decisions. Let's encourage upcycling, repurposing and alterations in every wardrobe!
"Many consumers do not think about 'where', 'how' or 'what with' fashion apparel is made. It is ultimately the price point that attracts most consumers, which is unfortunate because in the society we live in, this means handmade, well-made and quality products are often overlooked for cheaper versions.
"I find the culture of consumerism really quite appalling and believe large-scale companies and businesses should be more transparent with customers about how and where items are manufactured. This is happening more now, which is great, but I hope that we don't have more tragedies like Rana Plaza in Bangladesh to keep the momentum going. Fashion Revolution's #whomademyclothes initiative has really started people talking, at least on social media, and it is becoming more accepted to ask those questions and refuse purchase if the answers are not equitable or fair for the workers or the planet."
For Genevieve, slow clothing is about making her own and altering garments she already has. "I constantly have a pile of things to fix and things to make. I find it keeps my wardrobe interesting and leaves me satisfied and happy that I am self-sufficient and can repurpose and re-use. If I love the fabric of an item and it's too far gone to be fixed or repurposed, I often cut it up for applique work for my business products," she said.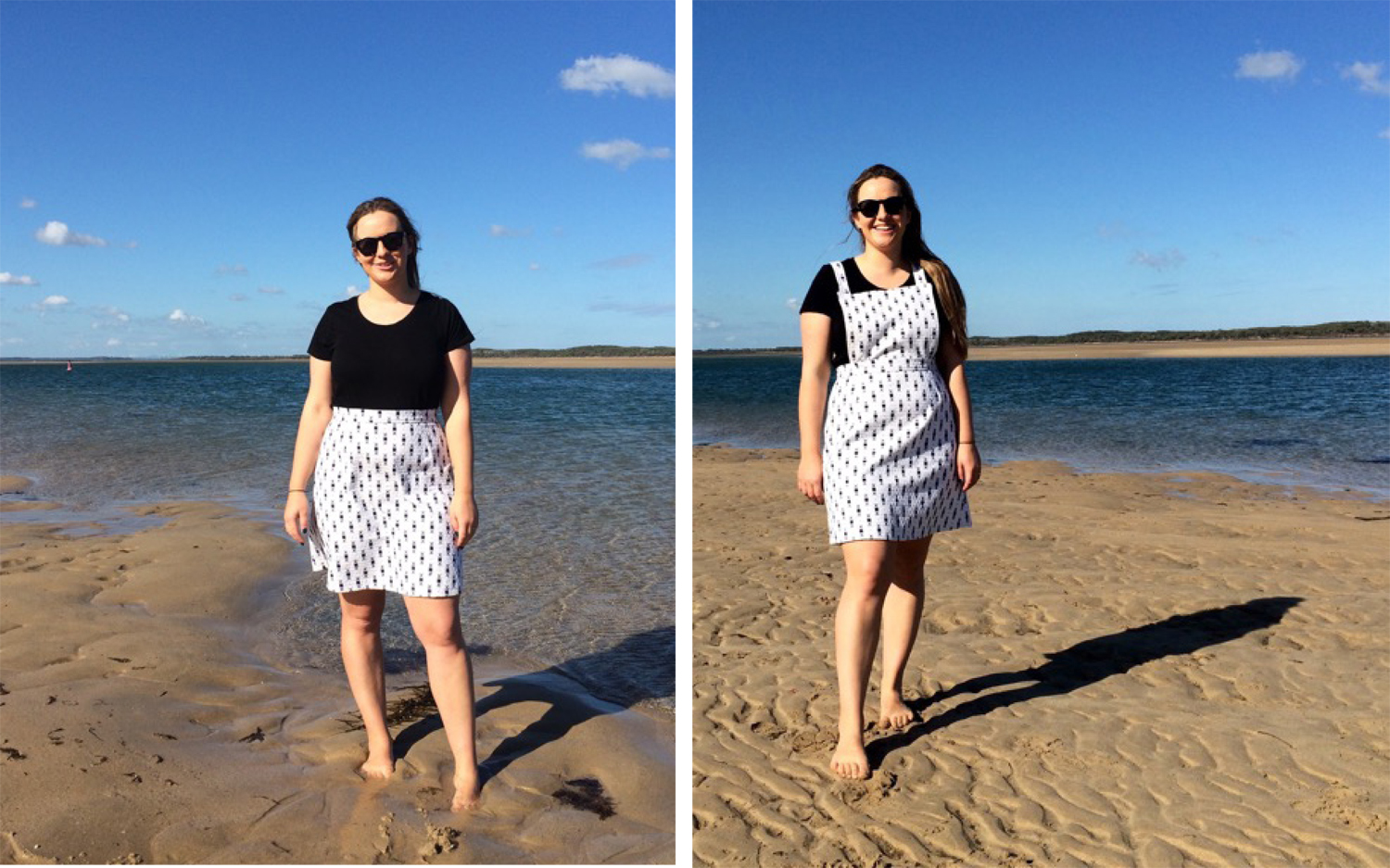 Genevieve believes that skills learned from making clothing, carpentry, artwork or any kind of creative handmade process teach us not only how to go through the design process, think analytically and logically due to the step-by-step nature – they also teach us critical-thinking skills and how to problem solve.  This benefit can transfer to all other aspects of life. They also help us appreciate the time it takes to make things, which allows us to value for products and therefore understand quality and price points.
"If we can make our own handmade items and use recycled and upcycled materials, we are not only saving resources but we can also lessen our carbon footprint by living more sustainably.  By making changes in our everyday lives, making sure we share, recycle and refuse one-use disposable items, this all helps and I think as a collective race, we all need to do our bit.
"I also find that hand-making things is good for wellbeing in the sense of satisfaction, that 'wow I made that' feeling. And when it doesn't quite work or you have to make a major alteration, that teaches you something and you know next time how to fix it. It also builds resilience in other aspects of life and sense of capability."
Genevieve learned to sew from her Mum and Nana. "My Mum made me a dress as a birthday present every year from about age four until 14, and then after that I took over making the dresses. I come from a creative family, having grandparents in the textile and photography industry and also my own parents being art, graphic and design technology teachers. My parents always encouraged me to learn and practise sewing at home, and I would use a pattern or just make something out of my head. I also adored textiles class at high school, and advanced quickly, always wanting to learn more from my teachers and be as creative as possible. With 12 more years since I first started sewing independently, my love for it has just grown and I am also now trained as a textiles teacher myself, and I'm hoping to teach a lot of other young people how to sew and help them appreciate why it is such a great and invaluable skill to have.
"I have sewn almost everything, from outrageous costumes with hoops, bustles and trains and corsets to everyday dresses, skirts, cardigans and t-shirts. I'm currently also looking at making my own bathing suit before a holiday to Hawaii in July.   I sew and make my own cushions, curtains and wall-hangings for my own home and also for my small business called bones & seams.
"About 90% of my wardrobe is handmade, restyled or vintage. I love shopping second-hand and repurposing items to give them another lease on life for my wardrobe and personal style.
"For The Slow Clothing Project, I made a pinafore dress with a detachable bib and straps to allow me to also wear it as just a skirt.  I wanted to make something that was currently on trend in the fashion world yet also with a unique aspect to give more wear and options in my wardrobe, using fabric and buttons found in the op-shop. My project also doubled as research for a textiles project for Year 9 /10 level.
"The ingredients were:
5 metres of upcycled brocade cotton, originally made in the 60s that I bought in an op shop about four years ago
A skirt zip, five hexagon white buttons (from the opshop), 1 hook and eye. Iron, sewing machine and overlocker.
Two patterns – one pinafore dress pattern and one skirt pattern.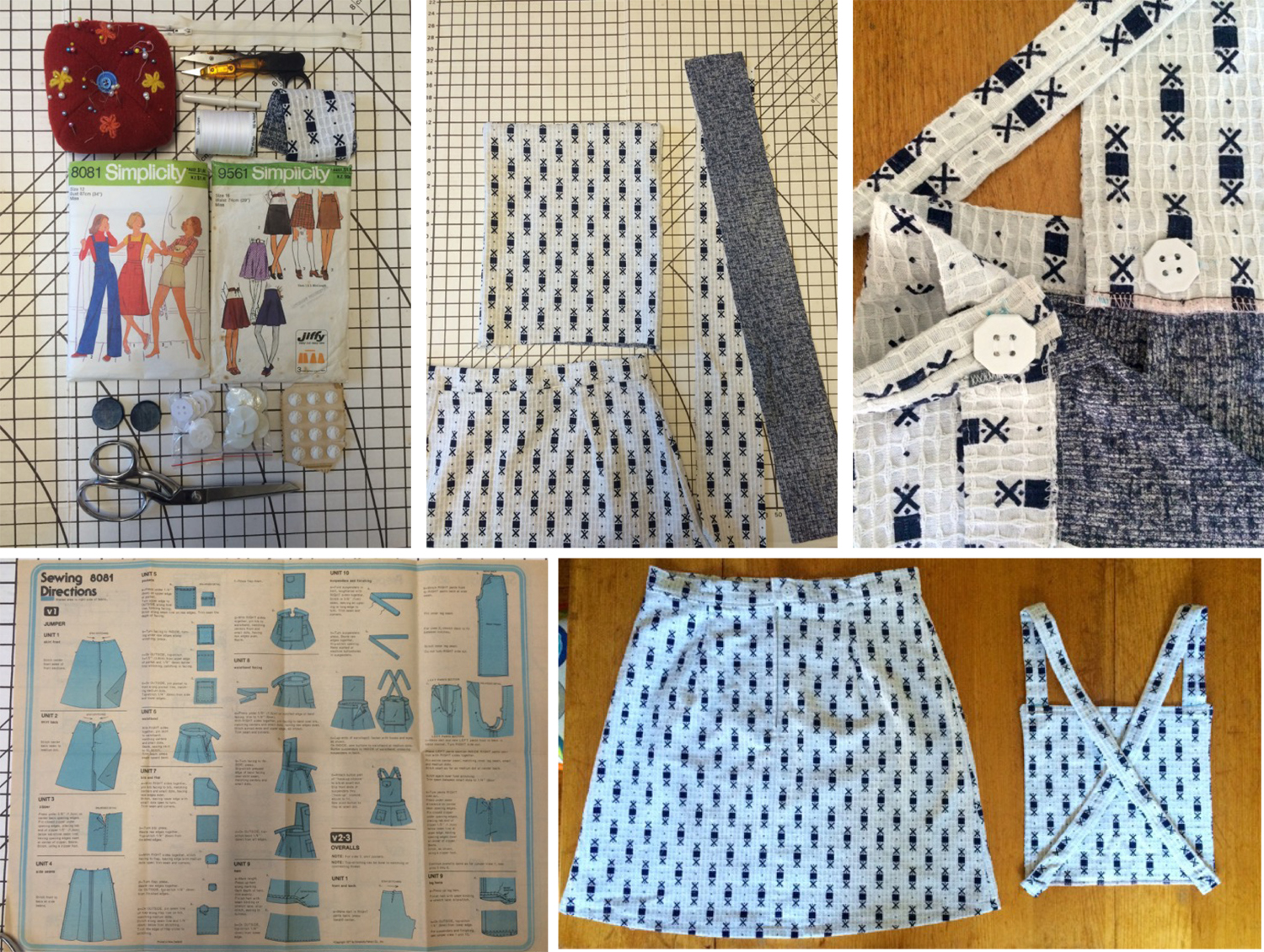 "The design process began by looking at the pattern pieces, checking measurements and finding there was enough fabric with some to spare luckily!  I did not like the shape of the skirt on the pinafore pattern, so I found another I liked that was slightly more straight line and used this pattern instead.
"I started by cutting out all the pieces and then sewing up the skirt.  When the skirt was complete, I decided to hem it on a slight curve instead to add another detail to the design and sway to the skirt when I walked.  I also added a button at the back to link the two components together.
"I then started on the pinafore, sewing inside out then turning through. I top-stitched around the outside edge to add a feature stitch and secure the two pinafore panels together. After sewing and turning through the straps, I ironed them so the seam was in the centre at the back then checked, by fitting the garment, how far down I needed the button holes to be on the straps and also on the front of the pinafore. I then completed the button holes on both parts. I decided not to add decorative buttons to the top of the pinafore as I did not think they were needed with the pattern of the fabric – but I may add them at a later date if it takes my fancy.  I only overlocked the edges of the pinafore bottom edge, as it will always be hidden under the skirt waistband and I did not want it to be bulky there.  All other seams were overlocked to allow best wear and use of the garment.
"I hid the buttons in the inside of the skirt waistband to allow me to wear the skirt without the pinafore and them not be seen. This provides versatility because I can wear the skirt in a professional setting and then add the pinafore on the weekend when I want to wear it for fun."
So what advice does Genevieve have for people starting to sew and make more of their own clothing?
"Practise, practise, practise! Try new patterns and don't be ashamed to ask for help.  The more you learn, the better you will get at the process and improving your skills. I look back at my first garments and go, 'oh gosh, look how badly that zip is sewn' and 'not very straight seams' etc, but I learned from all of those items and I wouldn't change any of that because it helped me understand my design process and work on skills with every new creation. I also suggest talking to others, share skills and techniques and get a network of people around you who love to make and create! You will not only be inspired all the time, but you will also be able to ask for help if you need it and share your new creations with others who will love them just as much!"
Love your approach Genevieve and thanks for being part of The Slow Clothing Project and now following you on instagram @bones.and.seams