Mariana Kirova is a professional upcycler, an eco-fashion educator and an agent for change. She  transforms rescued clothing into unique timeless pieces through her Perth-based business Eco Fashion Sewing which she established after studying fashion design in Western Australia.
Mariana said it is sad to see lots of fashion students graduating in Australia each year yet only a few stay and work in the fashion industry. "If Australian fashion brands have their production at home, this wouldn't be happening," she said.
"When I was exposed to fast fashion during my studies, I was stunned. I was disgusted and felt pain. Today, when I see a garment I envision poor exhausted workers and greedy-for-profits managers and shareholders. I think of my son and his future children and their children. The apocalyptic vision of what we are going to leave them squeezes my chest and my heart stops. I don't want this future for him."
Mariana believes it is important for Australia to nourish the acquiring of handmade skills and then implementing them in local businesses. "Unfortunately, today most Australian fashion designers produce overseas. The best they do is to support poor countries local communities (the new trend of social enterprises) and set fair trade practices. This is a good beginning but definitely not in favour for local skills," she said.
"Therefore it is crucial that Australian society keeps production home, rather than going offshore and opening international fast fashion brands shops for our domestic customers. We should be smart enough to learn the lesson from the United States. After the Global Financial Crises in 2008, the US is slowly returning a lot of their production home, including fashion. And this, with time, will make a very positive impact on local population (bigger employment opportunities, money kept locally, good future for next generations). Very long discussion. Difficult to change."
Mariana's passion for sewing was triggered from the love for fabric scraps. She was excited by the colour, the texture, the weave and the uniqueness with which those little pieces ignited her imagination.
"As a child, I was growing up in a small, now post-communist European country, Bulgaria. Beautiful little piece of heaven nature-wise, but we didn't have abundance of pretty and shiny things in the shops. Not having much toys and dolls, I hand sew a few crooked animals and dolls from my little scrap collection. The less pretty scraps, I used for stuffing and the shinier and beautiful ones for outside, dresses and clothes," Mariana said.
"At that time, I now know, I fell in love with creating. There was no one in my family to get me into sewing, but growing up I taught myself during the years. Now and then, I was doing small items for around the house. However, I chose a completely different professional path with no relation to sewing whatsoever.
"Coming to live in Australia with my husband and son about seven years ago, I got back to sewing again. I bought a second-hand domestic sewing machine and began learning from the internet. I've made a few quilts and other home decorations, bits and pieces. But I wanted more. That is how I ended up studying Fashion Design at the Western Australian Institute of Fashion & Textile in Perth and my clothes-making journey began.
"Since graduation, I've sewn and altered different clothing, dresses, trousers, blouses, t-shirts, shirts, jackets, mostly for other people. I was also working for bridal studios and shops, which enhanced my knowledge in working with special occasion wear and special fabrics.
"But juggling with job and home duties didn't leave me much time to sew for myself. I have made myself a couple of jackets, including from recycled leather, a coat, a couple of dresses, pair of pants, but also few shirts and T-shirts for my son and husband.
"Today the most accessible way for me to be eco-friendly is to buy second hand, because of the time involved in making. About 95% of my wardrobe is from op shops. But I try to catch up and make clothes for myself while working on my website and related projects. For now the ratio of handmade/restyled vs manufactured/thrifted clothes in my wardrobe is about 3:7."
What Mariana likes about The Slow Clothing Project is the fact that in established economical monetizing society, human nature is not lost. "Individuals willingly spend time and effort to create unique clothing while making positive change. I admire The Slow Clothing Project because it gathers sewing lovers who are rejecting irresponsible fashion mass production and overconsumption. We need more projects that endorse handmade and DIY, natural and eco-conscious," she said.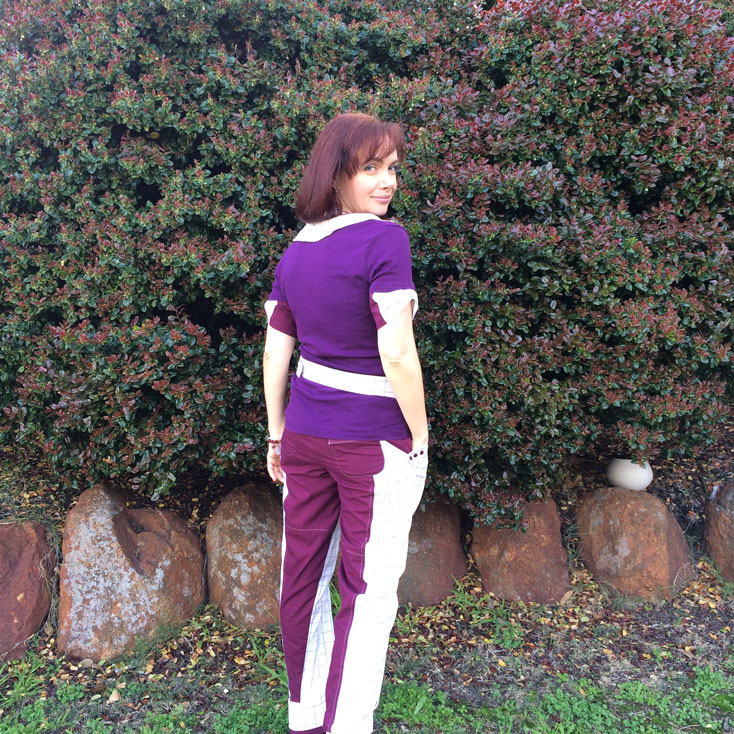 "For my slow clothing project, I wanted to demonstrate that even boring clothing articles like men button-up shirts could be transformed into interesting and unique women's fashion. To make it easy to wear, I made an entire outfit and a refashioned top with the leftovers T-shirt."
"All materials are cotton, which offers lots of comfort to the body and degrades if discarded at landfill. My knowledge and experience was very helpful to problem solve at the different stages.
"Here are the main steps I went through and the insights I took from the project:
Drawing the design
I thought over the challenges that could arise from all the details, from pattern drafting view, but also in terms of construction and sewing. That saves lots of headaches further down the track. This is the stage to imagine what seams, seam finishes and construction techniques you can use. From a practical point of view, I also designed to include elastic on the sides (waist level), so tummy area would accommodate small varying in the weight.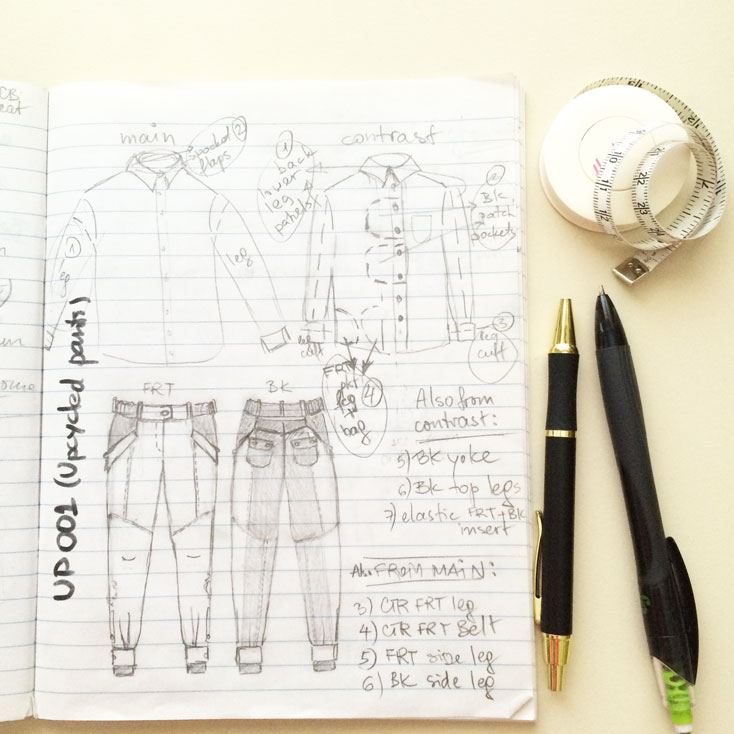 Drafting the pattern
To develop the pattern I used a previously made-for-me pattern block (sloper). That ensured great fit and the adjustments I needed to do later were only minor. Drafting from individually made pattern block for your body is the best way to develop any DIY design.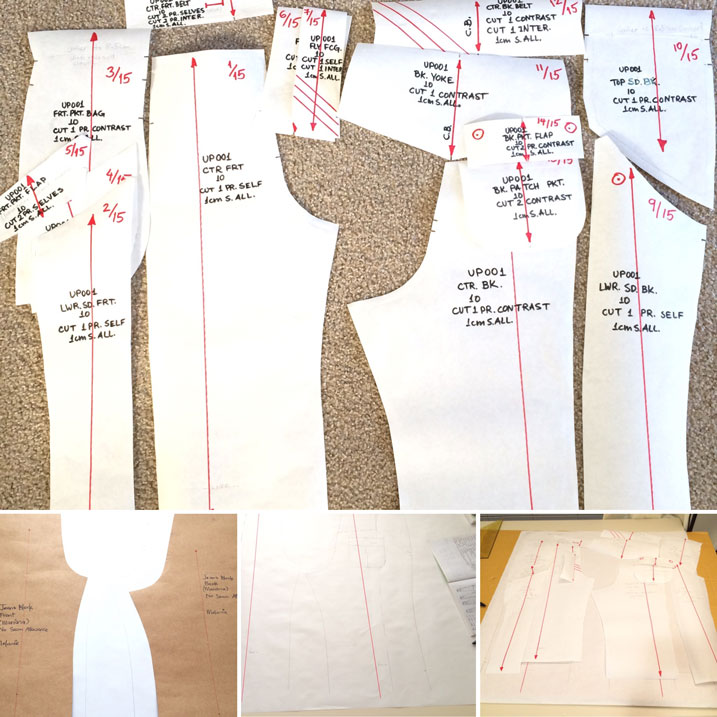 Checking the pattern – making an eco-friendly toile
To check a pattern we all know a toile has to be made. In the industry, and many home sewers, usually make toile from calico or similar fabric, which after is been discarded. Instead of quickly constructed toile that I'll throw away, I made a completely new garment from wool I bought from charity garage sale months ago. Despite time spent, it was definitely worth it. I now enjoy new pair of very comfortable winter trousers 😉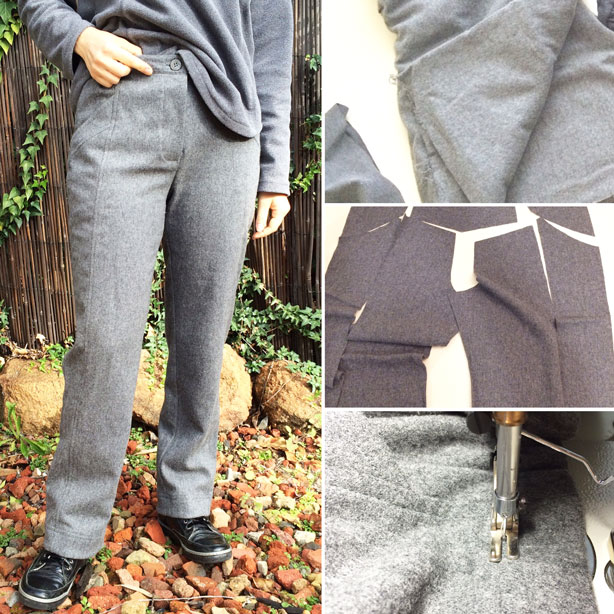 Trying on the toile/sample
The best take away here was that although I used the same pattern, I ended up with completely different results. And all because of the different material. The wool pants had crosswise stretch and needed more taken in on the side waist. Trying on while sewing was extremely helpful thing. Although uncomfortable and slowing down that gives perfect final fit.
Laying out the pattern pieces and cutting the shirts
Cutting already made garments is very different from cutting a flat material. Just keep in mind to place the bigger pattern pieces vertically along length of the premade garment. Smaller patterns place as you wish (if there is no stretch in the fabric). The good part with upcycling is that some pieces of the premade garment could be used "as is" in the new garment. For front pocket edges in the pants, I used the collar stand. Back pocket flaps I made from the centre front buttonhole placket. And the best was using the sleeves for the legs. That couldn't be drafted as a pattern, so I drafted half-length pants and added the shirt sleeves as legs after the top pants were done.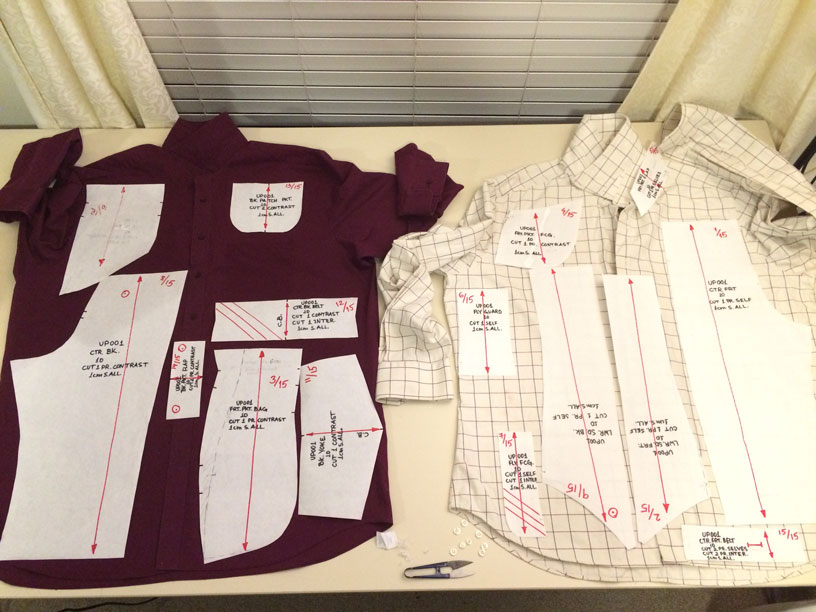 Constructing the pants
The best is to construct the complicated things first and only after that to put the whole thing together. First I made the front. Put the zipper, the pockets and the waistband, then the buttonhole. For the back I put the yoke, the side and centre pattern pieces together. Then added the flaps, patch pockets and the waistband.
When all those details are finished, I put the front and back together. Tried the pants on and finished the top part with closing the belt. Then I measured how long the legs should be. For that I put the pants on, sat on a chair with legs crossed. Then I took the real length that needs to be set.
Remember, when trying on, don't just stand in front of the mirror. We always move our body somehow and is important to make clothing that will accommodate not only our standing figure, but our moving figure.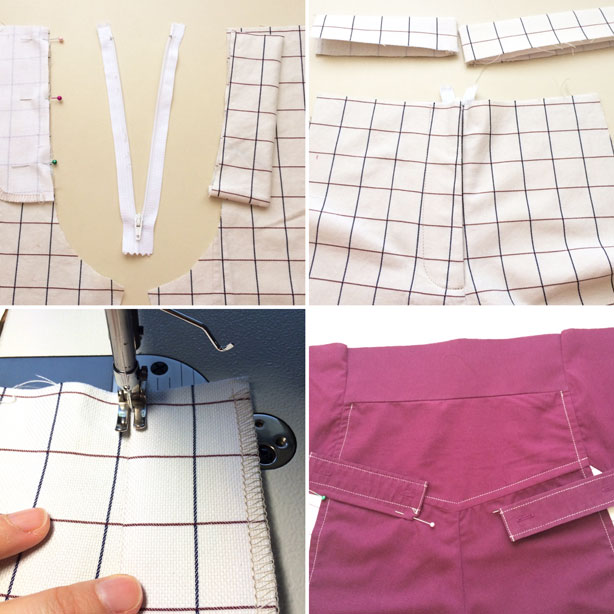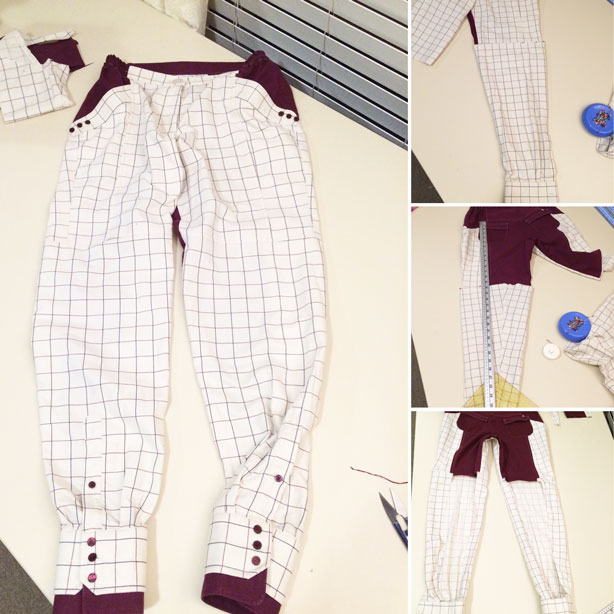 Finalizing the project by creating whole outfit
When I finished the trousers, I realised that making a whole outfit would make wearing and combining it so much easier. So I refashioned a simple cotton women tee by extending the sleeves and adding a collar-like piece. The last was made actually to cover a spot at the back of the neck.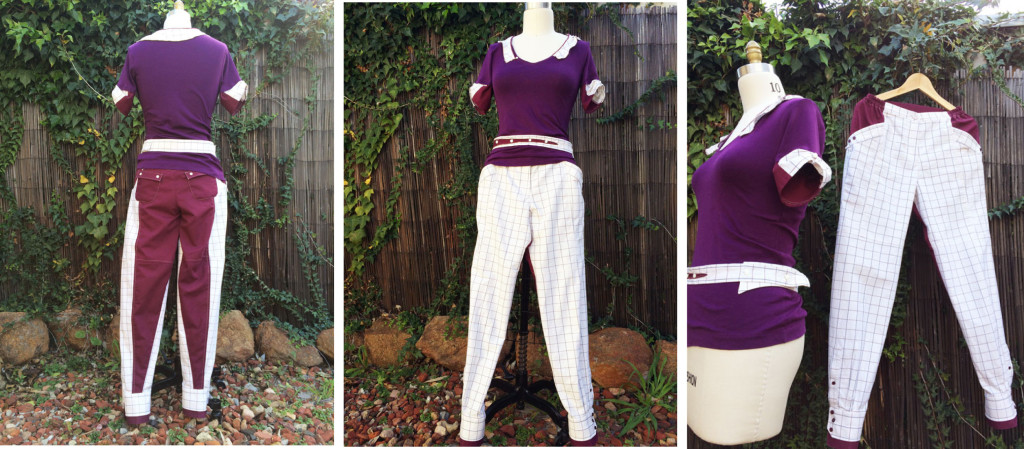 To make the flow better, I added a belt for over the T-shirt. I used the collar and the placket of one of the shirts. I used all buttons as contrasting embellishment to make it more interesting. And I like what became at the end."
Mariana invested significant time and creative energy in this refashion project. It is a slow process when we now live in a fast world. Some might wonder why we would do that? Mariana believes we can all become agents for change, through the choices we make and by simplifying our lives.
"In terms of fast fashion and over-consumption, we can make our individual contribution with all the things that Textile Beat teaches. We can buy less, repair, swap, op shop, make our own and be happy with 'simpler' and 'less'. We can pursue 'to become' instead 'to have and acquire' – which the process of creating by being eco-caring is doing, for sure," she said.
"Slow for me means 'eco-friendly', "natural" and "buy less'. So, whenever it's possible, my family and I are applying that philosophy. I cook homemade meals from raw ingredients.
"Living in a city, we are not able to grow our own produce so we at least buy seasonal and locally produced. Recently a friend of mine said that my beliefs and consumer behaviour is like those of an 'old lady' who buy little and doesn't need much to live her life. And I agree. People don't need to have the latest car model, sophisticated gadgets or a luxurious house to live a normal life. It is the system assumption, but not necessarily our real life situation and way of thinking."
Mariana's advice for anyone wanting to make some of their own clothing is to ignore trend'. 'Many who are starting to make their own clothing think they need to follow the trend. My advice is don't let your imagination be constrained by that narrowing attitude. If you observe fashion trends a bit longer, you'll see that they are only a slightly different interpretation of something you already know."
"I believe the recipe for a beautiful garment has five important ingredients. If you try to include all, as much as your making and sewing experience allow, you will soon see what an amazing designer you can be!
"When making a garment think of the following:
Design and overall look/style – consider your personal taste and style and the circle of your friends, colleagues, community (where you are going to wear the garment). Designing good-looking and interesting garment is always interpreted from specific perspective. Who will wear it, where, on what social occasion. You can't think of wearing jeans on a wedding, right? But what if it's a bohemian-hippy type of wedding? Then creative use of jeans fabric might be your best shot. Simpler to put, background circumstances matter.
Quality material, natural to the body and friendly to the nature – use the best quality materials made from natural fibres whenever possible. Quality material for a garment is like bricks for building a house. You wouldn't be happy to spend time and efforts for house made out of cardboard, would you? Why then make garment from poor material?
Pattern – well-created pattern of your own assures the finest and most comfortable fit. This is rarely possible with ready-to-wear garments. Knowing the essentials of pattern drafting gives you the wings to fly and make whatever design you want.
High-quality sewing – sewing is a skill. Like riding a bike or cooking. The more often you do it, the better you become in it. Every unsuccessful project will teach you a lot of things and next time you'll do better. Learning to make clothing is not a fluent learning curve, rather more like climbing steps. One project is flat but in the next you show wonderful new skills. Here again as with riding and cooking, a combination of failures and successes makes you to become better.
Maximum comfort – always consider that the garment should be comfortable for the wearer and practical in use. Think where you would like to have zips and buttons for closures. Is it an easy-to-reach place when the garment is on. Or is the fit going to be too tight when you sit for longer, bend or squat. All this can't be done for all garments, of course. But considering the best possible options for that specific project will result in a garment that you'll love and wear longer."
"The process of creating a garment is complex. It involves diverse knowledge and lots of considerations. Usually to achieve the right design, from idea to making the sample garment, clothing companies spend on average $500.
"Although time-consuming and challenging, the process of making your own clothes is invaluable. It gives pleasure and feel of self-satisfaction and achievement, which boost your self-confidence and self-belief – and makes a good swap for psychotherapy. Remember that no shopping therapy can give you even a tiny bit of this feeling!"
Mariana, you are truly ethical and sustainable, creative and kind. Thank you for a great contribution to The Slow Clothing Project – and for your kind words and information shared. Love your Eco Fashion Sewing website, fabulous tutorials and your e-guide and follow you on Insta @ecofashionsewing