Talking about slow clothing and natural fibres is part of what we do.
Jane Milburn was interviewed by Nina Gbor for RiotACT about the slow clothing philosophy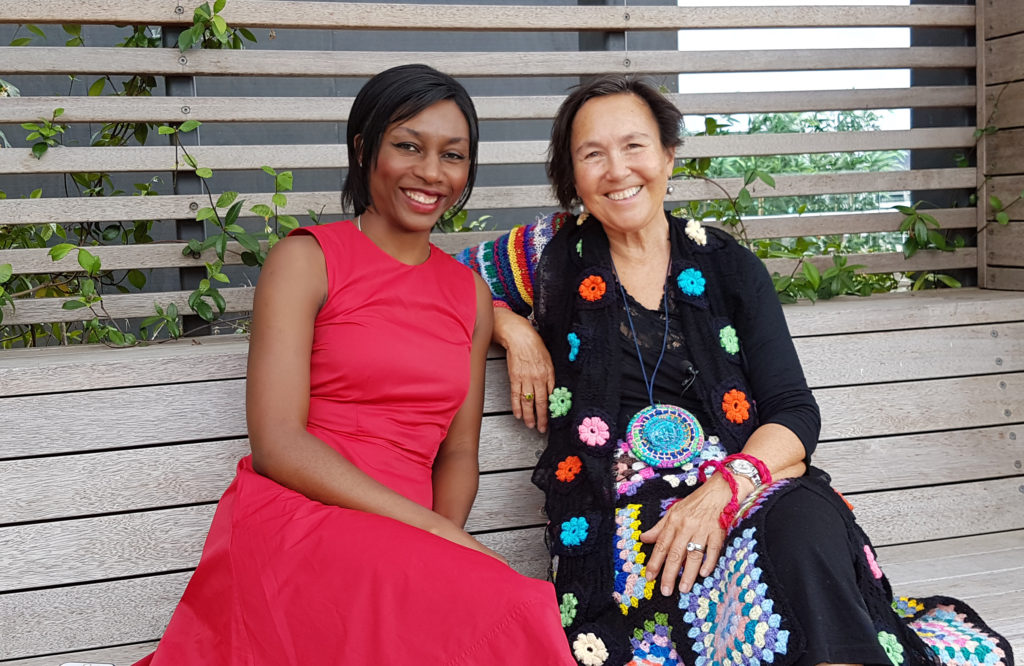 Ahead of a talk at Artisan, Jane Milburn chatted slow clothing with ABC Weekend's Loretta Ryan
Jane Milburn talked upcycling on ABC National Evenings with Tatjana Clancy
Slow clothing culture, journal article – Jane Milburn HEIA_Vol 24 No2 FINAL
Jane Milburn chatted sewing and slow clothing with Sam Stove on Talking Lifestyle  radio
Living lightly in everyday practice – State Library of Queensland Design Online article by Jane Milburn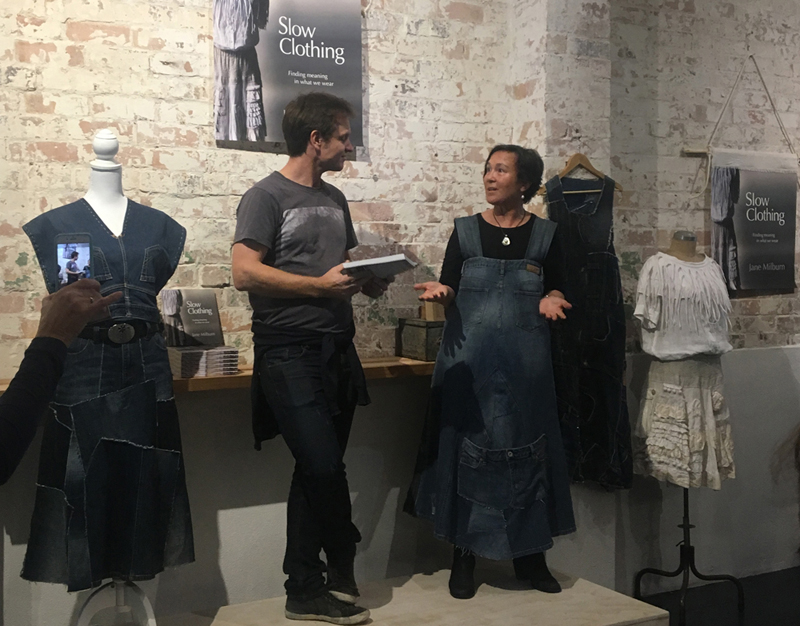 Slow clothing in a material world – Jane Milburn at TEDxQUT 2017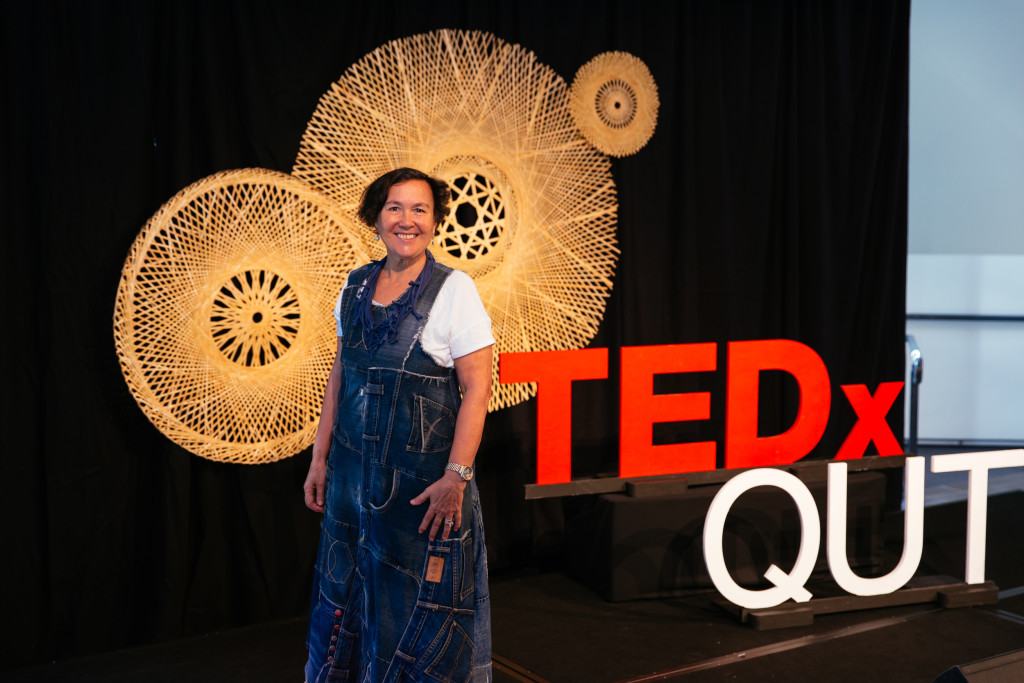 Yours magazine featured Textile Beat and other craftivists in September 2017.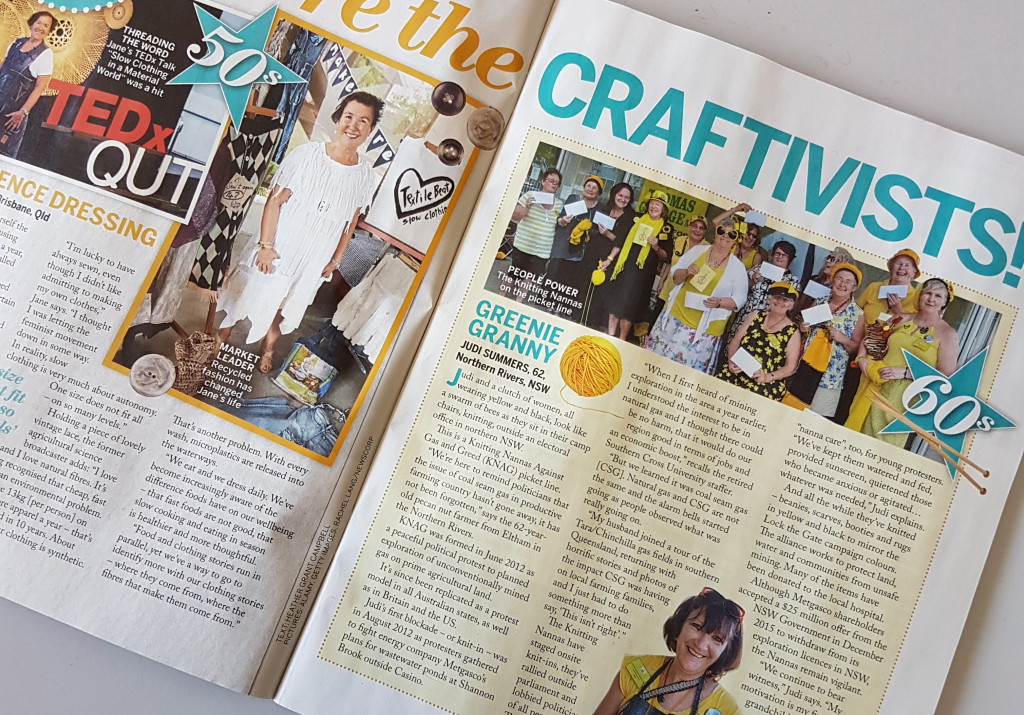 Ruth Magazine slow clothing column (Spring 2017 edition) featured Emma Williamson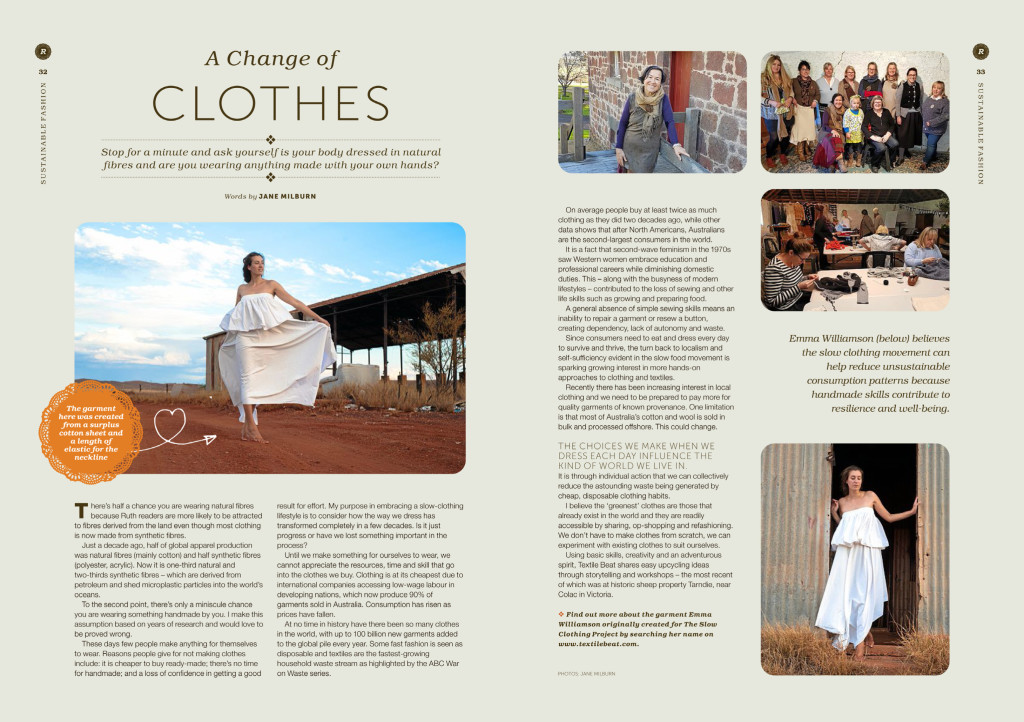 Ruth Magazine (Winter 2017 edition) gets slow clothing and plans for a regular column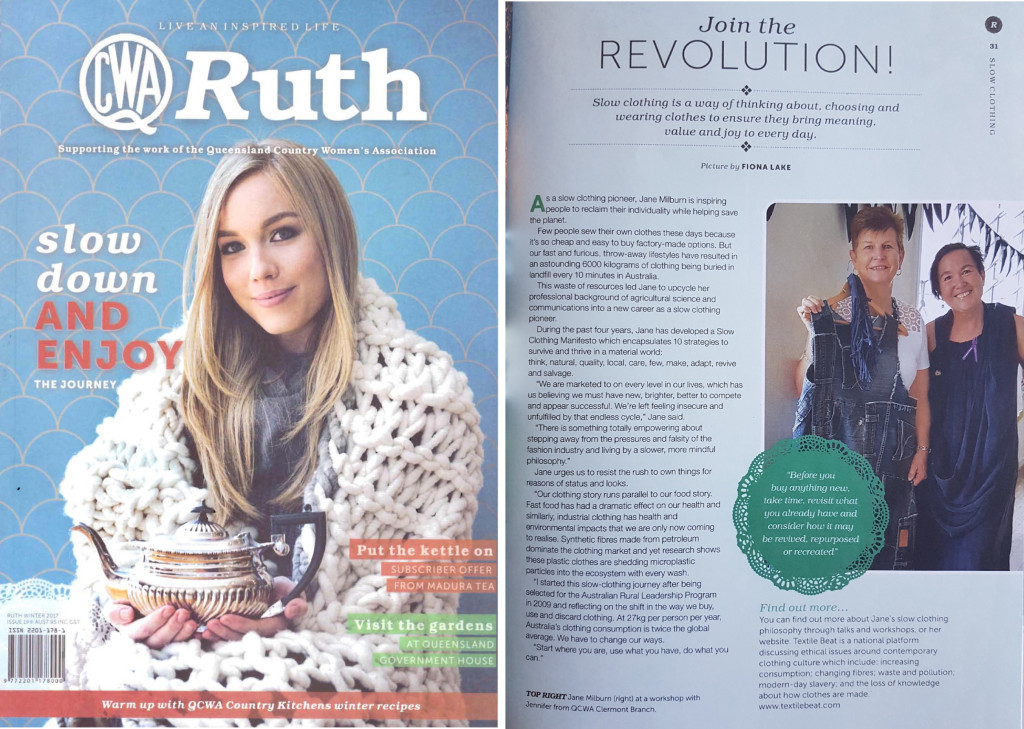 West End Magazine featured slow clothing in the Winter 2017 issue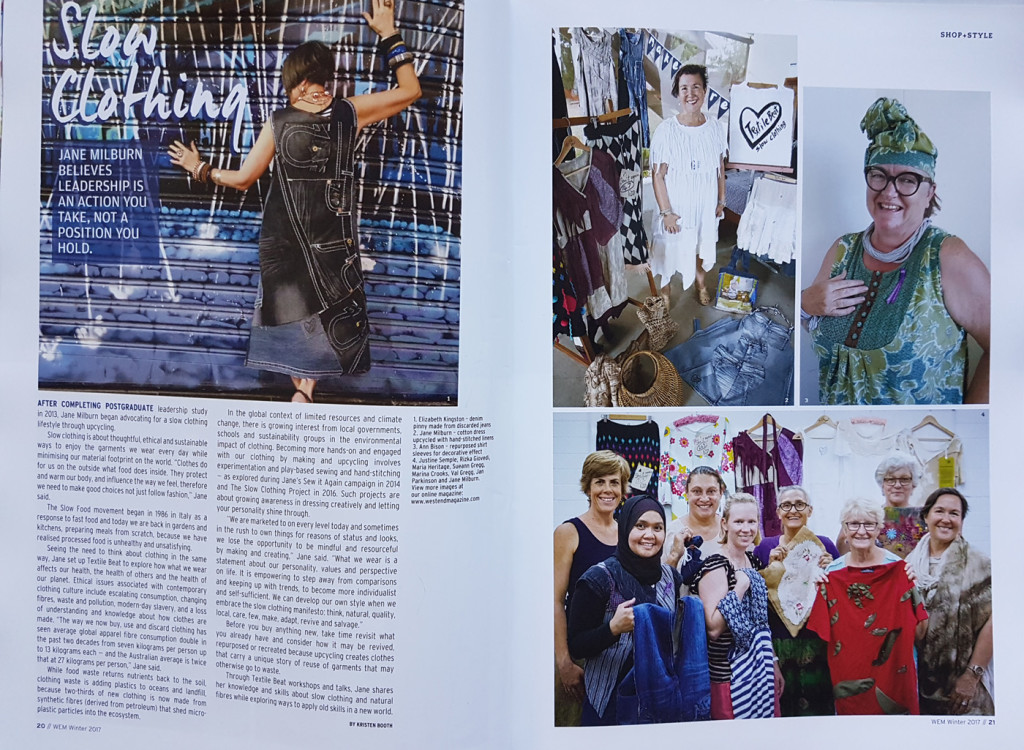 Creative over Capital – ABC online interviewed Jane Milburn about valuing our creativity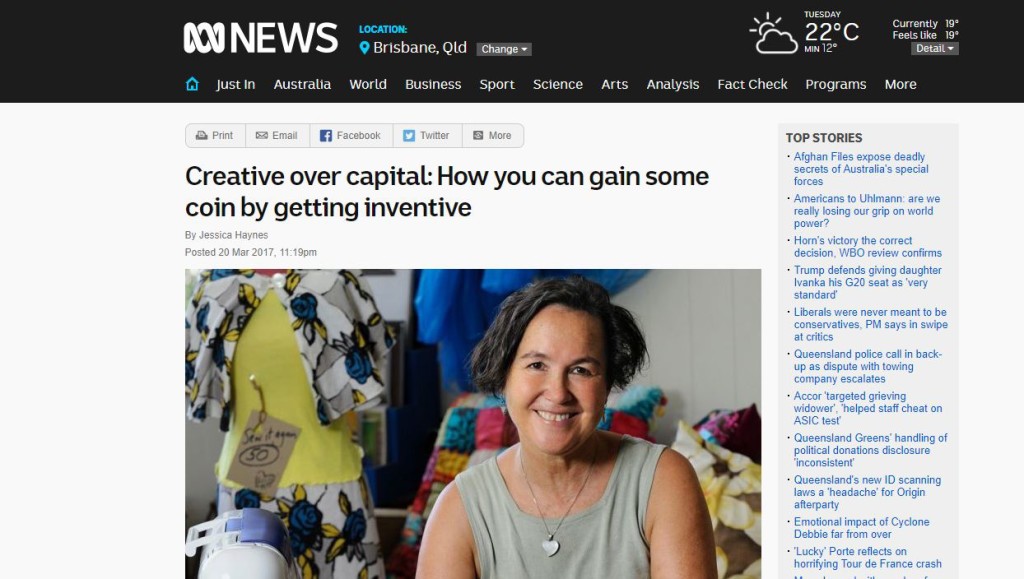 Jane Milburn talked with ABC Capricornia's Jacquie Mackay ahead of a Women as Leaders talk and Slow Clothing workshop series in Isaac Regional Council in March 2017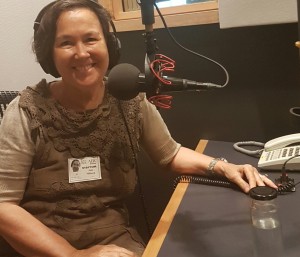 Changing the fabric of life – Honestly Woman magazine featured Jane Milburn's story in the March 2017 issue –  Jane Milburn (4)
Seven Sunrise interviewed Jane Milburn about the environmental footprint of clothing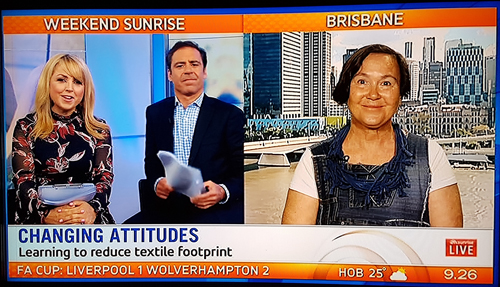 The environmental impact of clothing  – Jane Milburn  was interviewed by ABCNews24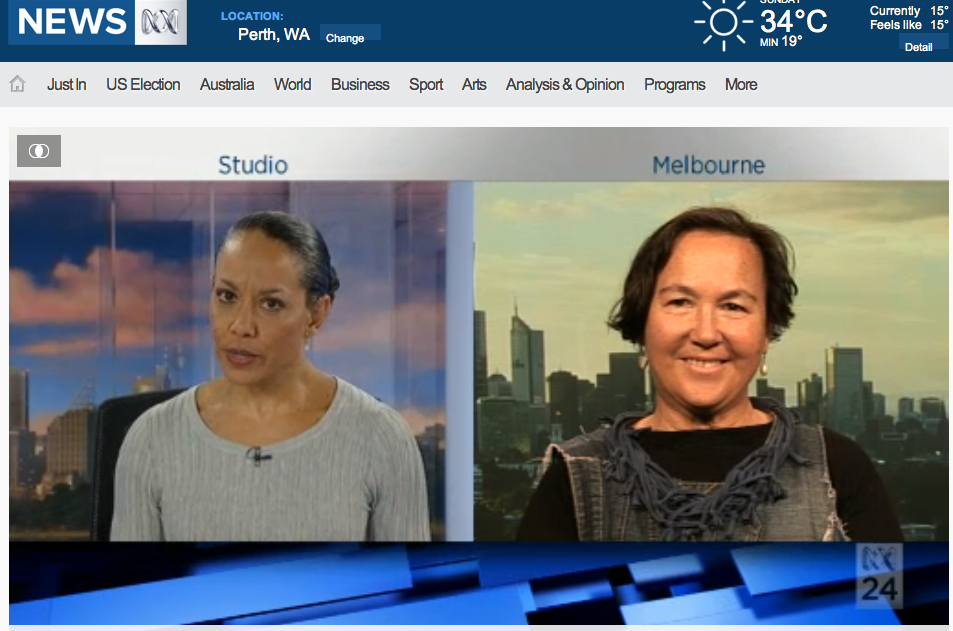 Our clothing habits are hurting the environment – Jane Milburn spoke with ABC Online News
Journal of the Home Economics Institute of Australia published paper by Jane Milburn     Valuing old skills in a new world milburn-j-heia_vol23no2
Jane Milburn talked slow clothing with Alex Sloan on ABC 666 Canberra 13 September 2016
Jane Milburn interviewed on recycled fashion in the Newcastle Herald, 9 September 2016
Textile Beat talked about natural fibres in the September 2016 issue of National Geographic Kids Wild Cities article National Geographic Kids
Jane Milburn was invited to write a comment piece for SBS The Feed's report on Slow Fashion.
Textile Beat was included in ReNew magazine feature Mottainai vs Methane: The case for textile recycling. ReNew magazine textile recycling article 2016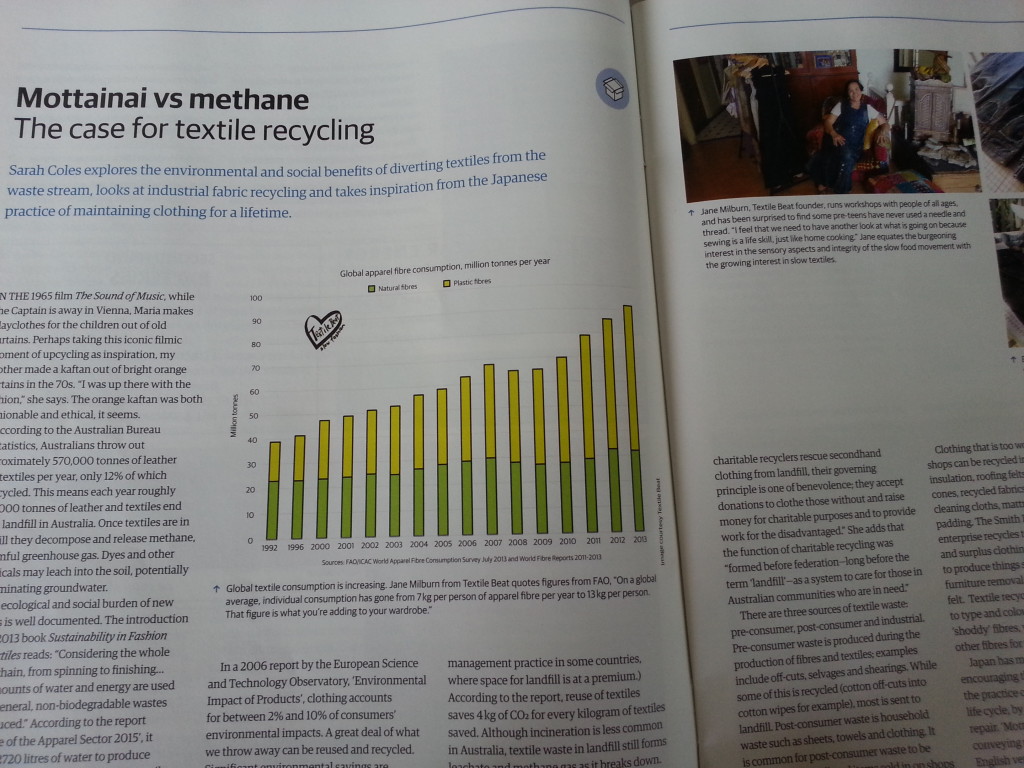 Jane Milburn chatted with Mel Kettle on A Great Recipe for Life podcast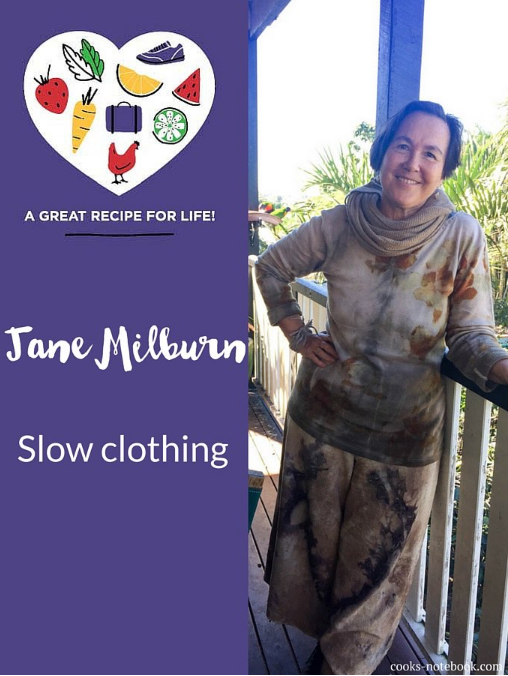 Jane Milburn spoke with ABC 702 Sydney's Wendy Harmer about slow clothing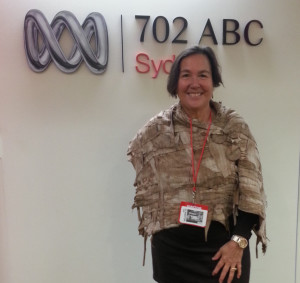 Jane Milburn chatted to Emma Griffiths ABC612 about slow clothing and Fashion Fix-Up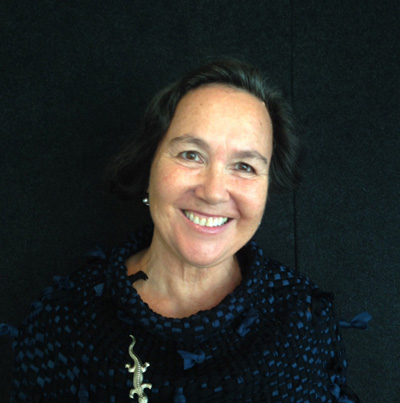 Central Coast Gosford Express Advocate featured slow clothing on April 15 2016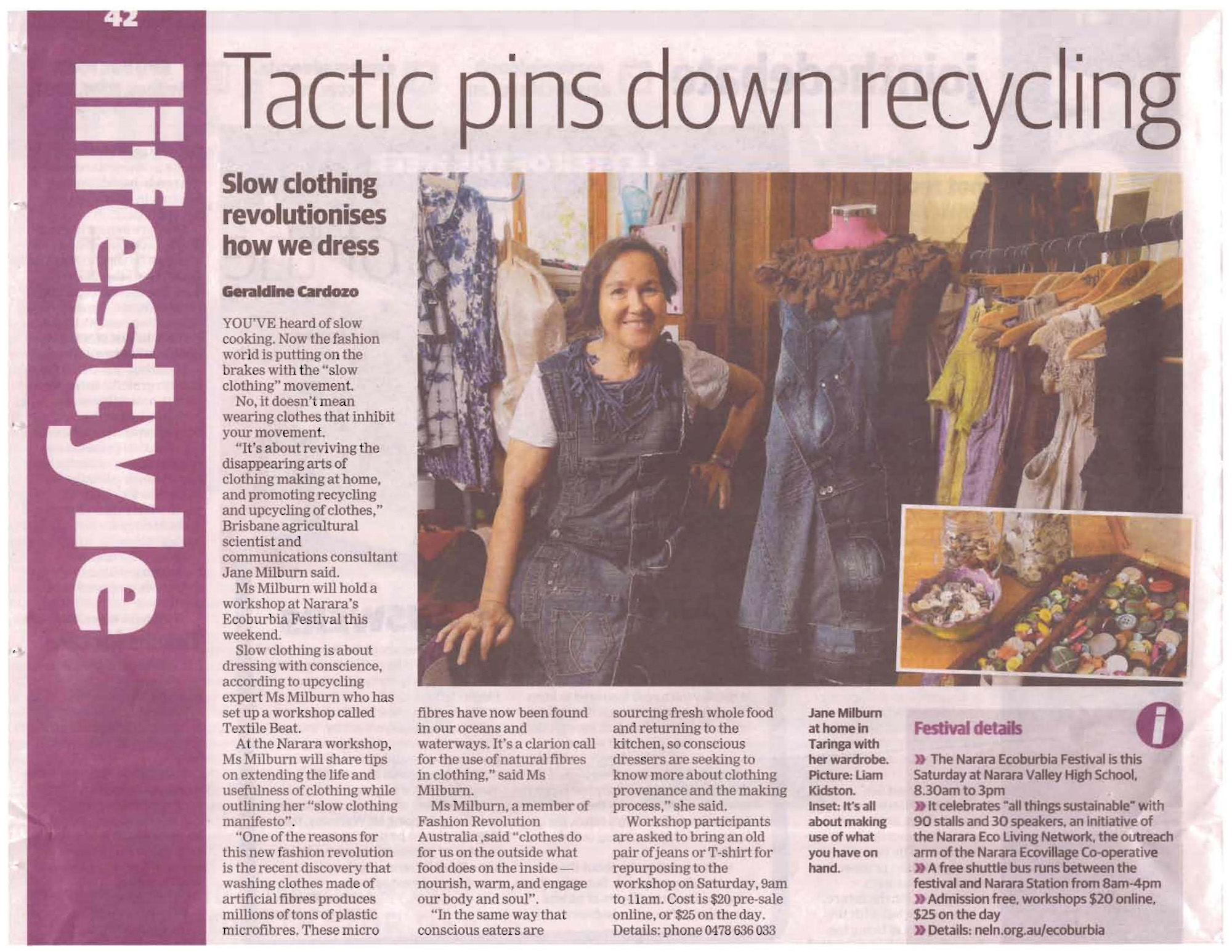 Fibreline published Jane Milburn's story dress with creativity in March 2016 issue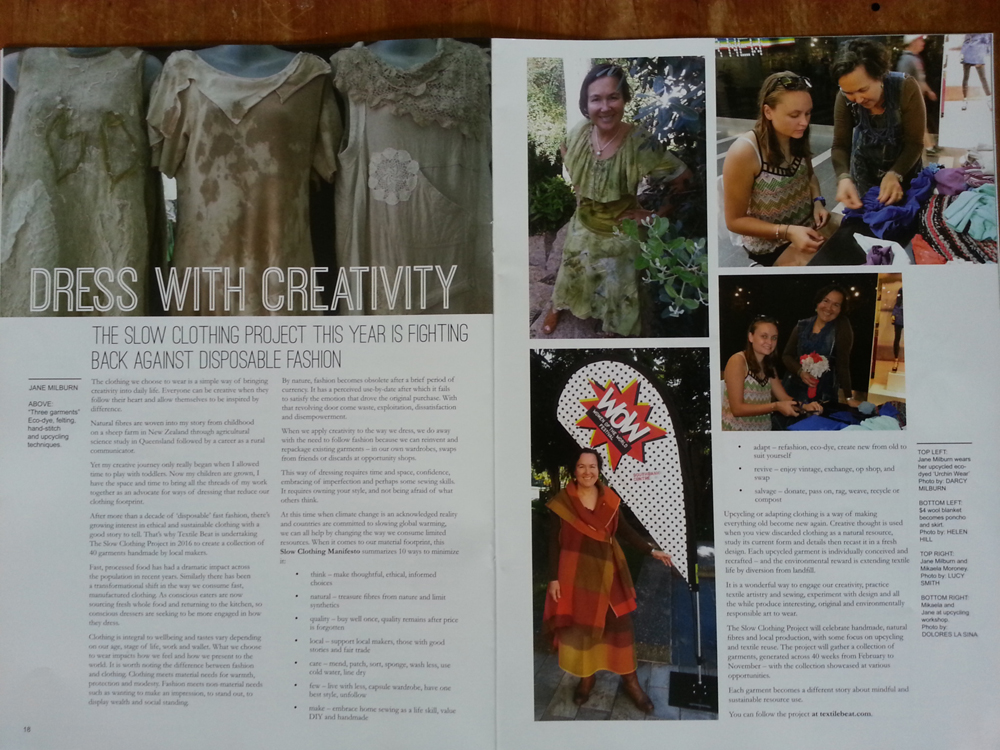 The Parkes Champion-Post wrote about upcycling workshops in Parkes NSW on March 22 2016
Peppermint Magazine linked into The Slow Clothing Project  on March 1 2016
Jane Milburn spoke with Kerry Harris from ABC Online about The Slow Clothing Project.
ABC Sunshine Coast's Jasmin Midgley talked with Jane Milburn about slow clothing.
In this 2UE interview, Jane Milburn talked about a more mindful approach to clothing.
Jane Milburn's story featured in Down Under Textiles Issue 22 downunder textiles article
Jane shared her wardrobe story with The Sunday Mail's U on Sunday magazine Jane Milburn U on Sunday Q&A 3 January 2016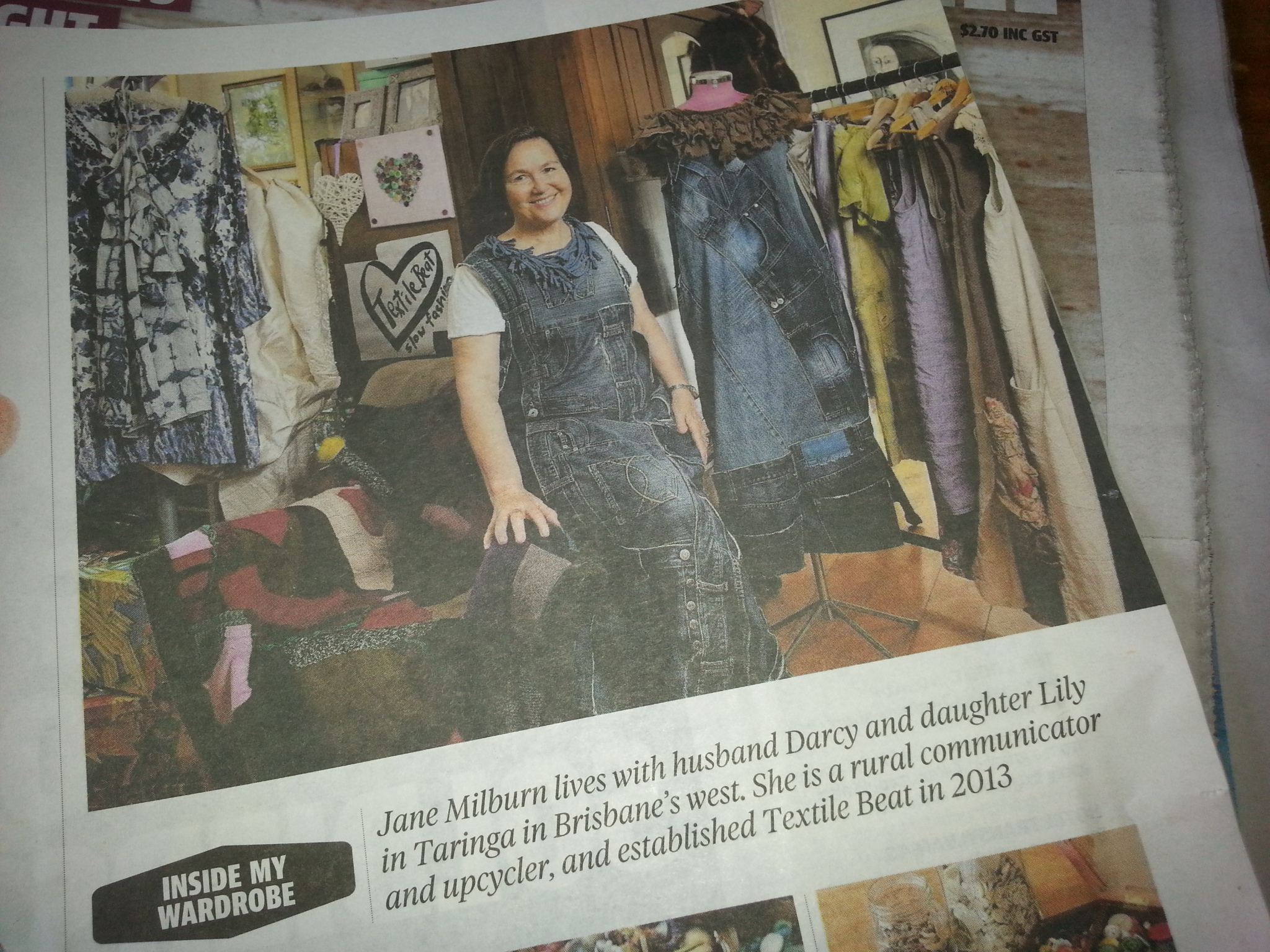 We loved working with students at Fairholme Fashion Week, as reported in Toowoomba's The Chronicle newspaper.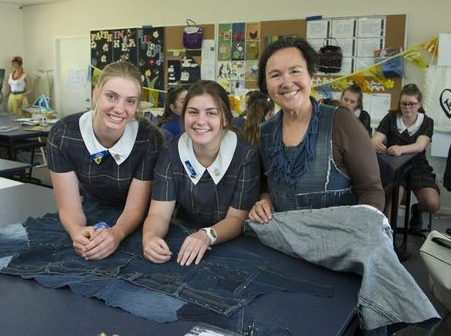 This ABC onine story 9 September 2015 reported on the global movement to slow clothing.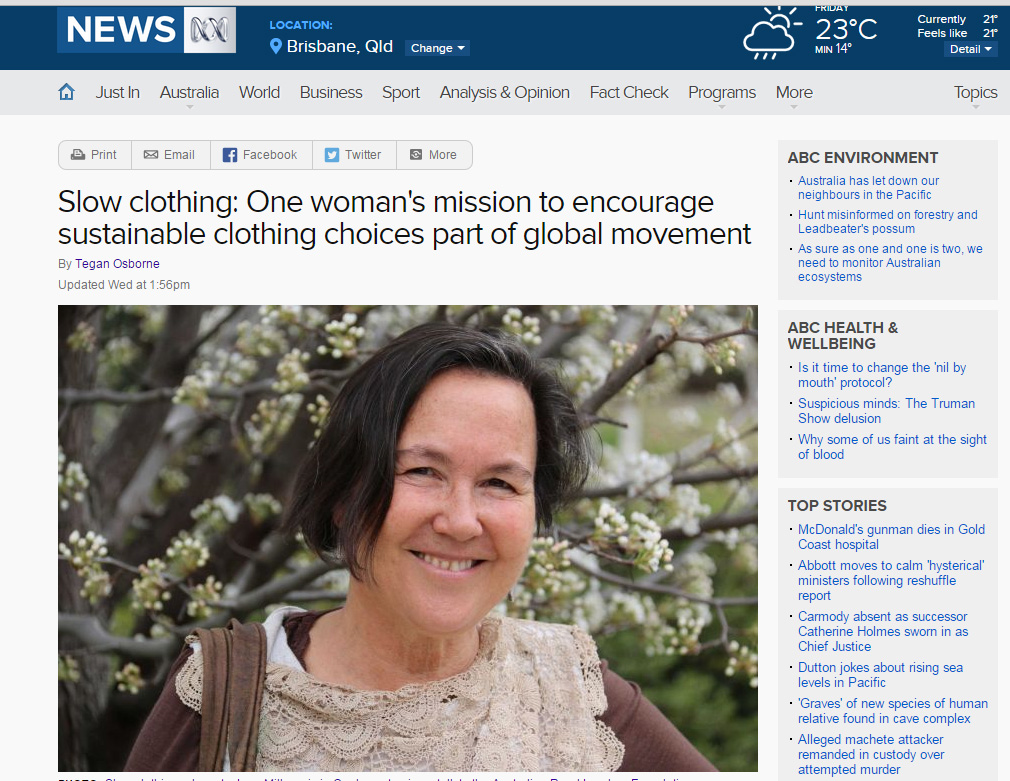 Turning trash into flash was a recent story on 7 Local News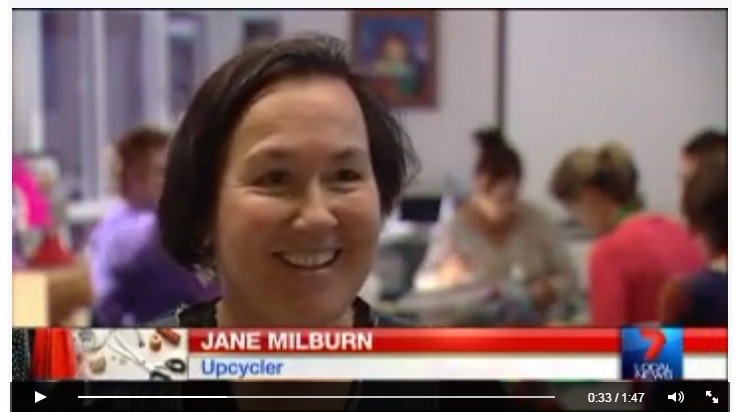 Mackay Mercury reported how Clothing with conscience takes little more than creativity
Grass Roots Magazine features Sew it Again: read Grass Roots June July FINAL with cover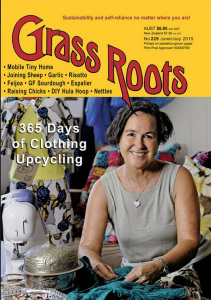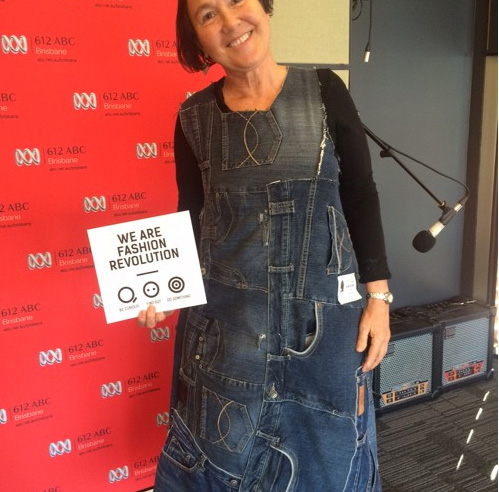 Clothes have stories and hold memories
The genesis of Textile Beat is a History Skirt with a story to tell.The skirt was created as a way to use a collection of lace remnants (including white cotton bobbles) leftover from childhood clothing made by Elizabeth Capon for her daughter Jane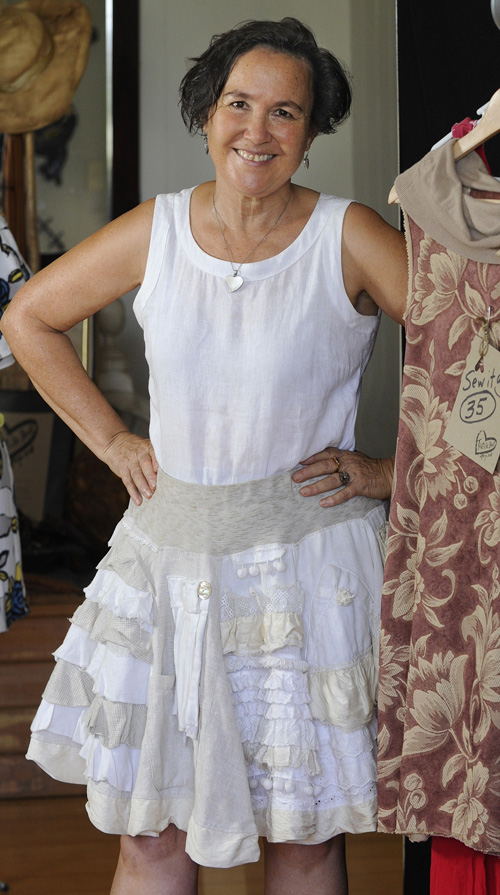 Milburn.
After holding on to these off-cuts for decades after her mother passed away, Jane conceived an idea to put them to good use – by sewing them as frills on two panels of a gored skirt, with the other panels created from a number of unworn garments (linen jacket and shorts, silk dress etc).
This History Skirt, right, demonstrated the potential for using existing unworn clothing to refashion and repurpose 'new' clothing for pleasure, reward and sustainability – and so Textile Beat and the 365-day Sew it Again campaign arrived.
Among other slow fashion projects, Jane Milburn writes a column for Fairfax Agricultural Media.
Stitch in Time column by Jane Milburn in Smart Farmer magazine, December 2014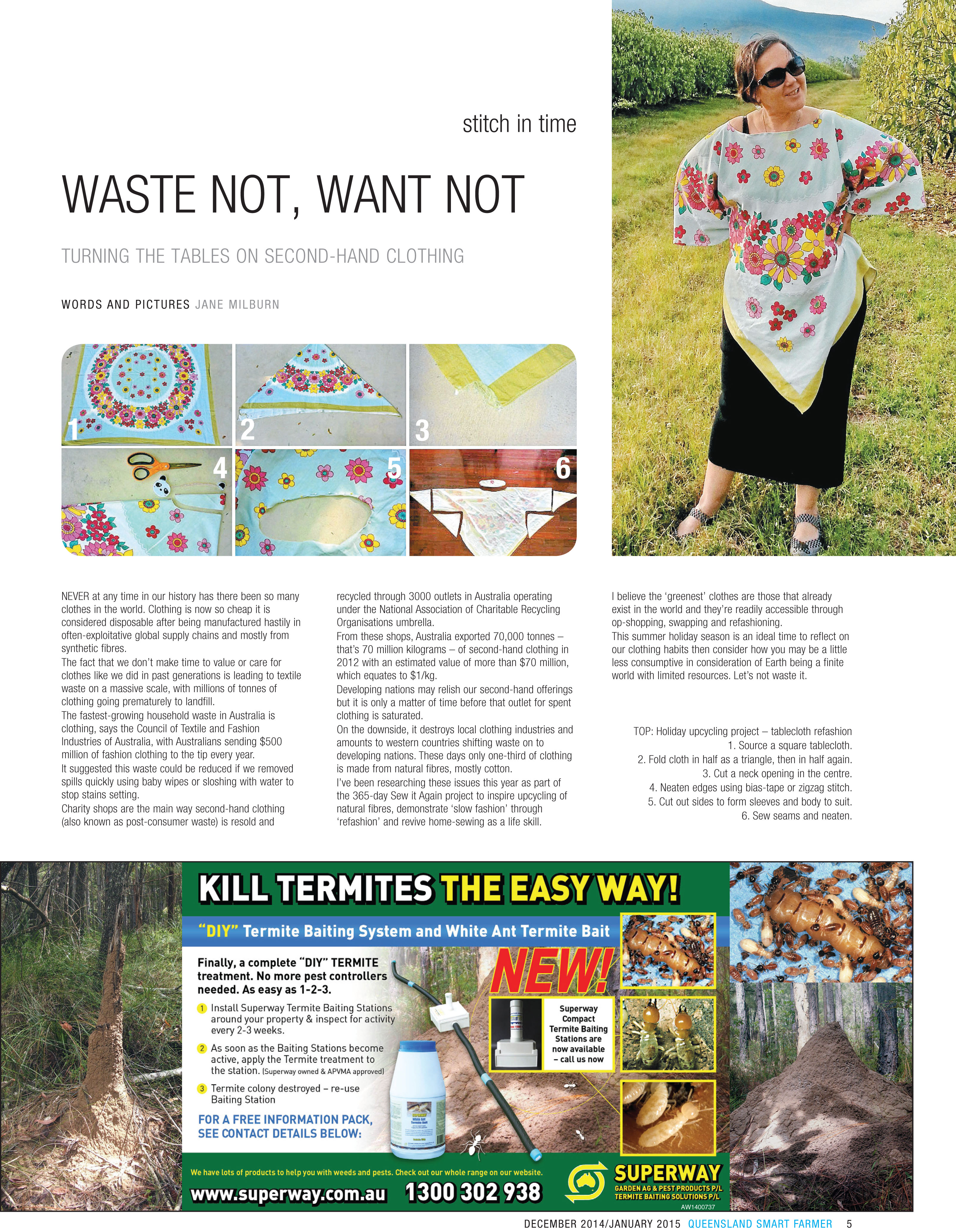 Stitch in Time column by Jane Milburn in Smart Farmer magazine, October 2014
Stitch in Time column by Jane Milburn in Smart Farmer, August 2014
Stitch in Time column by Jane Milburn in Smart Farmer June 2014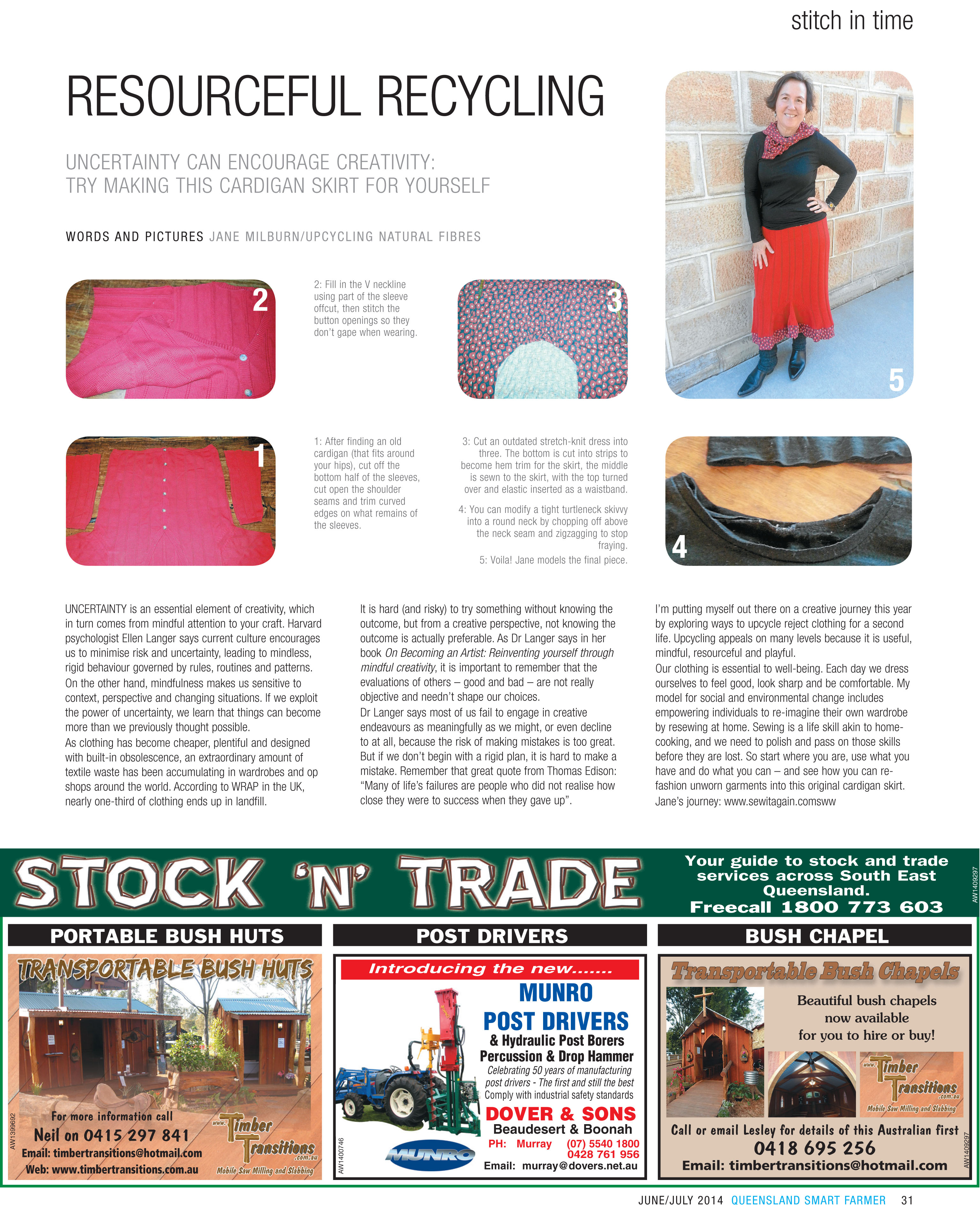 Stitch in Time column by Jane Milburn – Smart Farmer magazine – February 2014