Most thinking people know of the waste and exploitation involved in globalised fast-fashion consumption that annually generates up to 80 billion garments worldwide, yet few are in a position to step up with an alternative.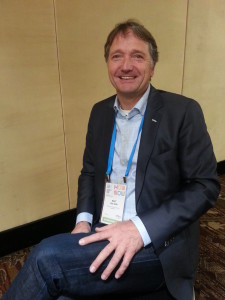 Divergent thinker, risk taker and change maker Bert van Son, right, has pioneered an ethical and sustainable model by leasing garments so that his European-based company Mud Jeans retains and recycles the raw materials.
After 30 years in the textile industry, Bert knows the downside inherent in the traditional supply-demand model. In the Netherlands alone, 135 million kilograms of discarded clothing are burned each year, diminishing these resources to ash while fuelling climate-change with more CO2 discharged to the atmosphere. An appalling waste that's replicated around the world.
In 2010, Bert decided to use his experience, money and networks to fashion a kinder clothing model that values resources and people at the same time as reducing waste and pollution. How good is that? A circular model, like a wheel, with resources going 'round and 'round. Beginning with the end in mind.
Bert now makes what he considers to be the best jeans in the world in a beautiful factory in Tunisia using GOTS certified organic and BCI cotton. He retains control of these raw materials through a leasing arrangement which enables old jeans to be recycled into new yarn in Italy before gaining a second life in jumpers or being supplemented with new cotton yarn (75% new, 25% recycled) to become new jeans.
Since 2012, Mud Jeans has been leasing jeans to customers along with a free repair service and when the 12-month lease is up, the jeans are either bought outright or traded for a new model. The old jeans are then upcycled and resold as vintage with a story, or recycled.
Telling the Mud Jeans story at the Sustainable Brands 2016 Sydney conference in June, Bert said the circular approach enabled existing resources to be productive for longer while servicing guilt-free consumption of jeans that still make your rear-end look good. Mud Jeans' dream is a world without waste, based on the fact that 90 percent of textiles going to landfill (or being burned) are recyclable.
Mud Jeans use about a 10th of the resources of conventional jeans, based a recent Blue Dot audit. Yet the lease model required a change in thinking (through stages which Bert defined as perception, curiosity and acceptance) from the purchase-based model to which consumers are conditioned.
He describes Mud Jeans customers as conscious explorers, educated, young, travellers who engage and share stories in social media #mudstory. Read more about Mud Jeans here.
Thank you to Sustainable Brands 2016 Sydney for providing an opportunity to hear many inspirational speakers and innovative approaches. Sustainable Brands is a global learning, collaboration and commerce community founded on the belief that unleashing the best of human ingenuity and innovation can change the shape of business, and with it, the world.