Leeyong Soo knows the palpable satisfaction of making and remaking her own clothes because she's been doing it for years. Although confessing to consumerist tendencies, Leeyong loves opshops and trawling through markets because she is attracted to things that are not mass-produced plastic, or cheap polyester garments that will look hideous after a few wears.
"Having shopped second-hand for so many years now, I can't believe how easily people hand over huge amounts of money for clothing that was likely made in sweatshops and that they will possibly only wear a few times before it's out of fashion," Leeyong said.
"It's entirely possible to shop much more sustainably these days – I favour secondhand things but of course there are many other sustainable options that can be bought new. It is entirely possible to make do with far fewer objects/clothes than is the norm these days, but as I don't exactly practice this theory I'm not the person to be talking about it!"
Melbourne-based Leeyong writes for Peppermint Magazine and is excited about the potential for teaching people to transform things that would normally be thrown out into useable items can only be good for sustainability (and for their wallets as well!). Here's the link to a piece she wrote earlier on The Slow Clothing Project.
"If people spend time making things by hand they also tend to value them more than if they just bought them, and there have been plenty of studies that show that crafting is akin to meditation and is also great for building confidence and forming social connections. Whenever I have taught people even really basic sewing or craft skills they are always really happy to have made something themselves, and pleasantly surprised to uncover an ability they didn't know they had. Making something by hand gives people a real sense of satisfaction."
Leeyong herself learned to sew through trial and error. "When I was about 14, I spent one day with my grandma's friend who was a home economics teacher, and she took me through the basics and showed me how to use a pattern. After that I had a few lessons during my art classes at high school but nothing significant. I did a "couture techniques" class at the CAE in Melbourne after many years of sewing, but apart from learning how to insert boning into a bodice, it hasn't affected how I sew – ie as long as something looks OK from the outside and is sturdy enough to wear, I'm not too fussed how well it is finished on the inside," she said.
Although she has sewn everything from bike pants (that lasted 20 years) and hoodies to formal dresses and daywear from scratch, these days she's more likely to carry out customisations or alterations on her existing wardrobe or on pieces she buys from an opshop/receives from friends. Apart from jeans, basics like T-shirts and undies and socks, almost all her clothes, accessories and shoes are handmade from finds at opshops and markets.
She doesn't enjoy sewing basics, preferring the excitement of making dresses and things that stand out. "I find slow clothing (pieces made from scratch or somehow customised) so much more interesting than high street fashion bought off the rack. I love rummaging at markets and opshops and finding things that no one else has and wondering about who wore them."
"I suppose it is also about the thrill of the chase – there are hundreds of the same piece on the racks at chain stores but at an opshop whatever you find is generally one of a kind and is not necessarily going to be in your size. The best thing for me is finding pieces that are 'ugly' or the wrong size which have been passed over by other people but in which I can see potential. I take them home and refashion them into something unique. It's great when someone compliments what I'm wearing and I can say 'it was $1 at an opshop' or 'I made it myself' (this happens a lot!)."
The garment Leeyong created for The Slow Clothing Project is a refashioned garment that has a story to tell and shows how clever and resourceful is she.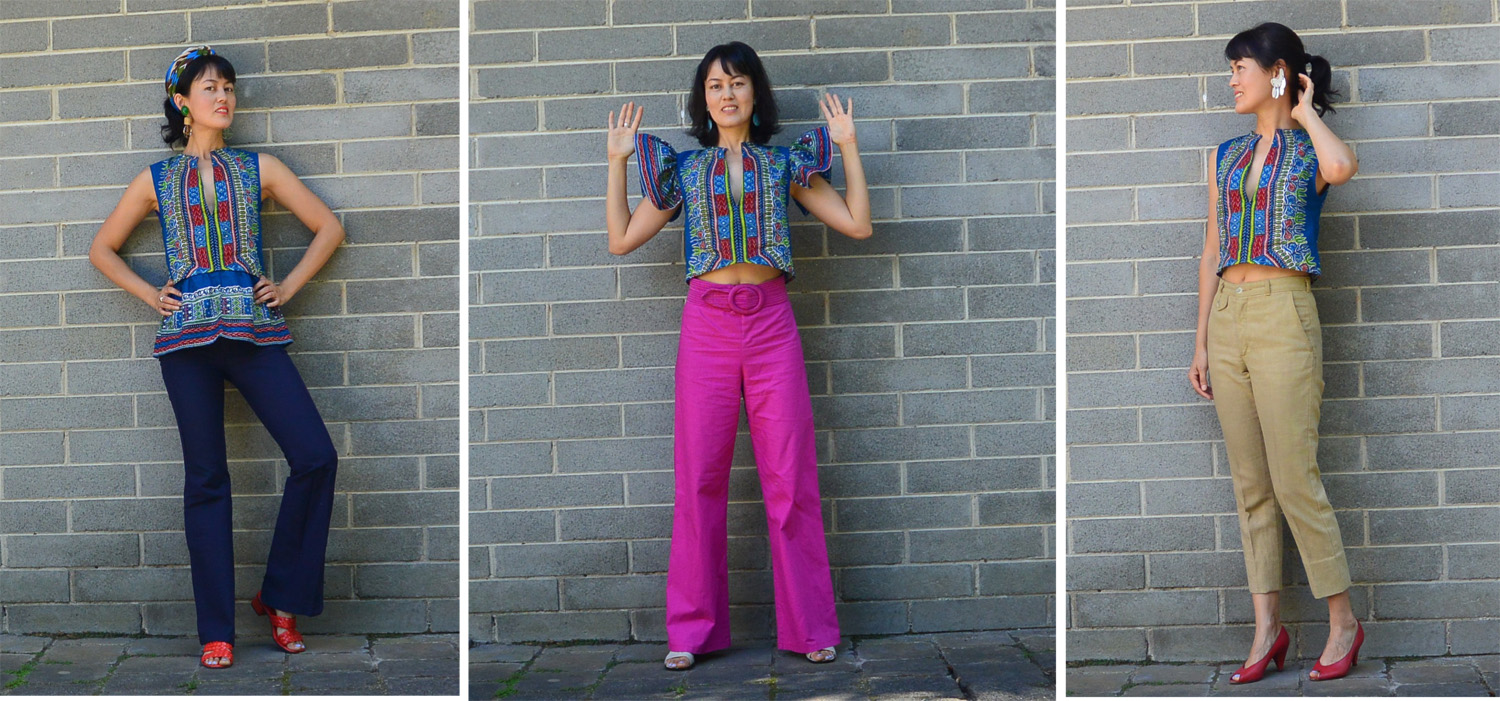 "I visited a friend in Tokyo last year and her mum was getting rid of some things in her wardrobe. She gave me a long hooded kaftan made from printed cotton and I used the lower part of it to make a simple shift dress, but still had the top section left over. I used the bodice section as the garment base, then created detachable ruffles and a detachable peplum from the sleeves and from the hood section. I attached press studs to the bodice waist and armholes and to the ruffles and peplum, so the garment can be worn several ways: the bodice by itself, the bodice with the peplum attached, the bodice with the armhole ruffles attached, or the bodice with the peplum and the armhole ruffles attached. So from one big kaftan, I have made five garments! (here's the link to the mini caftan, made earlier)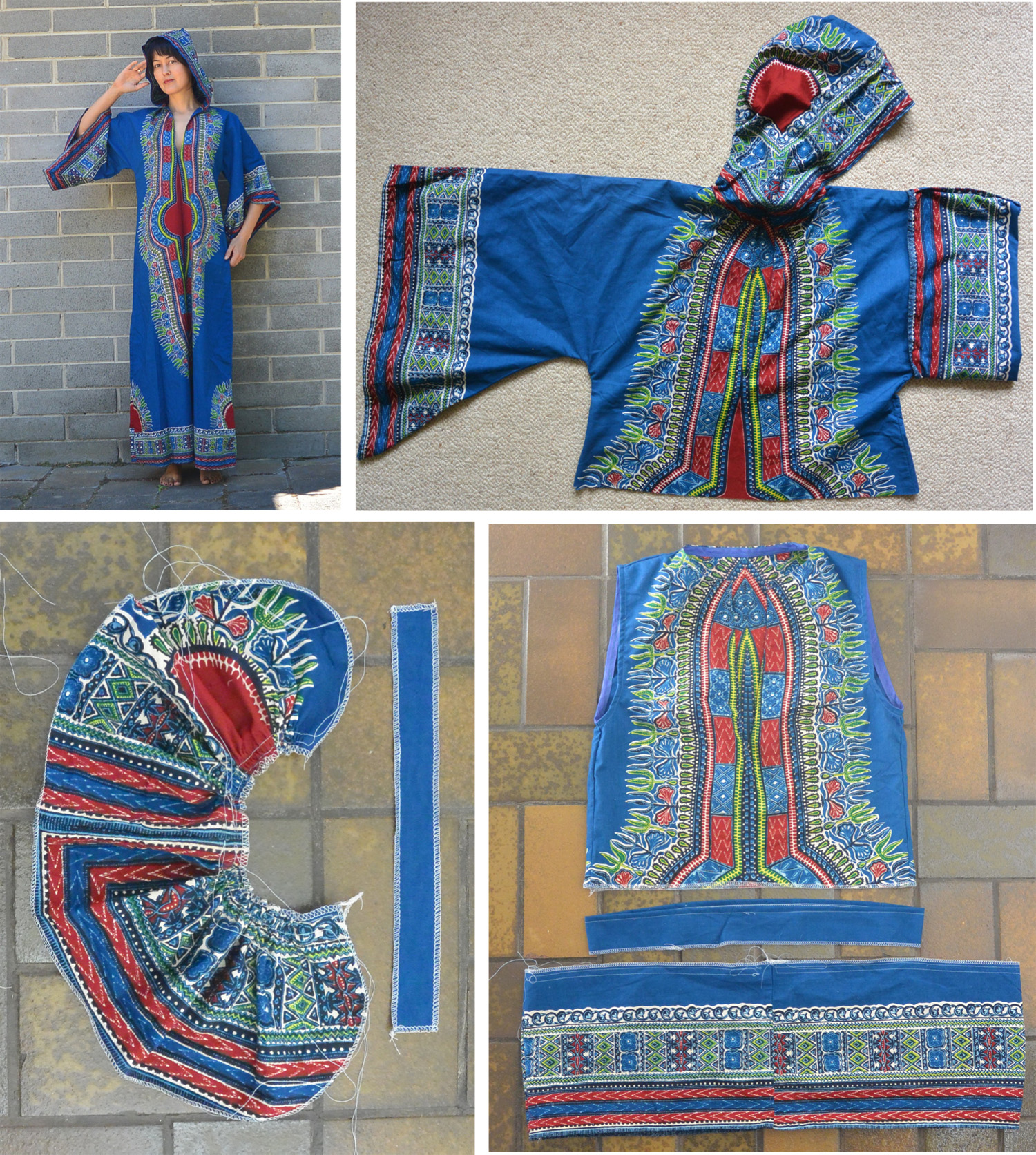 "I generally mend things rather than throw them out (clothes and objects alike) and I keep objects that I think I could use to make things eventually (such as the cores from dog poo bags which I used to make earrings! – you can see more of this kind of thing on my blog at www.stylewilderness.com). I suppose you could also say I'm into slow life in that I don't enjoy going out to noisy bars/pubs/clubs until late, I much prefer sewing something at home in the company of a good TV show or reading a book. After a few nights out in a row I definitely crave time at home just pottering, it's my version of meditation (ironically, I am hopeless at actual meditation).
So what advice does she have for people starting to sew and make more of their own clothing?
"Just try it! You will make heaps of mistakes but no one becomes a top fashion designer overnight. When you're just starting maybe it's easiest to try little alterations such as adding trims, patches and pockets to things, and then you can work up to making things completely from scratch. There are plenty of sewing courses you can do too – either in person, or check out the many DIY blogs and how-to videos on YouTube. And material doesn't have to cost much – check the haberdashery section in your local opshop or search eBay and Gumtree: you can generally find someone trying to get rid of some of their fabric stash cheaply or even for free. Once you start sewing your own clothes you'll also get to know your body shape and better and develop your sense of style and be more able to recognise whether clothes are well made and whether quality material has been used, so when you do buy new clothes you're more likely to buy things you'll be able to wear for a long time." Follow Leeyong on insta @stylewilderness