Dr Jenny Ostini enjoys being in serious work environments wearing op shop clothing or jewellery that she made. It's her little statement about consumption and success being what you make of it.
"I live a really busy life and sewing gives me the chance to slow down and create. I like practical creation – cooking, sewing and crochet – making things that we use."
There are many things Jenny loves about making her clothes: "Being environmentally conscious; being frugal; loving clothes but not being willing to spend a lot on them; the chance to be unique; the pleasure of creating; the challenge of making clothes for work that are not synthetic and uncomfortable and also the joy of making clothes that are tailored for myself. I'm tall and not skinny so it's hard to find well-fitting clothes in my size," she said.
"I love having conversations with people that are sparked by handmade skills. Everywhere I go, one of the first things I find is a community of like-minded people who sew and share stories. Sometimes the easiest conversations to start are asking how things are made or asking people the story of their clothes or jewellery."
Jenny is a researcher at the University of Southern Queensland, based at Marburg. She said people often ask her if she makes things and op shops because she can't afford new stuff – whereas in reality that hoary chestnut's day has passed and Jenny is simply choosing purposefully. "I deliberately choose not to buy new, although being frugal is a virtue too! I enjoy clothing and choosing what I want to wear based on what I like, not what this season's fashion dictates. And I love the thrill of the hunt. I keep a list of things that I need and am looking for so that I'm not tempted to buy something just because. And I try to buy natural fibres that will last and be loved for a long time."
Jenny's mum taught her to sew using a tiny Elna machine. "I don't think I appreciated the fact that Mum made many of my clothes as a child. We lived in Asia and in the 1970s, it was hard to find clothes for such a tall child. She always did huge hems so even if I didn't particularly like things, I could wear them for ages. Of course, it meant my favourite things lasted a long time (hello red Holly Hobby style maxi dress with a black velvet ribbon around the waist!) My mother-in-law is a very talented seamstress and has taught me a lot as well. And now I learn from sewing blogs, especially when I have to google how to fix my mistakes. I love finding things in op shops and remaking them to suit me."
"The things I make most are cotton dresses. The vintage-style cotton dresses I like are often very expensive so I started finding easy patterns and making them for myself. As I'm tall, I also find it hard to find dresses that are the right length. Right now, the fashion rules seem to say that middle-aged women need to wear wrap-style dresses and I look dreadful in them. I don't like back zips because I find them hard to do up myself so I started sourcing patterns that are A-line and I can pop over my head. My current favourites are Made-by-Rae and Lisette ones. I probably buy only a couple of new items a year – 95% of my wardrobe is handmade, restyled or vintage. I love the satisfaction that comes from finding a piece and adapting it a little. So many people get rid of items that just need a few stitches, or buttons or maybe a frayed seam clipped. Little stains can be hidden behind a feature button. I know that people feel that it takes time to find things and it does, but it's a hobby for me. I'm really happy that my teenagers enjoy it too and we often take time for an op shop rummage together. When I travel for work, I always keep an eye out for op shops and pop out during a break."
For The Slow Clothing Project, Jenny wanted to challenge herself to make something she hadn't tried before. "Last time I visited my parents in Sydney, my mum gave me free run in her sewing cupboard as she thinks that she won't be tackling big projects any more. She gave me a pile of vintage patterns and I picked a Simplicity Jiffy suit pattern from, I think, the 1960s.  I wanted to make a reversible jacket and this pattern had raglan sleeves that would suit that. I also wanted to use pieces of material that I had used to make things I already loved.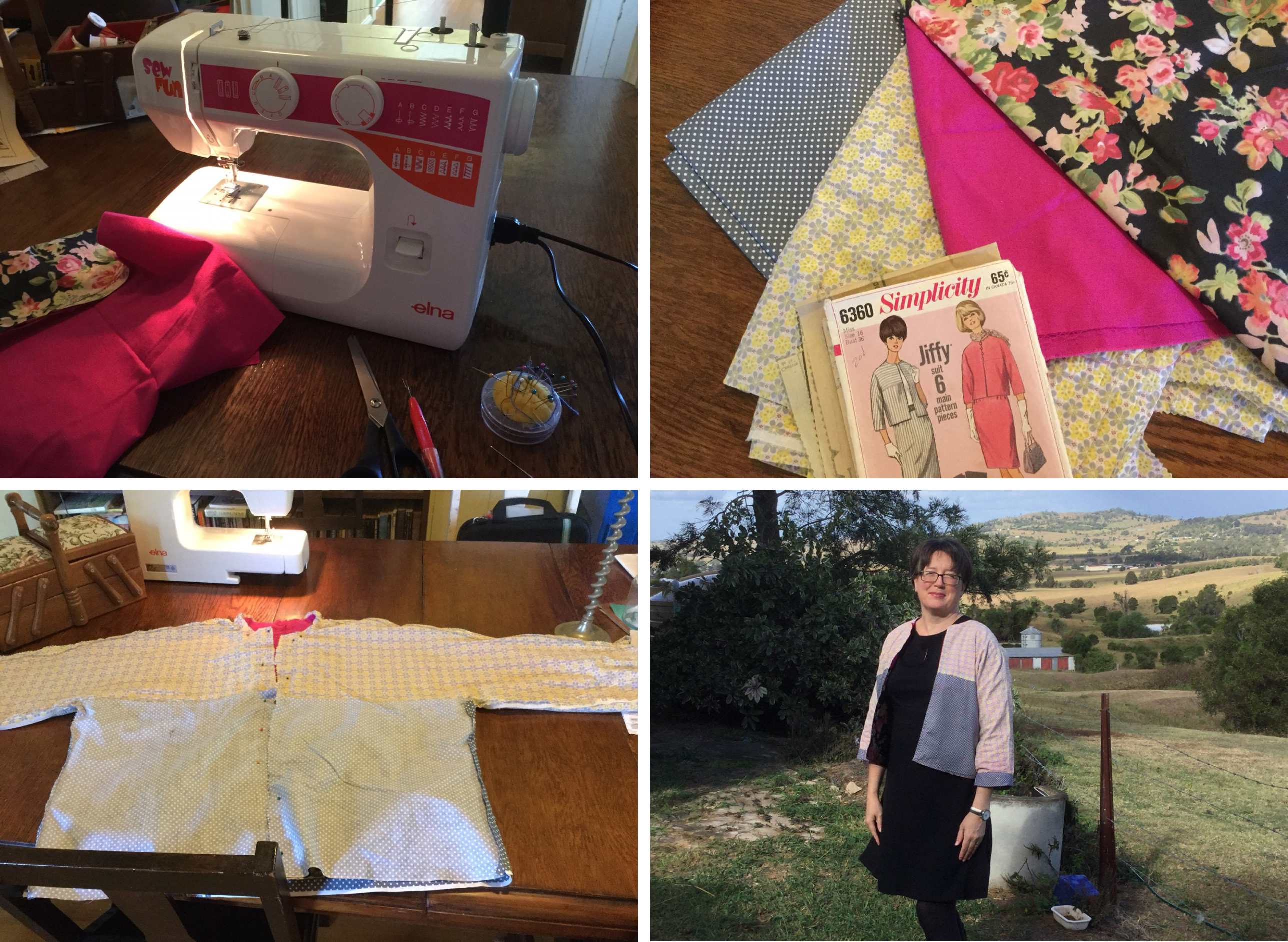 "I wear a lot of black for work so I wanted to make something bright out of cotton so it wasn't too hot with the double layers. I purchased one piece of material, the grey polka dot, to tie the others together. It was a much harder task than I expected, as you have to be very precise making the two sides so that they fit perfectly.  The grey side of the jacket has a double pleat centre back that I added to make the sides match. I also ended up somehow sewing the end of the sleeves together at one point! I learnt a long time ago just to unpick and resew things. I added the cuffs to tie both sides together and had a few hours of anxiety making everything fit. With a dark fabric on one side and a light on the other, I had to have dark cotton in the bobbin and light on the reel for any of the visible stitching. This worked out quite well. The worst problem I encountered was that I thought I had prewashed all the material, tossed the finished jacket into the wash and the hot pink bled through all the paler colours. After crying a bit, I soaked the jacket in Napisan and most of the pink stain came out. I wasn't going to waste all that effort!"
So what wisdom does Jenny have for people starting out on a sewing journey? "The Internet is awash with great sewing blogs and advice. Honestly, there is a Youtube tutorial for pretty much any technical issue you will encounter. Don't be afraid. Especially if you are using repurposed fabrics, you're not going to have an expensive disaster. Start small with altering hemlines and buttons on things you already own. And ask questions. Some of my closest friendships have come about through sewing."
Sewing for satisfaction and creativity, to be frugal and save resources, and make friends. That pretty much sums it up. Thanks Jenny for sharing your great ideas and thoughtfulness!