Emma Williamson's story embodies the values, spirit and actions of The Slow Clothing Project. When she moved to the remote Pilbara region in Western Australia last year, Emma discovered fresh purpose through handmade. She found a local need of women wanting to learn to sew and set up Sturt Pea Conscious Clothing business to bring inspired clothing into the world and return benefits to people and the planet.
"I teach a sewing class, and contribute my skills in dressmaking at a weekly mother's group. I love helping people to gain an appreciation and aptitude for garment making. I've seen it can be very empowering, particularly for those coming from a low socio-economic group," Emma said.
The Pilbara has significant indigenous social issues such as high rates of unemployment, incarceration, and domestic violence. Emma's work aims to engage in creativity and provide economic opportunities to help alleviate some of this. "In visiting Aboriginal art centres, I saw an opportunity to help expand emerging textile production from cushion covers to clothing. Through collaboration, Sturt Pea Conscious Clothing helps to equip individuals with skills, confidence and initiative, which can potentially make a difference with these issues," she said.
"I am working toward being able to turn short-term opportunities into a self-sustaining business initiative. Currently I am in collaboration with Cheeditha Art Group. Cheeditha is a self-sustaining Aboriginal community located outside of Roebourne in WA. Together we are producing a small collection of clothes, which we have been invited to sell at the Karijini Experience Makers Markets on April 22. Karijini Experience is a 10-day festival dedicated to celebrating environmental protection, connection and culture within Karijini National Park.
"The Cheeditha artists have contributed motifs from their beautiful, award- winning artworks. Together we have sourced natural cotton/linen fabrics and are screen-printing and making the garments entirely in house. I love that we can put 'ethically made' and 'made in Australia' on our garment tags.
"The aim is to engage those within the community, diversify skills, and generate a further source of income for individuals and for the community fund. The bigger picture is to turn this into a sustainable business for Cheeditha."
Emma believes handmade skills can contribute to sustainability, resilience and wellbeing in today's society – because handmade is made by the hands of a person. "There are many, many people in the world who don't receive higher, or even basic education (in the Western tradition) today. Being skilled at something with one's hands can help a person to feel they have something worthwhile to contribute to the world. It affords them confidence, pride and enables them to make a living. I believe many of the problems people and communities face come when these things are not fostered. Handmade supports the richness of cultures in our world. Mass and machine-made threatens the diverse range of skills and creativities that exist everywhere in the world today. The more we nurture each other, the better off we all are; diversity and self-sufficiency are beautiful things. Also, chances are, handmade items have come into the world much more organically and with less pressure on the environment, and so contribute to a cleaner, more sustainable use of natural resources as well."
In addition to her valuable work with the community, Emma does private dressmaking and alterations. She said people often come wanting to save old clothes, and she's even had a few wanting to recycle and rejuvenate wedding dresses.
"The slow clothing movement interests me for its potential to reduce our unsustainable consumption patterns. It really has a positive impact on the environment when we reuse instead of buying new. I think the engagement people are having with slow clothing practices is not only empowering at an individual level, it's eye-opening for change at a community level.
"People come to understand that supporting the gamut of handmade, recycled, ethically produced items from within their locality – be that an immediate community, or region, or at the national level – has many precious benefits. Furthermore, from my experience in the fashion industry in metropolitan and international arenas, I have become conscious of unethical methods in terms of human input, which are all too often involved in the production of fast fashion.
"I see slow fashion creating an alternative outside of, and in opposition to, this mode of placing continuous skyrocketing pressure on human and natural resources. To me this is beyond worthwhile, it's imperative."
Emma believes if you embrace the philosophy of 'slow', you can apply it to almost every facet of your life. At its core, it is advocating slowing down life's pace.
"It recently dawned on me that control over my time, attention and energy will make me happiest. So I've begun to manage my time, attention and actions in a way that will give me the most energy – that's one of the big pluses of living 'slow'. It's resulting in a lot of culling, prioritising and acting with a presence of mind as to the effect that my actions have on myself and on the world around me. I now put myself to bed before midnight, and I've cut down on the bad sugary foods and try to eat vegan as much as possible. In my work life, I've resolved to take on projects only after I sincerely answer 'yes' to the question 'If nobody ever saw this and you never got credit or pay for it, would you still do it'?"
Emma said she always knew she would formally learn to sew and did so through a Diploma of Applied Fashion Design and Technology TAFE (at Sydney Insitute of TAFE, Ultimo). "But I learn new skills all the time. A few years ago, I inherited my grandmother's hand-crank 1940s Singer sewing machine. Trying to control the fabric one-handed was certainly a learning curve, and it's stood me in good stead. Every time I take on a project or sew a new garment, I learn something about fabric or technique. "
"When I get an idea for a new garment it tends to be quite ambitious, and the design quite out there. I like to really go for it! My favourites to make are draped dresses, and billowy pants and tops. Plus I love mixing and clashing fabrics together.
"I have a habit of collecting pre-loved textiles to refashion into garment form. I've sourced tablecloths, tea towels, doilies and wall-hangings from op-shops to this end. I've rescued materials from fellow creatives' 'failed' projects/experimentations and applied them to garments. I've even woven my own 'slow fabric' from disused yarn using a loom. I'd say about 20 percent of my wardrobe is made of these items and vintage finds."
The garment Emma made for The Slow Clothing Project consists of a cotton sheet and a length of elastic for the neckline.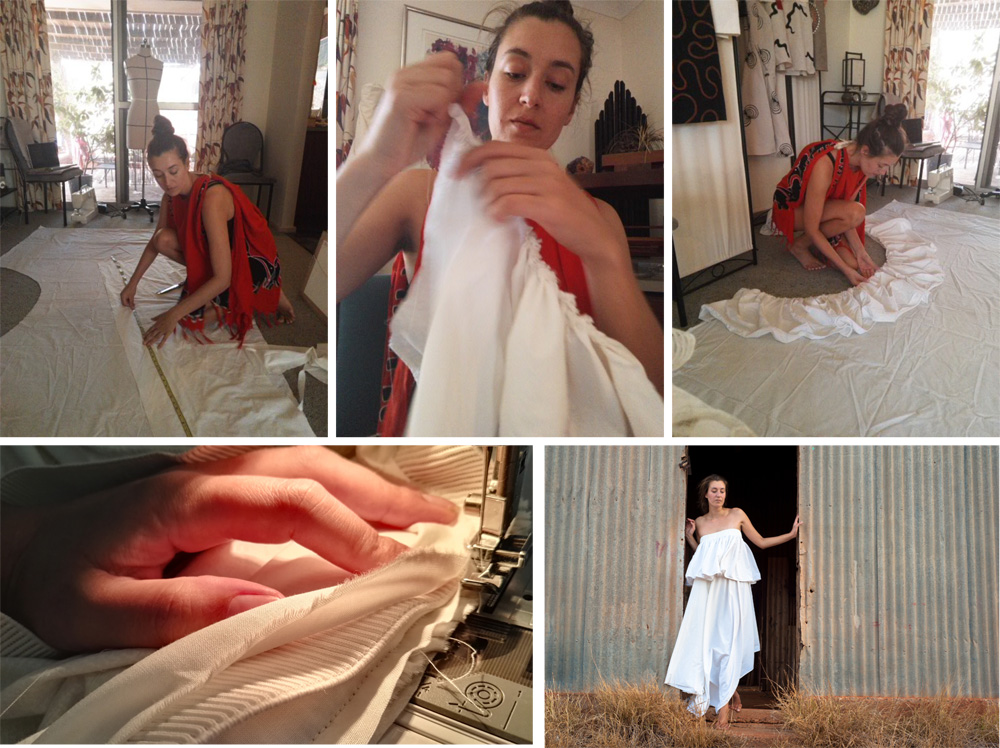 "Earlier this year I moved into an apartment where the previous tenants had neglected to pack their household belongings before leaving. It was a big opportunity to reuse and recycle. In particular there was so much linen! I felt like I wanted to save this sheet, to recycle it into something beautiful so it could continue its life in a useful way. The elastic I bought in a pack of off-cuts from a retailer, so it is finding a useful purpose too.
"The big and bold character of the garment came about organically, a product of simply having so much fabric to work with. I did very little pattern making and cutting and only sewed two seams to get the finished piece."
What advice does Emma have for people starting to sew and make more of their own clothing? Don't try to think and plan too much. Start with something simple and you'll be amazed how much the process and your mistakes help you out. It's likely you'll depart from your original idea and end up with something you never imaged you could come up with!
If you love Emma's work and ideas, you can follow her on instagram @sturt.pea