By Ari Balle-Bowness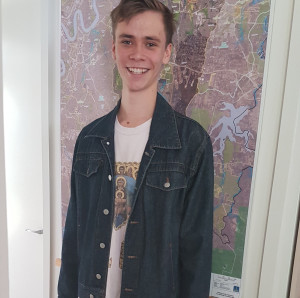 Clothing of today changes faster than the weather. Buying clothes, wearing them once and leaving them in the cupboard is commonplace. This is not an assumption, it is a regular observation.
I am a 19-year-old journalism student at Griffith University sharing a male perspective on contemporary clothing culture and how to combat the fashion monster that has come to dominate our thinking.
My clothing choices are independent as I try to stay away from the fast-fashion options and prefer to develop my own style. My solution is op-shopping and second-hand stores which are increasingly popular among younger generations. For many my age, the vintage revival is booming and op shops are becoming trendy places which also happen to provide a more sustainable way to dress. 
When I reflect on what influenced my op-shop choices, I'd say it was primarily my Mum. When I was young, Mum worked in a market sewing children's clothing. This is where she made all my clothes until I was five, no joke! Mum taught me to have a keen eye for quality clothing and not to follow the crowd. In my observation, the fast-fashion industry today skips on quality and goes for quantity.
The other big influence was visible changes to the Great Barrier Reef. Growing up in far north Queensland, the reef was at my doorstep with countless snorkelling trips spawning a great attachment to the reef from an early age.
When I noticed the extent of coral-bleaching, I endeavoured to change my lifestyle: volunteering for Landcare club; studying sustainability at university and making all-round efforts to lesson my carbon footprint – including through my clothing choices.
I believe clothes are viewed as limitless items that are always replaceable. Although I do observe the rise in second-hand life, I also see the majority of people my age flocking to chain stores for their cheap prices and ever-changing new styles.
Social media is a major contributor to this problem. Facebook blasts us with adverts for new shoes, shirts and socks etc. from websites like ASOS.com so it is little wonder the clothing lifecycle has shortened to almost be disposable.
But buying lots is not the only problem. There's also a sense that designer wear is important. At an impressionable age, fashion companies target teens to fork out big dollars for poor quality merchandise. Last year, I watched a friend buy $700 Gucci shoes that looked like they came out of a cereal box and a year later these shoes are shabby and sad.
For any change to occur with clothing culture, we need greater public awareness of what our choices mean and how to actually make better consumer decisions. People making more independent choices – buying less and buying better – can bring change across society that I believe is overwhelmingly important for sustainable living in future.