Dr Libby Woodhams began making clothes because she couldn't buy anything she found sufficiently colourful and different. She doesn't consider herself a dressmaker because she mostly sews straight lines and lacks patience for tailoring. Libby buys patterns with simple shapes and finds Kwik Sew patterns suit her skills and provide a good canvas for appliqué or fabric painting.
Some of Libby's staple 'makes' are a patchwork skirt with elastic waistband and patchwork coats. "I like making them because coats cover a multitude of sins and the clothes underneath can be very simple and timeless. I try to wear as much merino as possible because I think wool is the best fabric for sub-tropical climates. I buy them as manufactured garments when I see something different that I like. These merino garments are a 'walking teaching aide' for the promotion of wool. At least 80% of my wardrobe is merino tops and skirts bought over the years. The fabric is so long-lasting that I don't need to buy more but sometimes I just feel like something 'new' – whether I buy it new new or in an op shop," Libby said. 
"Coming from a family of woolgrowers, I'm naturally an advocate for wearing merino. It is a wonderful fabric that avoids many of the pitfalls of cotton, silk and linen – it absorbs moisture without getting wet, it resists creasing and crushing so no ironing is required, and it repels odours which means that garments can be worn for longer without needing laundering. And, most modern merino garments can be washed in cold water in a washing machine.
"I still wear merino garments that I've had for 10 years or more – and one favourite skirt is an early Flamingo Park number from the late 1970s. I support a local Brisbane label, dogstar, because their garments have an edge, use good fabric and suit my shape. I also support some of the early pioneers of Australian textiles like Pam de Groot and Liz Gemmell. And I broke one of my own rules recently (of not buying cotton) when I bought a cotton jersey dress by Romance is Born. I love the work of a Melbourne design team New Model Beauty Queen who screen print their own fabric and make their own garments – they are so edgy and different. Unfortunately most of my time is now spent in work clothes – merino tops and paint-stained skirts. I have a very bad habit of wiping my dirty, paint-stained hands on my bottom so I wear my work clothes until they fall apart."
For The Slow Clothing Project, Libby created a reversible wrap skirt which enables many different looks and is flattering for diverse body shapes. On one side, she used fabric pieces reclaimed from two pairs of men's merino trousers from an op shop. The reverse side is patchwork. There's a piece of wool/silk with hand painted-circles; next to a scrap of black and white cotton left over from the construction of another garment; next are two Indian woodblock napkins Libby bought in Jaipur when she did a woodblock printing workshop there about five years ago; next is a scrap of African hand-blocked cotton fabric; next to  cotton remnants from her local fabric shop; next a scrap of merino shirting; next to a scrap of an African hand-blocked cotton fabric followed by merino scraps.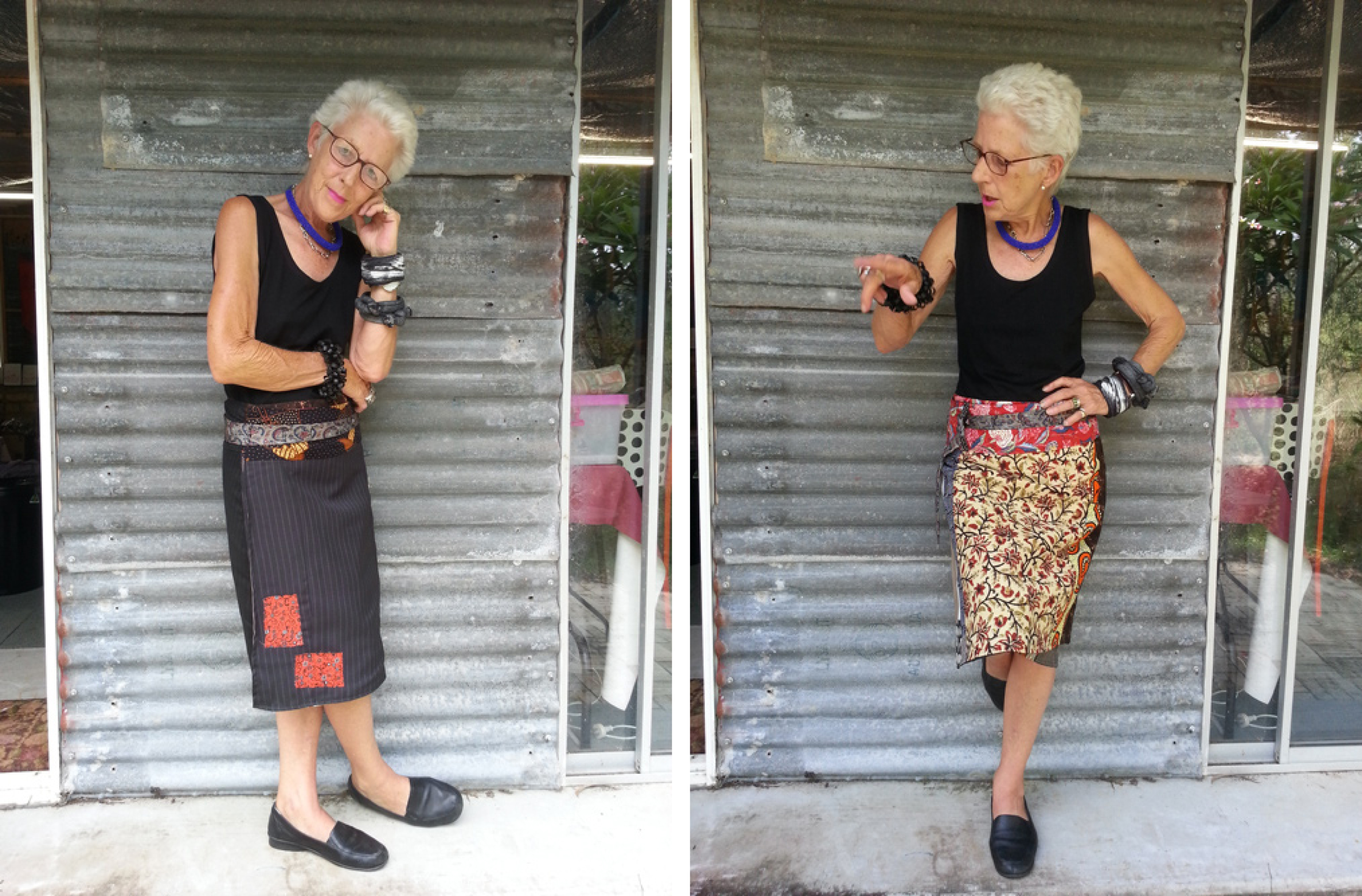 "One side of the waistband is a rare find that I bought in Haarlem a wonderful little town outside Amsterdam. The fabric is not only designed in Holland but made there as well. It was quite expensive so I only bought half a metre but with patchwork every precious scrap is used. The biggest problem is working out an economical method of fastening the skirt because I wanted to accommodate several sizes. To fasten this skirt, I used an old tie given to me by a retired friend and sewed buttonholes at the different size markers and added two buttons!" Now that's a skirt with the story!
Libby's father was a POW on the Burma railway and the family grew up with a strong aversion to waste of any description. As a child, she watched her mother patching clothes on a Singer treadle machine and learned sewing at boarding school. "Now I cut up clothes that I have either grown out of or don't fit my lifestyle anymore. And, I love it when I am given old garments that I can cut up and use in new creations. I love the fact that each garment has a story – buttons from a down-sizing friend; old linen tea towels from a friend's mother; a scrap of fabric that I bought or was given – and I re-tell the stories when I sell the garment. Then I find that the stories are being repeated and repeated by my customers and that gives me a wonderful sense of the richness of our inter-connected lives. And, nothing is wasted!"
Given her background and education in creative expression, Libby has long been an advocate for the healing benefits of making things with our hands because when hands are occupied somehow it enables the most intimate and enriching conversations – and it happens almost involuntarily. She applied this knowledge in previous roles as co-ordinator of the Australian AIDS Memorial Quilt Project helping people make panels for someone they loved who had died of AIDS and Artist in Residence in an Acute Psychiatry Unit. "The hands were occupied and the flood gates would open but in a peculiar, undemanding way. It was often not necessary to respond to what they were saying, it was sufficient – and healing, to have the space to talk and tell stories," she said.
What advice does Libby have for people starting to sew and make more of their own clothing? "Buy the best sewing machine you can afford because they sew better, last longer, and are easier to use and maintain. Buy from a shop where the staff sew and can help with advice, and do the workshop and/or lessons that should come with the purchase of a machine to learn how to use it to greatest advantage. Use natural woven fabrics to start with because they are easier to sew than jerseys and synthetics which can slip and slide all over the place. And, finally, don't be afraid to ask for help even if it seems like a kindergarten problem."
Reflecting on changes in the fashion industry in recent decades, Libby said: "I do think the current orgy of consumerism is an interesting paradox – an extreme focus on 'Me, Me. Me' but a pervading lack of critical analysis and thought. I really dislike that globalization means it doesn't matter where I am in the world, all the shops are the same and all the clothes are the same. In my view, it makes it even more important to seek out and support the local designers who are making something different."
If you live in south-east Queensland, look out for Libby at her Chook Shed Artisans market at Burbank on the weekend of 21-22 May 2016 from 10am-4pm. See more here.