Slow clothing is way of life for Miriam Gillham. She says sewing is a wonderful means to express unique individual style, to create clothing that is considered, thoughtful, necessary and valuable. She's made clothes for her family, altered men's formal wear suits for a part-time job, designed and sewn special occasion gowns, dance and theatre costumes, curtains and soft furnishings. And she makes soft sculptures, textile art embellishment pieces and soft corsets which are embellished with embroidery, beading and fabric manipulation.
"I am always sewing!  Our grandmothers and mothers sewed, I really want to see my daughters and their friends sewing too. It's a marvellous gift to pass on to the next generation. I have gifted both new and second-hand sewing machines to some of my friends' daughters and my own daughters. They have made wonderful gifts to mark special seasons, going to university, leaving home and getting married. The added gift of a few sewing lessons from me has always been well received. I love that part, it's the fun part," Miriam said.
"Slow clothing made from reclaimed or preloved items will always give me joy and satisfaction. I love creating things of beauty and function that are treasured and worthy of keeping or passing on and perhaps being remade by a new generation, in years to come. It is exciting and inspiring – I just love watching the idea come to life.
"The few clothes I buy have a long life expectancy.  In fact, most of my clothes arrive at my place in bags from family and friends or the op shop. I have collected from my teenage years. Considered by my daughters as vintage, a few pieces are classic well-tailored and timeless, another couple of pieces are quirky and unusual.  I make a few pieces for myself, mostly deconstructed and recycled old favourites that I upcycle into new pieces to extend their wearability. Most of my sewing of late is in teaching my youngest daughter how to sew on her own new machine.  I bought it for her as a present to make her own unique wardrobe. We have been sewing together for a while now and she has used one of my patterns to make four different dresses with me and is now altering it to make her own special outfits on her machine.
"I was extraordinarily blessed to be born into and 'immersed' in the creative world of 'remaking and upcycling' country women –at a time before any of these words were used to describe regular 'make do and mend' activities. These most fierce, wonderful and gracious makers were family and immensely accessible. As a result, I absorbed sewing from my earliest childhood. It was a necessary part of a farm life as families didn't always have the time or the finances to access the latest clothing trends. My mother, a stylish lady, created her own unique 'sewing circle' with her three oldest daughters.  She taught us to use the sewing machine and how to draft from her Enid Gilchrest books by the time we were six or seven years old.  At primary school I learned the skills of pulled embroidery work and sampler embroideries to embellish my growing collection of aprons, pot holders and, doilies. My father's mother also passed on her knitting, crochet and tatting skills to her granddaughters, I spent countless holiday hours, sewing on the old treadle machine on her Queenslander veranda and happily made rag rugs, bootees fashioned from crocheted knee rugs and other recycled wonders. Nothing was wasted and many items had multiple lives, stockings in particular were plaited together in 'legs' of three and hand sewn into large, round floor rugs, amazingly warm for cold toes on frosty Darling Downs winter nights. After high school, I was blessed enough to study fashion design at Arts College in Brisbane and learnt how to use my humble, strong, grassroots sewing techniques to create beautiful well-produced clothing and designs."
The garment Miriam created for The Slow Clothing Project is remade from a dress her mother purchased via a mail order catalogue and didn't wear because it was much too big. She gifted it to Miriam to do something with. "It's made from a soft cool, brightly printed cheesecloth cotton fabric which is a bit bright for my style, however my daughter loved it and asked me to make her a playsuit out of it. We decided I could draft a pattern from a much used favourite dress pattern (bodice section) combined with another favourite pattern, for the flared shorts. There was a lot of fabric in the dress as it was a dropped waist, three-tiered dress. I discovered the original dress was not cut true to grain and decided to unpick. I utilised the tiered skirt to cut out the flared culottes front and back pieces, and the old bodice for the new bodice, which I had to piece together. I used a zip and buttons from my stash of salvaged bits. I don't have an overlocker and as the flimsy material frayed easily I took care in finishing the seams. I am very happy with the results, it's a pretty girly playsuit and suits my daughter's style."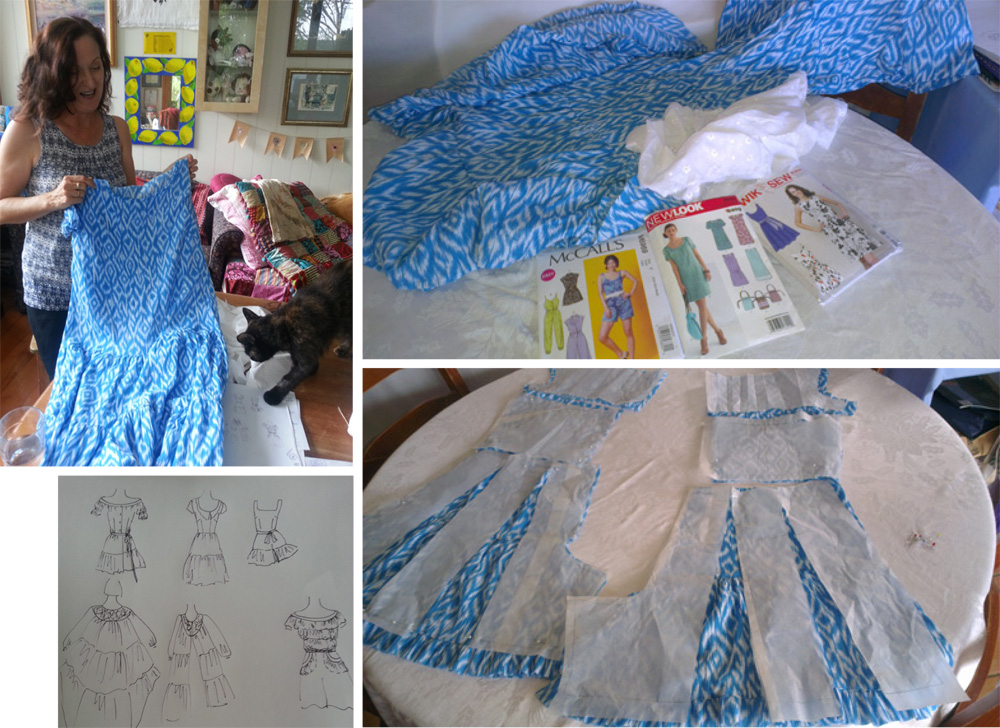 Miriam put time and energy into remodelling for a second life because she believes in repurposing and reducing waste. "The culture of consumerism of fast fashion is insidiously pervasive. Incremental acquisition seems to be part and parcel of modern life.  Dedicated fashionistas love the versatility that comes from the variety of available fashion trends, with perhaps, very little thought given to the product's lifecycle or who made the clothes and their working conditions etc. Given my passion for slow clothing, I find it an unusual and expensive pursuit. Now though, awareness is growing about working conditions, awareness of workplace tragedies in developing countries, and new knowledge and better education coupled with the trend to value well-made sustainable goods is altering the collective conscience. I am really thrilled to see designers and consumers now starting to embrace a way of working and living that considers every aspect of a product's lifecycle and its upcycling potential. It is so encouraging."
"Handmade can never be obsolete. Sustainable skills are always valuable. A resilient society values its artisans and craft people as essential in passing on generational skills and techniques, especially for the enhancement and health of the whole society. Art and crafts are a culture's expressive soul. I personally believe that handmade has intrinsic value in its own right. As a maker and hand embellisher though I am aware that the time required to produce a beautiful garment or object can make an item expensive for selling. The challenge is it refine the process, good design, to create an affordable and treasurable item that people are willing to pay for because it will last and be valued for its timelessness, durability and beauty. To be sustainable the crafts person or artisan must also be able to live, so affordable products that sustain their living is a necessity for a resilient society as well."
And what advice does Miriam have for someone beginning their sewing journey? Just start. "You may just want to start by updating a piece of clothing you already love. Try adding a trim, ribbon or lace to the bottom of a skirt or pair of shorts or pants. Start realistically, straight sewing is the easiest. If you can access a learn to sew course in your area, go for it as they will offer great support. Otherwise there are some really good YouTube videos that take you through simple processes such as seam sewing, curved seams, hems, zip insertion, button holes, facings etc. and there are bloggers and pinners (Pinterest tutorials) who show videos on how they have successfully updated or changed a piece of clothing. These are usually a few minutes long and generally easy to follow. A simple cotton skirt is a good start as it is mostly straight seams. A sleeveless top is also manageable; the sleeve hole can be a bit tricky but purchased bias binding can help to finish these curves. A firm medium-weight cotton fabric is the easiest to sew for the beginner, stretch and sheer fabrics can be very challenging."
Thanks Miriam for your gorgeousness and great philosophy.