Cath Jarvis is a busy sonographer and mother of three who with partner Kevin runs a sheep property at Tottenham in central New South Wales. When growing up in the country a few decades ago, Cath's Mum encouraged her and two sisters to step away from learning 'domestic' tasks and get more into professional and untraditional work. This meant Cath only learned to sew later in life when she realised these skills were useful for sustainable living.
"We all rode motorbikes and horses, and generally mucked around on the farm, we might have been a bit wild. Then when we went off to high school we were sent to an agricultural high school and these subjects weren't offered. I didn't ever think it was a great loss until my late 30s when I realised being able to sew could be very handy.
"I did a couple of sewing classes and got the basics, but it was pretty clear that while my enthusiasm was high, my skill level was low. I then did some quilting with the Albert girls in my community, and really enjoyed it. Things really changed for me when I heard Jane Milburn talking on ABC radio about her 12-month Sew it Again project. I googled Jane and well as they say, the rest is history. I love tinkering with old fabric and trying to make something new out of it."
"I love collecting old tea towels and doilies and just playing to see what they might lend themselves to. I have made shirts and dresses mainly, but I've also changed my whole mindset now about not only mending clothing but also reusing them to make another garment. I think about 30 percent of my wardrobe has been upcycled in some way.
"I've also enjoyed experimenting with making natural plant dyes. The ironbark trees on the farm make a really rich red dye when you soak the bark, Kevin can remember his mother and grandmother making dye from bark and leaves – it is a pity to lose these skills between generations.
"There is so much to think about with our clothing, I had a major light-bulb moment when I heard about the Rana Plaza building collapse in Bangladesh. Not only are people being paid a small wage to make clothing for us, but some of them die while doing it. On top of that I think we need to be more conscious of how much of the world's resources go in to making all these clothes that we don't really need. And of course I would love to see us using more natural fibres like cotton and wool instead of fabrics made from plastic."
For The Slow Clothing Project, Cath made a denim dress out of three pairs of her kids' jeans that no longer fit, a well-worn denim skirt of her own that was beyond repair, and a pair of Kevin's torn work shorts. Cath got most the job done at a refashioning workshop at Parkes Library earlier this year, then finished it off and styled it at home on "Kia-Ora'.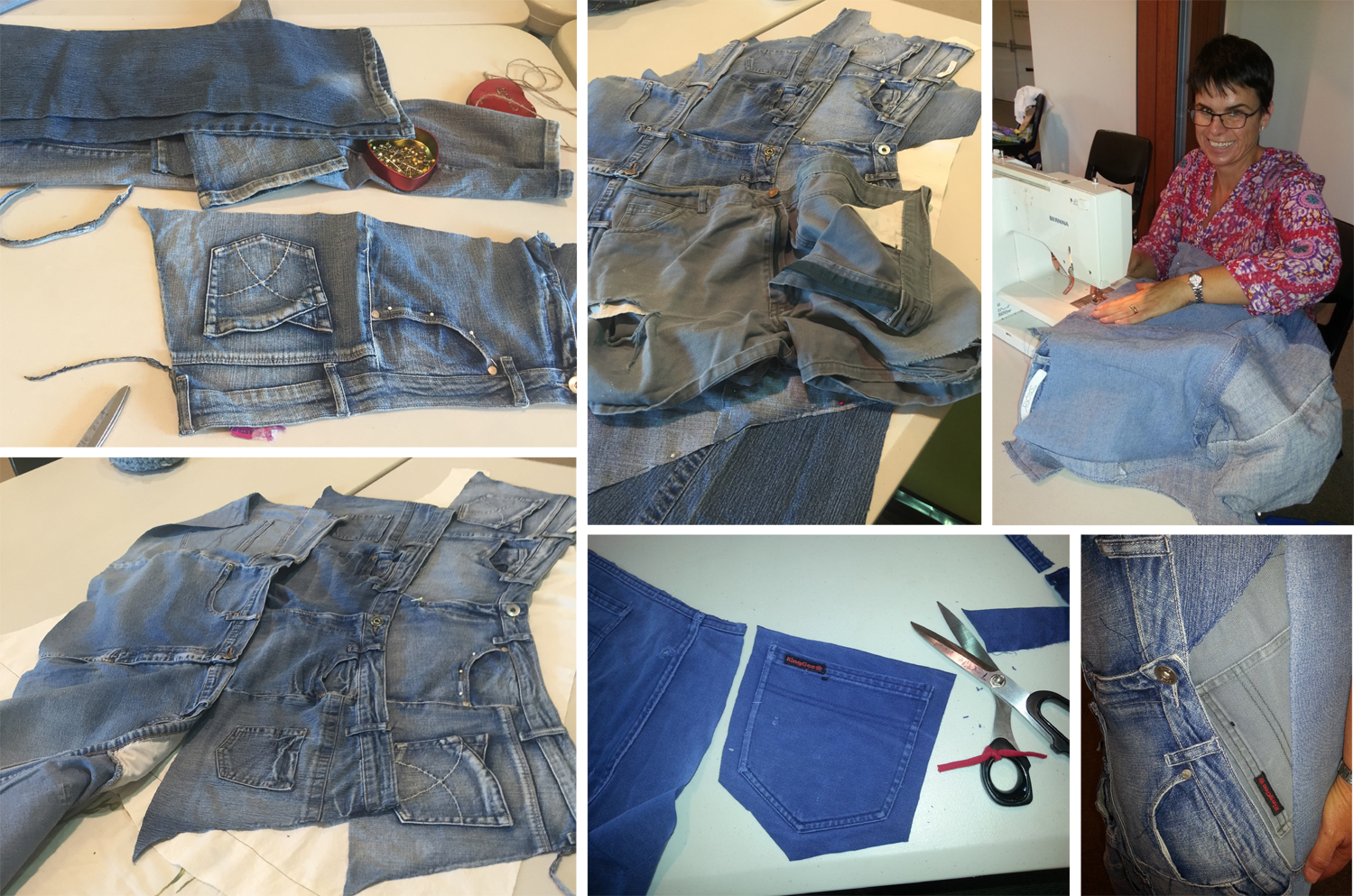 "The pattern was a shift shape that I copied from Jane when we did a workshop at Tottenham last year. The process was easy and at the Parkes workshop I had Jane to offer advice too. Basically I cut the garments open, tried to preserve any interesting details like labels and metal buttons, and laid the pieces over my template. The pieces were then pinned sewn together and trimmed to shape. You end up with a front and back that are just sewn up the sides and shoulders. I shaped the neckline on the front and have left most of the edges raw, as I like the look."
The pinafore is a wearable statement about sustainable living. "When you live in a remote location like we do, we tend to 'make do' with what we have. Farmers have been repairing and inventing as they go since the beginning of time. I like to be in the garden and watching what I can get to grow," Cath said.
"We all have too much 'stuff', we have reached the tipping point now where so much of what we do is no longer sustainable, and we need to make a few changes to our lifestyles. If we could all just mend our clothes instead of throwing them out and buying something new, the planet would say thank you. Sewing is a very mindful activity, you can forget about all the other stuff you might have going on in the background and just sew. "
And what is Cath's advice for others starting to sew and make more of their own clothing? "Just have a go, what's the worst thing that could happen? Try to find some like-minded people to bounce your ideas off, it's fun to sew in a group."
Fabulous insights Cath – and thanks for your friendship and support in sharing ideas for a more sustainable clothing culture. The images below show the other pinnys made at the Textile Beat refashioning workshop at Parkes Library earlier in the year. It was a fun day!