Deborah Palmer believed the 50th anniversary year of the Battle of Long Tan was an appropriate time to move along the regulation shirt and jacket her father Damien Gainer wore in Vietnam during service to Australia.
The serviceman's uniform had been retained unworn through the intervening years and after Mr Gainer passed away two years ago, their only purpose was in holding memories of what had been.
As a teacher and maker, Deborah was inspired to redeploy the garments after hearing The Upcycled Way presentation at the Home Economics Institute of Australia Queensland conference.
"I am a home-economics teacher and it is a pleasure to teach students the importance of textiles in an ever-changing world.  My teaching practise has evolved over the past decade to have a big focus on sustainable futures in both food and textiles," Deborah said.
"Last year after hearing Jane Milburn's presentation at the HEIA conference in Brisbane, I was inspired to make changes in the way we view and use textiles in the classroom as a way to educate young people to make more sustainable choices."
Deborah learned to sew as a 15-year-old with the help of her mother and later studied home economics – taking a particular interest in textiles.
"I am lucky to have a loving family with a real appreciation for handcrafts and textiles.  My grandmother, mother, sister and aunties alike love and loved to make gifts and fashion using textiles.  Natural fibres produced by our Australian cotton and wool industries are versatile and wonderful to work with. They enable the home-economist in me to make items that are not only individual but sustainable too."
Upcycling is a way of extending the life of clothing that is not being worn in its present form. That is why – on the 2nd anniversary of her dear father's passing and in remembrance of the 50th Anniversary of the Battle of Long Tan – Deborah lovingly reconstructed his jacket and transformed his shirt into a skirt for her mother Helen.
The photos, below, tell the story of how Deborah cut up the shirt (only a few scraps were not utilized in the skirt), unpicked the jacket, and unravelled an old blanket to use the fibres to crochet into poppies.

"I was very cautious about cutting into each part of the shirt but my mother supported my efforts all the way. I used all the elements from the original shirt in making the skirt, as well as some parts of a jacket my father wore in Vietnam," Deborah said.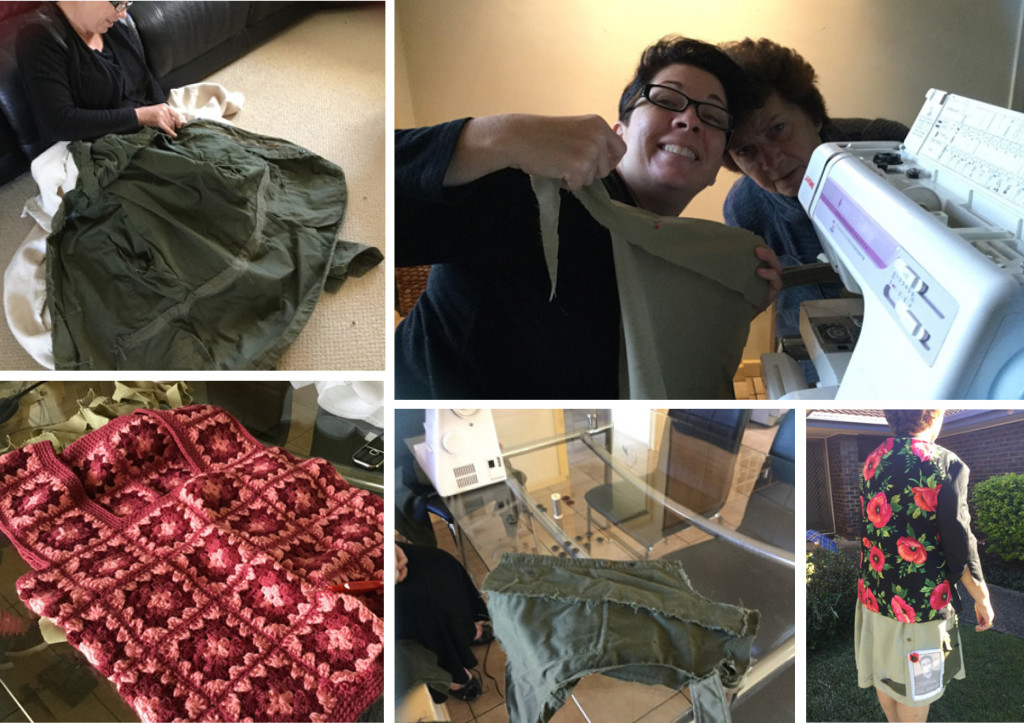 "The new jacket is reversible and utilizes part of the army jacket as well as scraps of fabric I had.  No materials or notions were purchased for either of these garments.
"The photos do not really do justice to the outfit or the positive experience I had in making it.  The new garments hold elements of memories and stories – that is what I love about reusing textiles."
Deborah said the reason she wanted to be part of The Slow Clothing Project was to make a difference. "When I look back on my life, this will be one of the things I will feel I have done to make a difference in the world. "
Thank you so much Deborah for your thoughtfulness, care and commitment to sustainability. It is great that you are in a position to pass-on sustainable values to the next generation.