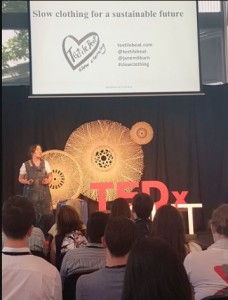 Below is original script from Jane Milburn's TEDxQUT talk on April 8, 2017.
This suitcase weighs 23kgs – it's overweight if you're flying. And it represents the amount of leather and textiles that each Australian sends to landfill every year.
Every one of us … every year.
We know about food waste and that a third of food is never eaten – clothing waste runs parallel to that.
Every day we eat and dress to survive and thrive.
Our clothes do for us on the outside what food does inside. They warm and protect our body – and influence the way we feel.  Continue Reading →