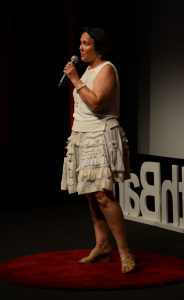 Brisbane-based upcycler Jane Milburn spent every day of 2014 restyling cast-off clothing and engaging others in the process of refashioning old into 'new' as part of the eco-social change project Sew it Again.
Using simple home-sewing skills to snip-and-tuck unworn textiles (mainly linen, cotton, wool and silk from op shops and friends) Jane then posted the upcycles at sewitagain.com to demonstrate ways to re-new rather than buy-new.
"Every day, we eat and we dress. We are now more conscious of our food and it is time to become conscious of our clothing and its footprint on the world. A global rethink about the way we dress is beginning, as people question where clothing is made and what from, is it ethical and sustainable, and does it exploit people or planet?" Jane said.
As an agricultural scientist turned creative, Jane is raising awareness about the ecological impacts of our cheap/disposable fashion culture that consumes finite resources and generates textile waste at an alarming rate. Continue Reading →