Brisbane-based textile enthusiast Denise Traynor believes that how we choose to spend our money ultimately has an impact on how things are made. "If consumers reject exploitative, wasteful production techniques, over packaging and excessive transport models by insisting on locally produced, fair-traded goods, we can lower our carbon footprint and reduce the demand for unfair wages and slavery used to produce them," Denise said.
Denise also believes that reusing and remaking otherwise obsolete items helps to counteract the wasteful, mass production, mass consumption model that is causing so much environmental and social harm in the world. "I believe our disposable society has contributed to this harm. Plastic fibres, wearing clothes for one or two seasons, produced in third world countries with poor employment and environmental protection records, has made mountains of waste and other pollution."
"I see fashion as one of the most wasteful, energy intensive and exploitative industries on the planet. The archetype that everyone should buy new clothing every season, and not be caught wearing 'out of fashion' pieces is simply unsustainable. The shopping malls are filled with expensive, poorly designed and badly made clothing that young women, particularly, are encouraged to spend a large proportion of their incomes upon. These clothes are often made in third world countries of synthetic materials, contributing CO2 to the atmosphere during the making of the fabric, their manufacture and their transport. Sweatshops in third world countries exploit workers, often minor children, to produce clothes that are designed to be obsolete in a few months. "
"Clothing and other decorative items made thoughtfully, of natural fibres, with care and pride should be embraced more to help alleviate these problems. I am trying to demonstrate that just because something doesn't suit you anymore, it is possible to use colour and craft to make them desirable again."
Denise learned to sew in a home economics subject during Year 7 at school. "I found that I enjoyed working with my hands and being creative. I continued to sew periodically through my school years, but really found my muse during my university years. Many of my clothes were handmade, being both a way to afford unique clothes and as a creative outlet," she said.
"I took my first quilting class in 1999. Since then I have made around 15 quilts. During that time, I started learning Japanese textile techniques and found that shibori was something that I loved. I started experimenting with different shibori-dyeing techniques on second-hand damask table cloths, napkins, cushion covers and even a doona cover, and crocheted table covers. These led me to trying these techniques on second-hand clothing, and I have become hooked!
"The Slow Clothing Project interests me because it is aimed at shifting the disposable clothing paradigm to a more sustainable model. Making your own clothes, keeping clothes longer, buying good quality second-hand clothing and redesigning them to suit your own taste are values that will help people to see clothes as products to be treasured that expresses our taste and creativity, instead of just as consumables.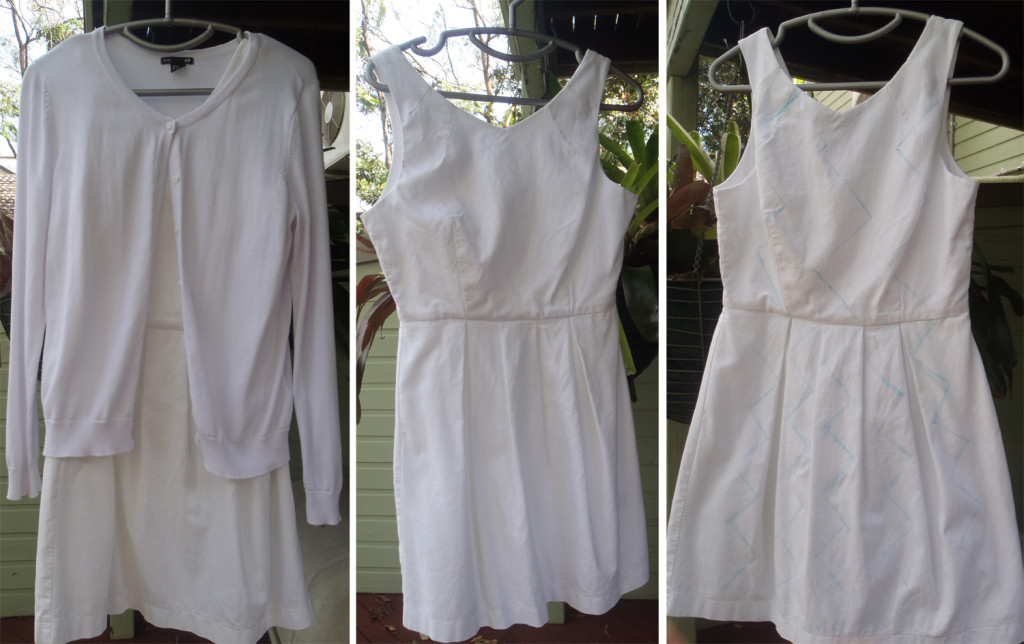 "I have dyed a pre-loved white, sleeveless dress from Sportsgirl and a white H&M cardigan in matching shibori pattern and colour (a synthetic indigo dye) to show that unrelated items can be combined to create a coordinated look." The technique involves marking up a pattern then placing rubber bands around bottle tops along the pattern lines, with these bands then resisting the dye (and remaining white) while the rest takes the colour as the garments are placed in the dye.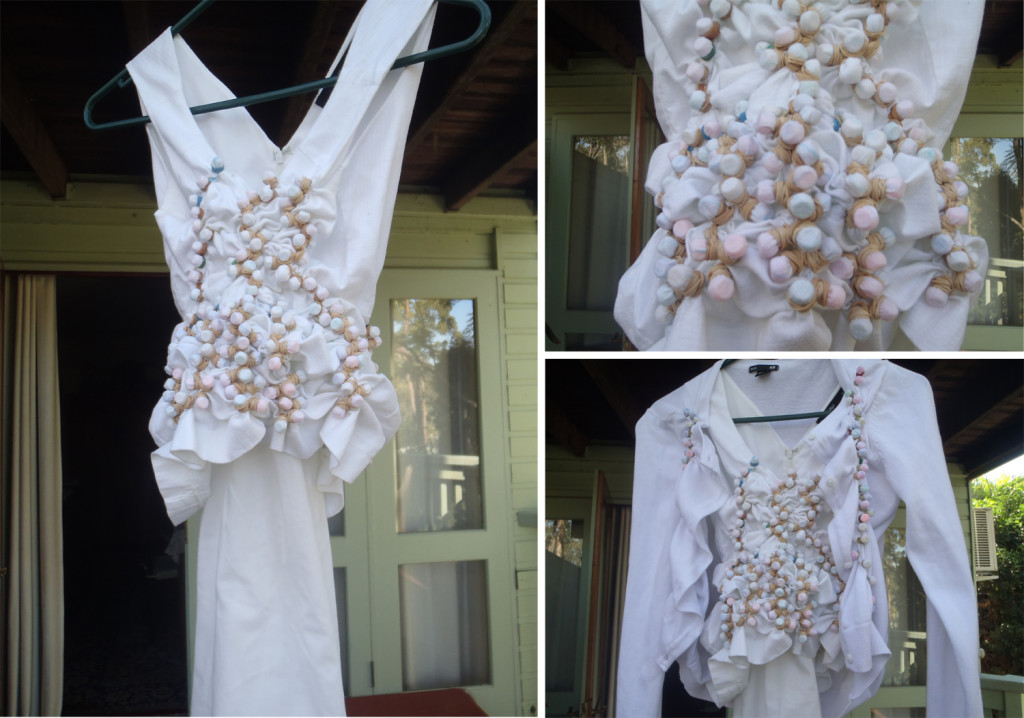 "I am always looking for good quality second-hand clothing items and add one or more colours using a variety of shibori techniques. I give these as gifts to friends and family, and wear many of them myself. I rarely buy 'new' clothes."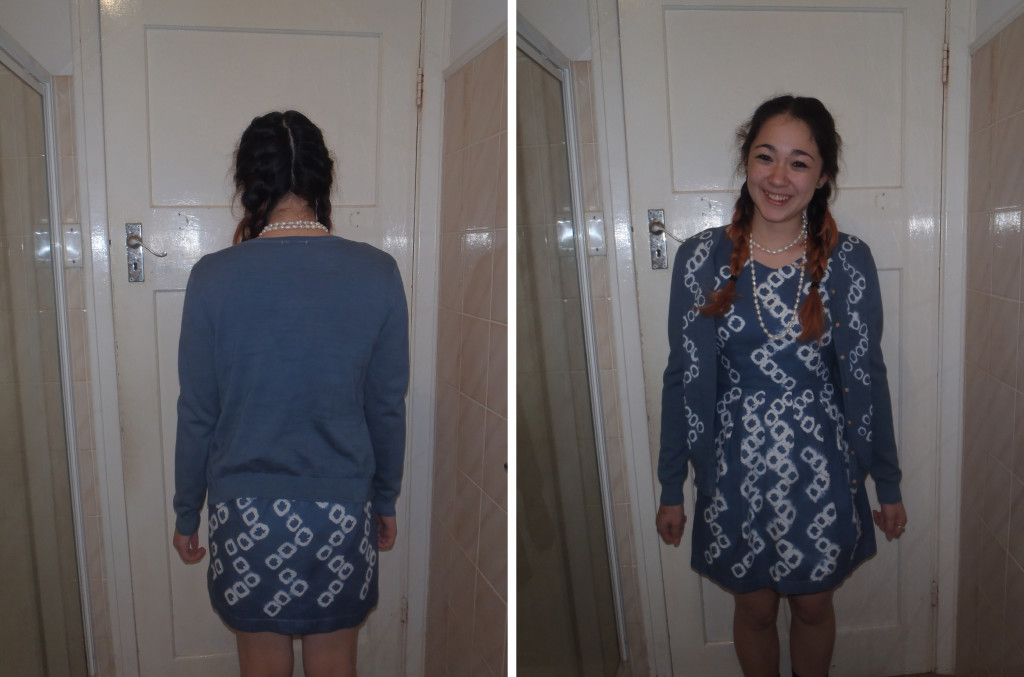 "I have a couple of young acquaintances who make clothes as part of the Cosplay (costume play) culture. It's a great way to learn to be creative, resourceful and have fun at the same time. They are also becoming wonderful seamstresses. Having skills that enable you to make your own clothes can translate into creative outlets and provides you with the flexibility to decide just what level you wish to participate in the slow clothing movement.
"Having a creative outlet, whether art, craft, cooking or whatever, adds joy to my life. I love to hand make gifts for friends and family instead of buying something impersonal. They really seem to appreciate that I have spent my own time and effort to produce something unique for them."
Unique, handmade with care and kindness – thank you Denise for your thoughts and contribution to The Slow Clothing Project.