Clothing has become so available and affordable in the past decade that most people no longer sew. Yet there are intangible rewards from making your own wearables, including a sense of achievement from reusing natural resources.
Canberra-based Sally Harris credits The Slow Clothing Project with giving her an incentive to sew again. "With such emphasis on new clothes these days, it is lovely to take part in the Slow Clothing Project and enlighten people to the good old ways." 
In her role as retired Grandma, Sally recently made her four-year-old granddaughter a Frozen dress from a sparkly shirt handed along through the family and that's the first time she had made a dress since her teenage days.
"I was so terribly worried that the dress would be too big or too small as we did no fittings due to the fact that it was  Chloe's 4th birthday surprise. But I did take several measurements (a number of times) to be sure. The most wonderful feeling of self-worth shall stay with me forever, as I zipped up the dress after assisting Chloe to put it on…it was as if it had been made just for her … and it had!!!"
Sally learned to sew in primary school. "In 4th grade, I couldn't wait to learn to sew on the old treadle sewing machines and it was some time before we progressed to the electric kind," she said.
"Most of my current wardrobe is bought. Until now, most of my sewing has been for repairs, hems on jeans, shortening things, making curtains and children's clothes. I'm trying to get back into being more creative now that I've retired and have grandchildren. I'm keen to continue upcycling and not lose the skills I have relearned.
"When you make something yourself, you have a greater sense of wellbeing. Fast fashion and consumerism make me feel uncomfortable. Yes, it's nice to have something new but it's even nicer to know you made it yourself."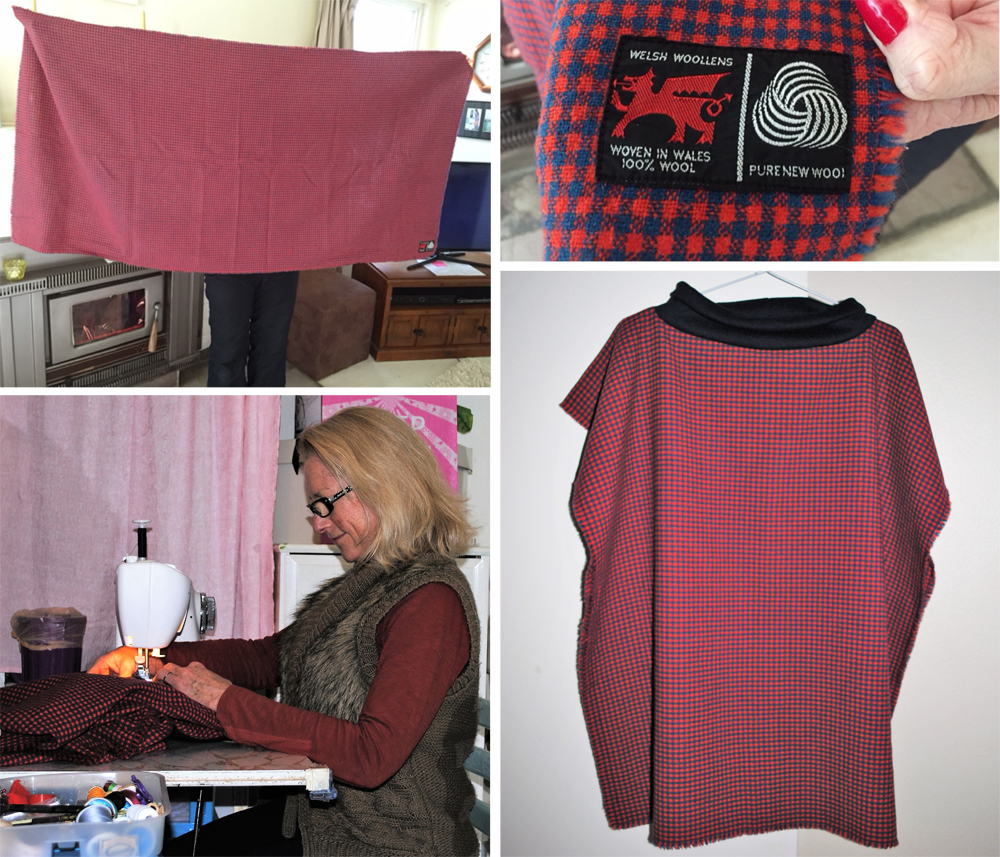 For The Slow Clothing Project, Sally refashioned a Welsh Wool rectangle of fabric gifted by Mum ages ago. "It was probably a knee rug but very scratchy. I turned it into an easy poncho design by adding a simple stretch fabric (bought from Vinnies) neckline.
Sally has found wonderful YouTube tutorials online and recommends that as a way of learning to sew some of the simplest things. Thanks for sharing Sally – keep up the good work!