Julie Hillier finds such pleasure in making things that she has turned it into her life's work – creating the Ministry of Handmade as a family business to share skills and the joy of making.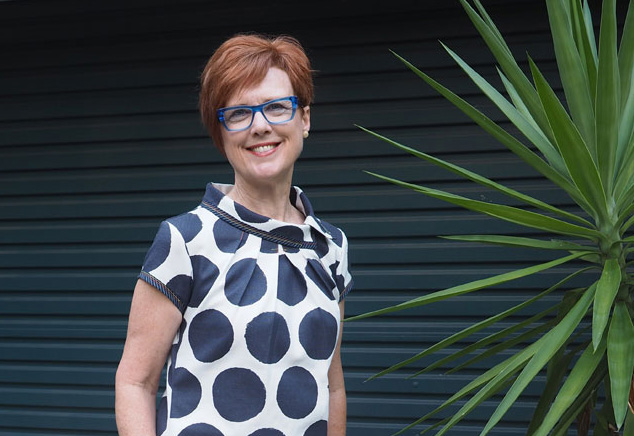 She has sewn just about everything … jeans, pants, dresses, tops, coats, children's clothes, bow ties, men's shirts, men's trousers, quilts, curtains, doona covers, pillows, tents, hats, bags. She's recovered lounge chairs, dining chairs and worked on other upholstery projects.
"As a sewing teacher I am very one-eyed about sewing! I view it as a basic life skill like cooking, knowing how to hang a picture on a wall, how to grow things in the garden and make simple repairs to household items that are broken. As someone who has never followed fads and trends, I have always set my own style with my clothing and tried to minimise what I spend on my wardrobe by being a maker," said Julie, who is based in Brisbane Queensland. 
The eldest of three girls and the daughter of a dressmaker, Julie spent lots of time in her Mum's sewing room. "I think I almost learnt to sew by osmosis, or like a very young apprentice, I was submersed in the work and language of a maker from a young age. I jokingly say that I learnt to count by sorting the contents of the old button tin on the floor of the sewing room while Mum sewed. I was using a sewing machine by the age of about eight and made lots of dolls clothes (from little patterns) for my younger sisters. I love sewing so much I have started a business teaching sewing so that others can experience the joy it creates as well!"
"I sew nearly all my own clothes now. I struggle to find clothes I like in the shops. I know what I like and what suits me and that is not always in fashion. I have some restyled garments and I do like the great finds you can make in 2nd hand shops."
Julie believes everyone should be able to sew on a button and re-hem their dress or pants. She is heartened that more and more people are wanting to know how to sew/crochet/knit/upholster/etc. The "slowness" of the handmade process allows people to focus on one task, move at a slower pace, engage their hands in a productive process all combined with creating something new. There is nothing quite like the thrill of being able to say "Look what I made!" "I think we are hard-wired to be creative and that our emotional and spiritual well-being is enhanced when we use our hands to make."
Her advice for beginners is just start! Learn some basic skills, practise, be prepared to mess up a bit, keep going, enjoy the process, find some like-minded people, set aside dedicated time to progress your projects. Set realistic expectations, start with small simple projects and work from there to build confidence.
Julie is concerned about the way in which garments now seem almost "disposable" because they are getting cheaper and cheaper to buy. Fast fashion makes her sad. SAD, for the makers who work in horrible conditions for a pittance, SAD for the huge waste that is being generated as people discard garment after garment that they probably have hardly worn because the clothing has less value to them because it was only cheap, SAD that we are establishing a culture that devalues the effort required to make something by hand, SAD that we are so consumption focused, ever-searching for that momentary high that comes with a new purchase, SAD that people have lost their role in the creative process of generating their own wardrobe.
She said The Slow Clothing Project is a great way to make a stand publicly and show that you can make, remake, reuse, refashion, and reinvent using the fabulous textiles and garments that others have discarded and/or place value on your wardrobe by sewing for yourself purposefully, creating garments that are intentional and considered.
Julie made a shift dress for the project. "The pattern is one that I have used for myself many times and it is also a pattern that I use for my workshop projects at Ministry of Handmade. I call it the Audrey pattern. The fabric came from two sources – the body of the dress is made from cotton duck leftover from an upholstery project from a few years ago. The trim is cotton or linen (not sure which as this was a remnant given to me by a friend when they had a destash). With a background in design, I love graphic prints and bold blocky designs so this fabric seemed like a great choice with its white background and large circular navy splodges. The fine navy and white striped trim made a great contrast and I couldn't resist the inclusion of yellow and orange top-stitching to add a bit of fun! I decided to add a few extra design elements this time round … a pocket on one side only to balance the asymmetrical bias roll collar and unhemmed bias strips for the collar, sleeve and pocket trim. These will fray just a little when the garment is hand-washed and add another layer of texture. As I have used this pattern before, the dress went together without any trouble at all."  Thanks for the inspiration Julie – looking fantastic!