Saadia Thomson lists many reasons to value slow clothing – sustainability, creativity, self-expression, uniqueness, enjoyment, learning and honing skills, sharing and being happy. She has come to dislike the culture of consumerism or affluenza and believes people get so caught up in the next fad (fashion or otherwise) they lose sight of what's important.
"Instead of collecting things – and getting into debt for stuff they neither need or really want – we can focus more on building skills, friendships, family connections and taking time to enjoy what they already have, being with family and friends; giving freely to others by sharing their skills and knowledge," Saadia said.
"I believe modern global consumerism and the concept of 'fast' and instantaneous everything does little more than stuff up the environment – so any short-term gain becomes long-term pain to our wallets and the environment. People are distracted from the important things in life. This is a soapbox issue for me because I believe the culture of consumerism is a stressful way to live – it creates guilt, unhealthy competition, debt, and contributes to mental health issues like depression and anxiety.
"Taking the slow road in life for me is taking time to enjoy what I'm doing, teaching my kids how to live a better life and avoid the pitfall of mass consumerism. I love to create things and find knitting and sewing to be so rewarding and relaxing. I can also use my skills to help others less fortunate by making useful things and donating to charities like Knitting for Brisbane's Needy or supplying Quilts for Project Linus, repairing and altering school uniforms for families at our school who can't afford the expensive brand new uniforms.
"I recently finished mending and restoring 42 dance dresses for a local dance school – this has saved the school thousands of dollars on replacing the garments. The school now has the option to sell some of the restored vintage garments to fundraise for other much-needed projects. The project took me two and a half years, upcycling and reclaiming where possible, only buying new as a last resort. This brought me tremendous satisfaction and a few challenges along the way which meant I had to learn some new skills! I also managed to teach of few mums how to do simple repairs, like hemming and sewing on press studs.
"For me, the slow clothing concept is about providing other options, thinking outside the box and helping others, enjoying the task and keeping costs down. I also get my fix from playing with textiles."
Saadia's mum and grandmother taught her how to sew, knit, crochet, bead, quilt and weave from an early age. "We started with dolls clothes and by my teens I was altering treasure I'd find in op-shops to fit – which led me to designing and making my own clothes from scratch with new/reclaimed fabric and embellishments; reviving or adapting existing pre-loved garments to suit my shape and style."
"Over the years I have made ball gowns, after-5 wear and lounge suits (Schiaparelli inspired), business style suits (think Anthea Crawford), skirts, dresses, trousers, shorts, resort wear, kids and baby clothes, toys, quilts of all sizes, bags from duffle to little dilly bags to back packs and craft project stuff-it-all-in types. I've also made my own millinery – almost always reusing fabrics and embellishments from older garments. I usually make my own lace from scratch but copy vintage pieces; if it's in good nick, I'll use it.
"My wardrobe is about 90 percent pre-loved, re-claimed vintage or handmade clothing. Almost all of it has been altered by me, to fit me, as I'm only a size 6-8 and the world pretty much supplies size 10-16. About the only thing I buy new is underwear or special requirement clothing that I don't have time or skills to make.
"I also knit and crochet often using op-shop found yarn. I love rescuing lone balls, giving them a new life as a beanie, scarf, blanket, toy, slippers or shawl for charity. It's cheaper than buying new yarn and supplies my knitting habit quite well – it's also VERY SLOW as it takes a while to build a stash."
Saadia love aprons for cooking and when she and daughter Erin wanted some new ones, Saadia simply began the process by buying two men's business shirts for $2 each at the opshop, one cotton and one poly cotton in excellent condition.
"My design process is fairly organic and evolves as I unpick and cut the fabric. I reused collars, buttons, pockets and lace from another recycled project. From two shirts I made four aprons: one café style, two half aprons and one child's pinafore style. The poly cotton shirt was mauve and white stripe, the cotton shirt was a fitted, blue patterned type," she said.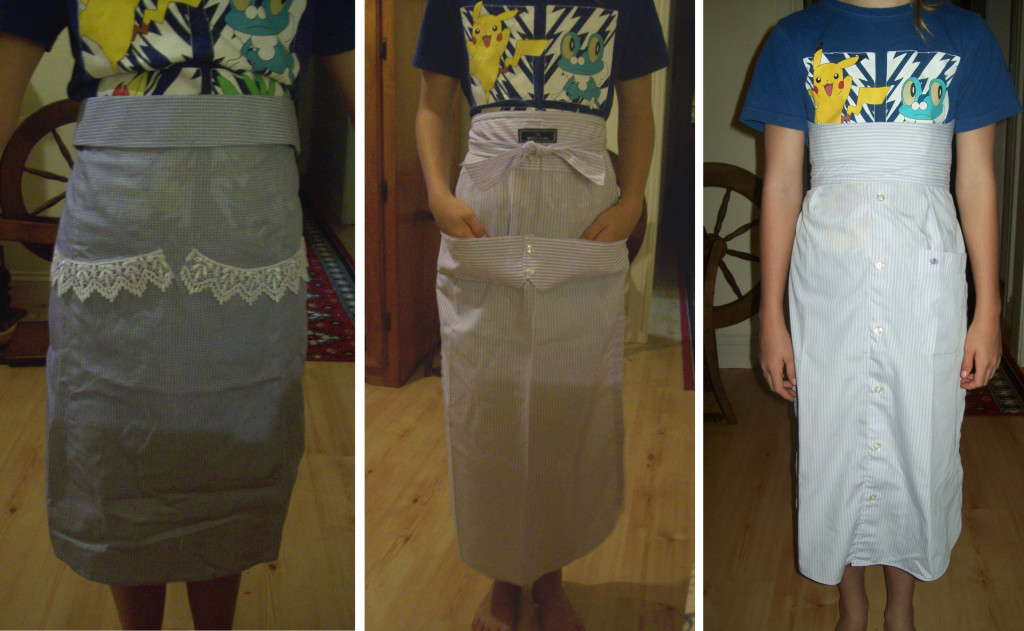 "The process begins by unpicking and cutting up the shirts – sleeves become strips for ties, collars become waistbands, cuffs become pen pockets or false pockets as embellishment. Lace is used for neckline and false pockets."
"Learning handmade skills teaches problem solving, expands design capabilities, builds synapses in the brain (good for kids and oldies alike), builds self-esteem, (especially when you get nice compliments for your garments) and encourages altruism (giving to others without self-gain). Handmade and upcycling can also save a lot of money; it gives you something to do on a rainy day or boring afternoon. I personally find that taking time to make things, be it sewing, knitting, crochet, weaving – helps me to calm my mind, deal with stress and fight anxiety. Handmade calms my inner self. Handmade says 'I care' or 'I love you' because the maker has taken their rime to make something special and unique just for you."
Saadia's suggestion for anyone learning to sew would be to experiment with your style, and don't be a perfectionist. "Sometimes the biggest stuff ups create the best features. Don't spend too much money or get caught up with 'must have' gadgets – stick to basics, keep it simple and you can't go wrong. Visit the local library to find design & fashion history and pattern books, magazines and DVDs. Ask a friend or relative who sews for help and advice. Practice sewing and needlework skills, the more you do, the better you get. I still use a 1950s treadle – it does one stitch only – you don't need a top-of-the-range expensive modern sewing machine, a modern basic one can be very useful. And last but not least – the op shop $2 fill a bag is a fantastic way to get lots of different garments to build your fabric stash, always go for clothes that are bigger than you because that gives more fabric when you re-claim it for a project. Avoid cheap fabrics wherever possible. I learnt by pulling old clothes apart to see how they were constructed; using these old pieces I then learned how to make rough patterns and toiles."
"Whether it's 'make do and mend' or an avenue for self-expression, sewing and handmade are life skills as much as cooking and budgeting – and all are skills that tend to be sadly neglected these days."
Well said Saadia! You provide an interesting reflection on what makes progress (defined as 'develop towards an improved or more advanced condition') and remind us of the need to value tried,true and useful skills.