Michelle McRae from Orange in New South Wales believes handmade skills – such as sewing, knitting/crocheting, gardening, cooking – are important for many reasons. They provide an outlet for creativity and sense of accomplishment. In turn this improves self-worth, independence and resilience. They also provide a connection to others, family and community, as skills can be taught and shared. In addition handmade skills provide for a sustainable community, both financially and emotionally.
Michelle is a self-taught 37-year-old maker who sews for enjoyment when not working full time. "My mother sews and I used to watch her on the machine when I was young. I vividly remember her wrestling masses of emerald green taffeta for bridesmaid dresses in the late 80s! My grandmother is a Country Women's Association member – a cooking judge, a horticulturist and a handcrafter. As a child on school holidays I learnt baking, gardening, embroidery, macramé, and making homemade Christmas decorations. As a teenager I was more interested in visual arts, life and fashion design. It wasn't until my early 20s that I decided to borrow my mother-in-law's old red Bernina and start making my own clothes. This was partly out of limited funds, as I was still a university student, and partly for having something original. I also lived near three good recycled clothing stores and wanted to be able to make alterations for work and maternity clothes," Michelle said.
"I first started making my own formal wear, maternity clothes, and then my kid's winter clothes and fancy dress. I have been upcycling garments – thrifted and own – for the past 18 months. I often give away much of what I make. I am now starting to focus on design and new techniques. I upcycle fabric, trims, buttons and zippers from old clothes for 'new' items and costumes. I also scourge op shops for vintage fabric, buttons, patterns and haberdashery. I try and focus on natural fibres as much as possible – best for dying and longevity of garment. I have also taught myself to crochet so I can add edges to items. I have made many different items including a dress made of several recycled jeans, with recycled upholstery fabric. The first half of 2016 was spent earning my Transformation Reconstruction Master's certificate from Japanese designer Shingo Sato. Shingo has pioneered origami-like techniques in fabric and fashion design."
"Much of my wardrobe remains manufactured as I work in a professional environment and feel obliged to dress to a certain standard. However my recycled and vintage items are starting to make their way into my work wardrobe. I have given away more than half of what I have made in the last year and I love that they are worn by their new owners. Often I make a piece and decide it suits someone else other than me – it's like the garment chooses the owner!
"I have been teaching my daughter to sew and she also enjoys the chance to be creative, be productive and design her own items. This project highlights the value of garments otherwise considered waste or no longer fashionable, that can be refreshed or recycled. I often pickup items that have a stain somewhere but made of a great fabric or of vintage items no longer considered wearable. Slow clothing promotes individuality, independence and sense of purpose, as well as a chance to practice design elements. It's not just about the fabric, but can include everything involved in producing a garment, such as vintage patterns, thread, lining, edging and accessories.
"I am involved in the charity 'Angel gowns' which repurposes wedding dresses into gowns for babies who pass too early. I am also in the process of organising a recycling/upcycling clothing workshop with high-school textiles students.
Michelle and her daughter Grace both created garments as part of The Slow Clothing Project,  during a mother and daughter sewing weekend. Michelle made a tunic and Grace some overalls (see photos above).
"I made a tunic based on Butterick pattern 6172. The front of the tunic has three separate pieces of fabric with finished edges. I have used large sections of three different tops for each of these pieces. The top layer is from a pink Salvo's tunic I obtained for a few dollars. The fabric was worn in areas and starting to peal, but I liked the printed pattern in grey and thought I would be able to use it somewhere. The middle layer was a peasant 'Katherine' top given to me by a sister-in-law to recycle. It wasn't a flattering cut on either of us! Its edge provided the perfect opportunity for this new tunic. The base layer came from a silk 'Von Troska' top that I picked up from a recycled clothing shop almost 20 years ago for $20. It was one of my favourite tops but no longer fitted properly and the ties at the sleeves and waist were becoming a nuisance and dated! The length was gained by adding a small piece of blue scrap fabric – which can't be seen," Michelle said.
"The back was made of pieced navy/white striped light-weight denim. I attended the Shingo Sato workshop at the TAFTA Fibre Forum in Geelong in 2015. As I was one of few who had driven to the workshop, I was given quite a few pieces of fabric that others didn't wish to carry home. I also took the opportunity to take home many scraps. Some of these scraps included the denim used in this tunic. I only just had enough to piece together here. It works well in contrast to the lighter fabrics at the front, however given that these overlap, I felt a heavier fabric was required at the back.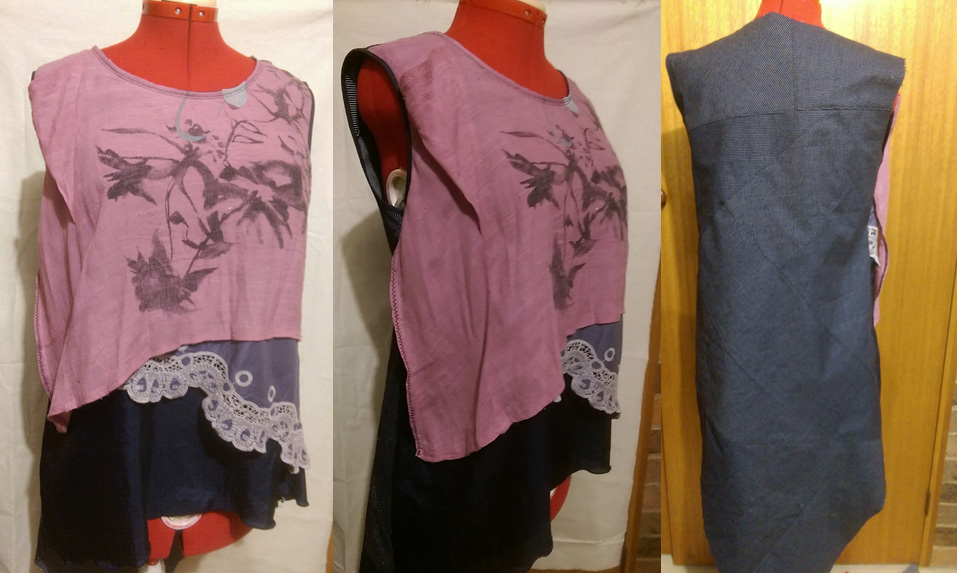 "On the same weekend, my 13-year-old daughter Grace also made a recycled garment, with only a little bit of help! (see photos at top). She was after a pair of vintage overalls … but alas, we couldn't find any. We did find a pair of cool stone-wash jeans with elasticated ankles. She removed the waistband and made the top part of the overalls from an old white stretch denim skirt handed on to her by her grandmother. She used the pocket of the skirt for the front and bottom of the skirt for the band. One strap was made from the waist band of the jeans and the other from part of the white denim skirt. She has worn them often this winter as they are made for her height and are comfortable. She loves receiving compliments on them. I helped place the straps and stitch the belt loops back on to the band."
Michelle said she has mixed emotions regarding fast fashion. "I work in an environment where I am expected to wear a certain type of clothing – tailored, classic. I love beautiful fabrics and clothes, however am becoming increasingly aware of the origins of the clothing that I love and increasingly uneasy purchasing from certain companies or countries of origin. I am continuously on the lookout for new ethical, local, slow clothing labels. I am making more from vintage and recycled fabrics, rather than buying new fabric. Through pinterest and etsy I am finding more online businesses committing to the slow fashion ideal," she said.
"I am a self-proclaimed 'shopaholic' – my mother had a shoe and clothing store when I was in university and was very spoilt with leather goods and scarfs in particular. In the past two years I have become more aware of the impact of consumerism and media propaganda on myself and my children – fashion, food, homewares, IT – and am becoming more resistive to mass-produced items in general. I like to know where my purchases come from and try to support local businesses and producers even if there is a price premium. I enjoy buying handmade items from local stores, galleries and markets for gifts. Female relatives seem to appreciate the effort and beauty of something handmade. They become precious items."
And what is Michelle's advice for those just starting out on their sewing journey? "Don't be afraid! Begin with repurposing and recycling from old clothes or thrifted items because these are 'cheaper' garments to start with. Also look on the haberdashery tables or the local fabric shop discount table – you can pick up bags of cheap threads and zippers to practice with, and basic patterns to help you refresh what you have. Sometimes I have things that don't quite work out – I don't throw them away though! I put them back in the 'recycling' tubs for future use. If you can't afford to buy one, borrow a sewing machine. There are many people out there with a machine that they haven't used for years. Or look in the classifieds and garage sales – I picked up my first dressmaker doll for $50 through the classifieds and it was brand-new in its box! Use pinterest for ideas, especially if you don't think you could ever have any ideas. Copy and learn a technique, then make it your own. Access online courses and tutorials in basic sewing – there are many free ones available. Sign up for blogger newsletters. There are many sewing blogs world-wide based on fashion upcycling – it's all about sharing ideas!"
Thanks Michelle and Grace, it is great to read and share your story of making and upcycling original garments from existing clothing. Well done!