Fiona Saunders' life has always included handmade, recycled and repurposed clothes. From a very early age her Mum taught Fiona to sew, sitting at the table with her, cutting out dolls clothes from scraps, using a needle and thread to sew them up. "When I was about eight, Mum she started to teach me how to use her new Pfaff machine with its decorative stitches. I have now started teaching my granddaughter to sew. She is only three but loves sitting next to me at the machine, passing me pins and sewing small scraps with a needle and thread into lovely lumps!," Fiona said.
"I made a yellow wool skirt when I was about 13 which I wore a lot, and after that I made many of my own clothes. Mum's Pfaff worked overtime as I made dresses for dances, including three annual school dances, and when we were at the beach there were bikinis to be made – you could never have too many. Mum's only rule was no sewing after 5pm if you intended to wear it out that night. She wanted the table cleared before we went out. I belonged to an amateur theatre group in Melbourne for years and loved being involved with the costume making. That's where I met two lovely ladies there who taught me a lot about remodelling clothes," she said.
"I was married in 1975 and Mum and I did the trek into Melbourne to Buckleys for me to purchase the fabric for my wedding dress. Once I got the $108 worth of fine ivory silk home and laid out, I was too nervous to cut into it. Mum said she didn't want to be the one to make a mistake so she was unwilling to cut my dress out. A friend of hers, Phil, used to be a tailor in Collins St and was now retired and running sewing classes on a Wednesday night, so I joined the class to make my wedding dress and Phil ensured it fitted properly. I learnt so much making my dress and kept going every Wednesday night for the next four years. Just after I was married, I decided I needed a new machine because my grandmother's old Singer, the first electric model, needed to be upgraded. I went off, new husband in tow, to the Melbourne Sewing Centre where my dream came true. The delightful sales person persuaded Paul that I really did need the top of the range Husqvarna machine, not the mid-range one I was willing to compromise on! It cost three times what my little Morris car had and was well worth every cent with all the work done on it. I still have it but bought another machine in recent years that has newer features that I love.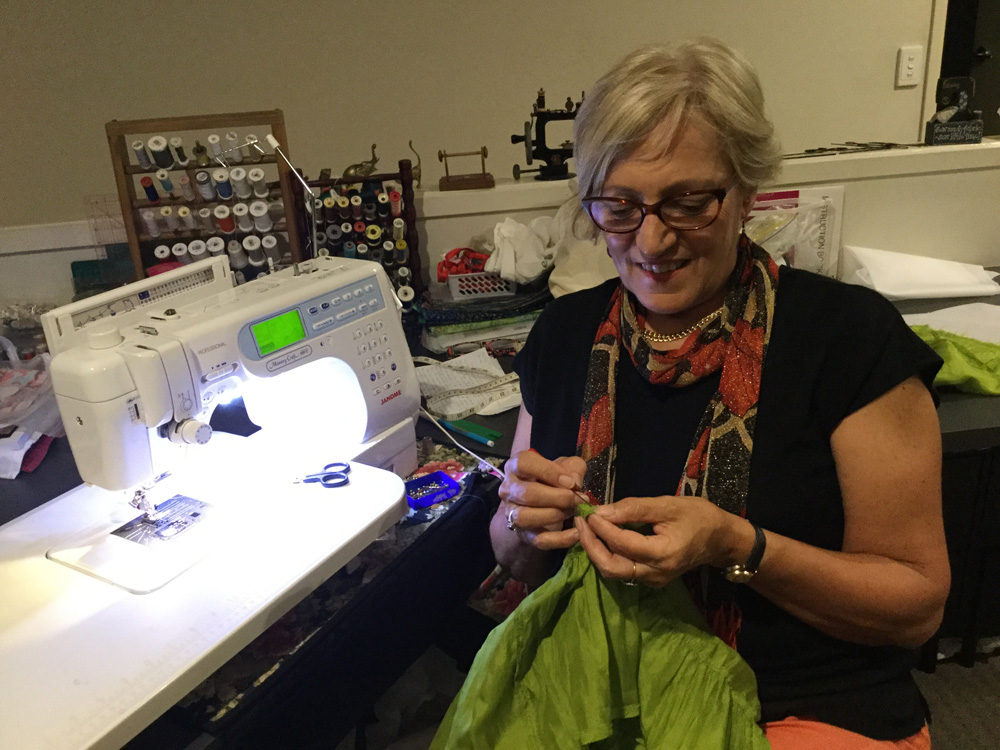 "Most of my special occasion clothes I make myself. It means I can afford the sort of things I like and I never face the horror of someone else wearing the same outfit at a wedding or other occasion. My wardrobe has a large number of 'bargain' purchases, both new and second hand. Anything I spend a reasonable amount of money on usually gets at least one, if not more makeovers. I love time spent looking at fabrics and at op shops.
"For many years I belonged to a cottage group and did a lot of patchwork, as well as attending specialist workshops over the years. One class I did was heirloom sewing. My first grandchild was nine months old when her parents got married so she needed two outfits for the wedding – a flower girl dress and a christening gown as she was to be baptised during the wedding! I got so much pleasure from making the christening gown.
"One of the best things about handmade is the great sense of satisfaction and pride you can have when you make something yourself and it usually saves you money – the time and energy spent are well worth the effort. It is the same with food. I always feel that homegrown and homemade food is the best you can have, the least expensive and the most nutritious you can get. I definitely do the slow approach to cooking. I love cooking and do a lot, love making food that I can use as gifts, chutneys, sauces, preserves of various sorts, cakes, slices etc. We very rarely have takeaway, only a few times a year, so every night I cook dinner from scratch, usually have leftover salad or whatever that I take the next day to work for lunch.
"In contrast, when I think of fast fashion it is what you buy quickly, on a whim and usually because it seems a bargain at the time, whether you need it or not. I usually regret these purchases. Now I have become more aware, I avoid these impulse buys.
"When I was invited to be part of The Slow Clothing Project, I went to my wardrobe and looked for natural-fibre items awaiting a new life and had a few to choose from! I selected a green silk skirt purchased about six years ago for $7 from an op shop. I love the colour but after it developed a couple of stains I stopped wearing it. I have a beautiful sequin dress from the 1920s that belonged to my great grandmother and the design of that was my inspiration. I love the costumes on Downtown Abbey and in the film The Danish Girl. My skirt was rather tired but was lined in the same silk so I worked out I could find some useful pieces from the lining. I purchased (at 1/2 price!) one metre of cream silk. Last year my lovely special aunt Maggie sent me a box full of bits of lace her mother had kept and treasured for many years and I chose a square edging that was a total of about 8.5m x 12cm. I tea-dyed the cream silk and the lace so they were a similar colour. I cut, sewed and fiddled without a pattern and came up with a version of what I was aiming for and then called on a good friend to help with the fine-tuning and fitting."
What advice does Fiona have for people starting to sew and make more of their own clothing? Following a pattern is like following a recipe, measure accurately, cut accurately, follow the directions and it will work. Once you've got that sorted, you can then start to change things to your liking. Thanks Fiona for great insights and creative upcycling!