Nina van Hartskamp loves hand-made things and discovering natural treasures. "When you wear a piece you made yourself (or was made by a friend) it has a story. And I have a big love for natural fibres, which are expensive when you buy them new. Luckily there are op shops! I can spent ages in second-hand stores. It's such a kick to find hidden treasures," she said.
When Nina was a little girl growing up in the Netherlands, her grandma used to make her dresses and she loved choosing the fabrics and looking through pattern magazines.
As a teenager, she sewed plastic flowers on almost everything and made necklaces from beach-findings which she sold to fund a swimming-with-wild-dolphins trip.
During Nina's student life, people had to pass a huge walk-in closet full of clothing to enter her room. Most of this clothing she'd bought from opportunity shops, which Nina then sold when she was 23 before going on a long trip that brought her to Australia.
"I'm still living in Australia – in Hobart, Tasmania – in a house that is stuffed like a sausage with fabrics, string, clothing, blankets like you can't even imagine," Nina said.
"I live with a textile queen, Kate Fletcher, and every day I stir pots full of plants and fabrics. We dye clothes which we sell in places such as Salamanca Markets."
Nina mostly taught myself to sew after she got a sewing machine for my 15th birthday. "I would upcycle second-hand clothing in my spare time, even though spare time was spare. Now I live and work with textile artists, which gives me the opportunity to really indulge myself in making and learning."
"About 80 percent of my wardrobe is either second-hand or handmade, I haven't bought a 'new' retail garment in three years, expect for a stunning dress that I bought at a special shop in Indonesia.
"During my travels in India and Cambodia, I've seen the conditions under which many sewers work and I wouldn't wish that on my worst enemy to undergo a life like that.  I don't believe anybody should wear or eat anything that is manufactured in way where you wouldn't want to be a part of the process yourself. It seems like an impossible thing to ask in our current system and I'm not a saint.
"I wouldn't want to work in a toothpaste factory and still I buy it. And we are all little pieces in a big world and the beauty is that some may love to work in a toothpaste factory. But I don't know if they do as I haven't met the hands that have produced the toothpaste I buy.
"When I know who made my dinner and who grew my vegetables, the food tastes better. For me, it's the same with clothes, you feel more attached and therefore more love when you know how something is made.
"At the moment we buy lots and lots and lots of stuff we don't really need, in packages we throw away immediately, from places we have never been, made by people we've never met and therefore we've lost the sense of connection and gratitude to a lot of things we own. This state of indifference makes us numb.
"Advertisements seems to respond to our numbness with flashy lights, smiling faces, and happy scenes to convince us that we are in need of yet another dress, because with that certain look you will be admired like you admire the pretty scene. But after you put on the dress that beautiful sunlight and the green grass don't seem to reach the fitting room and ah, it is showing your belly a little bit too much!
"Instead of teaching us how to create happiness, advertisements constantly want us to believe we are lacking things. In my opinion true empowerment comes when you create the life you want to live, and making your own clothes, creating your own style, adds to that."
When Nina undertakes a project, she tries to put her soul in it. "My father used to say: 'It doesn't matter what you do a long as you do your best.' I would like to alter that phrase by saying: 'Do what you believe is the thing that resonates with every cell in your body as right'. And 'doing your best' is allowing yourself the time to figure out what that might be."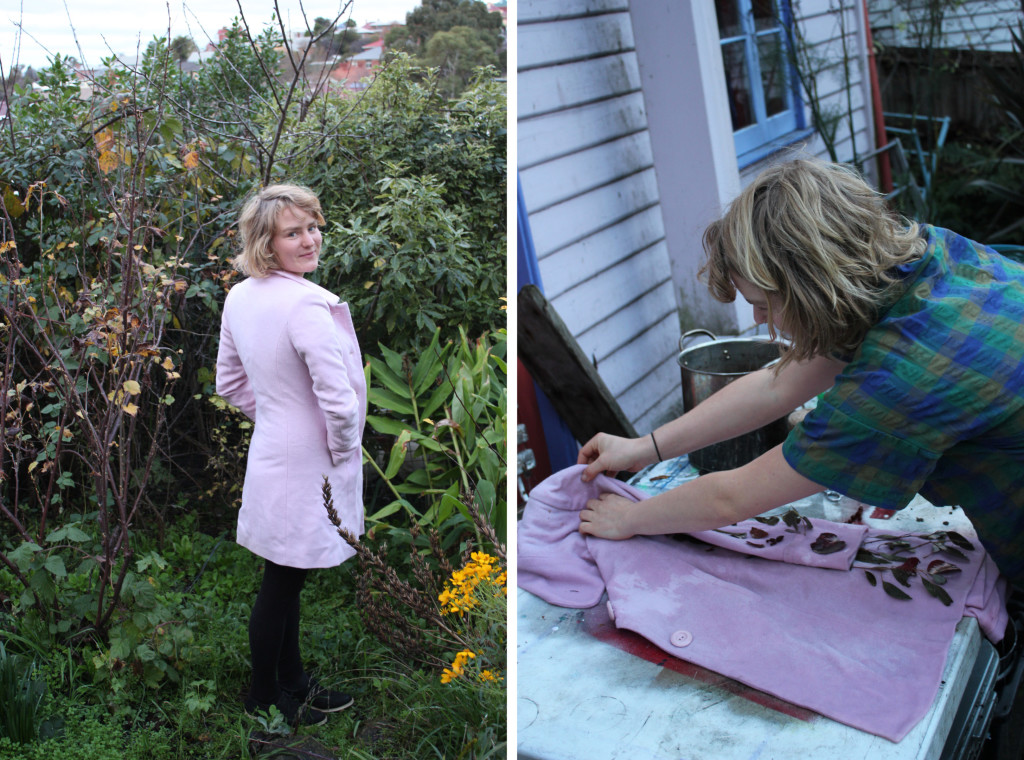 The garment Nina transformed for The Slow Clothing Project is an op-shop jacket that is dyed with eucalyptus leaves and rust. "It is one of the many I transform in this way, although it's always a little surprise when you unwrap your dyed item. I would say you have 60 percent control over the result and the other 40 percent is good luck," she said.
"That's what I love about the technique of eco printing, you are never sure of the outcome. Most of the time I try to use wool and silk as animal fibres take on natural dyes best. This woollen coat was dyed in a quince pot. A friend made heaps of quince paste and gave me the leftover peels. I cooked it for two hours with one spoon of alum sulfate. Then I wrapped various eucalyptus leaves in the coat, tied the whole bundle up and cooked it for another two hours.
"I love making and creating with my heart and hands. Clothing made while being respectful to the environment is something that I love to promote! And I believe that the technique of natural dyeing should be shared.
"Gathering any skill, empowers you as a person. You get less dependent on others, therefore less dependent on existing systems, and in the end it will provide you with ability to change things you disagree with. In my case the numbness we find ourselves in when we indulge in a fast lifestyle.
"For me 'slow' can be seen as being mindful. By allowing yourself to spend time with a subject, you become a part of it. I try to use this philosophy in anything I do, from cooking to making life decisions."
So what advice does Nina have for beginner makers?  "Play and enjoy! Don't get frustrated when a certain outcome doesn't match your expectations. By trying, you have come one step closer, as you now know how you don't want it. And gather friends with the same interest, making things together is so much more fun!"
Another of Nina's projects involves creative drawing and story telling on her blog Street Draw.