Kate Fletcher from Tasmania has been involved with making and recycling clothing as long as she can remember. For the past 10 years she has organised a sustainable clothing show at the Local Sustainable Living event in Hobart, motivated by growing awareness of the environmental and social impacts of the global clothing industry.
Kate's individual style is influenced by people at home and abroad, many of whom she is connected with through the volunteer program Willing Workers on Organic Farms.
"My favourite thing about my clothing is that it is a conglomeration of different makers who have lived or wwoofed at my house and members of our Tassie Dyeing Divas mob, plus things I have traded with friends at clothes swaps," Kate said. "Apart from undies and thermals, the only new purchases I make are from local designer-makers – most of whom are known to me.
"I am always darning, patching and dyeing fabrics and garments. I often have a number of wwoofers and we create garments together. At this moment, Nina is creating a garment using a Japanese pattern and a sheet she dyed with plants, and Aden is overlocking several wool tops made with fabric from the op shop.
"My motivation is doing whatever it takes to keep garments looking great, in circulation and away from landfill. I also enjoy networking and sharing ideas, skills and resources."
Despite having always been a maker, Kate doesn't remember learning to sew the way she remembers learning to cook or knit. "Sewing was just there, mum made everything and I can't remember not sewing. I still have my homemade Barbie clothes and a patchwork quilt I made aged 21 which has squares from my teenage dresses, curtains and cushion covers," she said.
"I mostly sew clothes, but also cushions, bags, curtains and a number of art pieces. I have a very eclectic wardrobe, mainly handmade, upcycled, recycled, second-hand clothing. I trade in these things so I have access to a wide variety of raw materials. My most typical raw materials are blankets, sheets, curtains, tablecloths and doilies. I prefer natural fabrics. My favourite unusual find recently was a cloth meat bag which covered a whole lamb carcass.
"I make stuff all the time and most often the way I acquire new clothing is when I make or dye something for our Salamanca stall and it fits me, so I keep it or one of my wwoofers makes or dyes something I like. I enjoy thinking about the people who made the garments when I wear them. For a day like the sustainable clothing show, I will often wear pieces stitched by a number of different people."
The story Kate tells about the new garment in her wardrobe which we showcase here for The Slow Clothing Project epitomises the difference between slow clothing and fast fashion.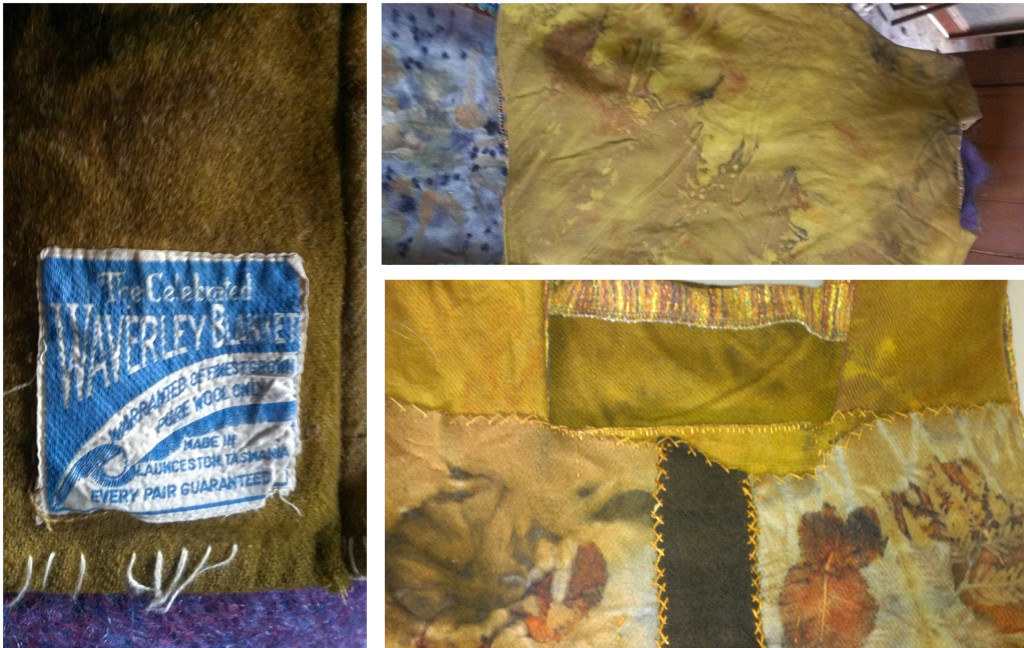 "It is actually quite rare that I get to make a garment for myself, so when Jane encouraged me to make myself a garment for The Slow Clothing Project, I was really excited. I had some cloth dyed with privet which I had been going to make into a garment for about three years and then something happened which started me on a new journey. Christina a talented, quirky, fun-loving wwoofer who spent a few months at my place was caught up in the Fort McMurray bushfires in Canada. I was at a bit of a loss about how to let her know that I cared and that I was thinking about her. I got out my collection of beautiful 'scraps' and found quite a few that Christina had dyed so I started to stitch them together over the next month while Christina was racing down highways escaping bushfires, advocating for other evacuees and camping out in the back of her friend Rob's truck. I was still stitching when I got to Alice Springs and my friend Caresse's mum was leaving this mortal coil. I stitched with my friends at Friday darning, with Sarah, Nina and Aden and through a few footy games. I have ended up with a rich tapestry and a beautiful journey which money could not buy. It started life as a cream blanket and the thread I stitched it with is op-shop found thread which I dyed," Kate said.
"I was vaguely copying a garment I already owned and because I was randomly stitching pieces of fabric together, I did have some difficulty getting the final garment to hang how I wanted it to. In the end, I just embraced how it was."
Reflecting on fast fashion and the culture of consumerism, Kate said it is sad and soulless. "I want people to think about this and give up believing that buying a new garment so cheaply that they can just throw it out without a care – that is not a smart idea and is not sustainable. One thing I am most concerned about is textile workers having a living wage."
Slow living plays out in the lives of Kate and her colleagues in their cooking, cleaning and willingness to mend rather than replace. "We grow things to eat and we forage for the dyepot and the table. We network and share. For about 10 years now, I have organised a sustainable clothing show as part of the local Sustainable Living Event. We also have a clothes swap and a stall for local designer makers as part of the sustainable event, and last year a panel discussion. I am keen to educate people about the impact of the clothing and textile industry on the environment. I believe it is very high up amongst polluting industries on the planet and many, including environmentally aware people, don't take it very seriously. I think this is changing."
For some time, Kate has been entering exhibitions and competitions focused on sustainability and environmental issues. "I have encouraged the people I share my home with and other friends to be involved. As well as drawing awareness to the issues, it also gives me an opportunity to take myself on and to take what I create to the next level. I believe in modelling what I think is important and what works for the planet," she said.
"The magic of my creative life is that I share it with people I love and I get to love them even more because of what we share. I host darning regularly on Fridays and when out-of-town friends come to visit, we can create together.
"I have a network of over 300 wwoofers around the world and often when I create for the annual sustainable clothing show, I involve the current residents in the making. One year my creations were called the International Sewing Circle and the works I presented were stitched by a variety of people. Last year I had #Gatherlove and people from round the globe and local people sent me buttons, bunting, fabric which created a connection between us. I had serviettes from Swiss grandmothers, elastic from Estonian grandmothers and beautiful antique fastenings which were incorporated into garments. This year Sarah, Nina, Aden and I have produced numerous garments for shows, competitions and for the market stall which we have all worked on together. The energy of a group of people working towards a deadline together is divine."
Thank you so much Kate (and friends) for sharing and caring about clothing and community – it was great to join in when I was in Hobart earlier this year! #slowclothing