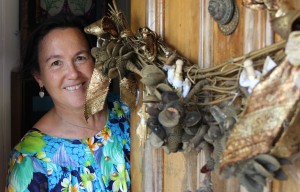 Christmas often involves conspicuous consumption of one sort or another because it creates wonderful opportunities to share, care and spread goodwill to all.
Everyone's approach oscillates on time and energy available to invest in preparations and ages of children in your circle at the time.
One of the easiest decorations to store and restore each year is the Christmas wreath, traditionally circular in shape to represent eternity, the unending circle of life and unity.
The wreath we've had for decades is actually swag-shaped and I love giving it a fluff up each year by adding or subtracting cones, ribbons, bells or other shapes to achieve a creative invitation for the spirit of Christmas to enter our home and bring good luck. 
Familiar smells of star anise and cinnamon waft from the decoration box when retrieved from 'heaven'. It is quick and easy to magic smelly shapes from nature into decorations that stay with you for years. Nearly as easy as spraying gorgeous cones and seed pods.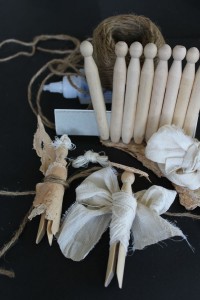 Decorative silk strawberries may not have the gorgeous aroma of fresh but one forgives them easily because of their eye-catching prettiness. These decorations are a little more complicated and time consuming to make, but their beauty remains long after that time is forgotten. Absolute favourites are Christmas dolly angels, traditional wooden pegs decorated with an assortment of fabric, ribbons, bark, string, buttons, or whatever you fancy. Use the front of last year's Christmas cards strategically cut into two, three or four as this year's gift tags. Our bright green wrapping cloths live on year after year because they are just fabric squares, fixed with safety pins and cloth ribbons.
Christmas angels: Craft stores have old-fashioned wooden pegs, seek those with beautiful rounded heads. Decorate to your satisfaction wrapping ribbon a few times as a skirt and tying bow for wings, or use bark or ribbon as a skirt. Keep glue pot handy. For hair, knot the threads that come loose when you tear silk into ribbons, use string/buttons or be bald.