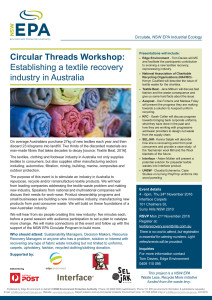 At the Circular Textiles Workshop in Sydney, Jane Milburn presented on the waste consequences of fast fashion.
Watching the Rana Plaza factory collapse in Bangladesh unfolding on television in April 2013 opened my eyes to fast fashion, industrial supply chains and modern-day slavery. I'm a member of Fashion Revolution – a global movement in 80 countries working to increase transparency along the clothing supply chain. And I've set up Textile Beat as a vehicle to talk about slow clothing.
Journalist Lucy Siegle says 80 billion new garments are produced globally every year and fashion is the second-most polluting industry after oil. Clothing is so cheap it is almost disposable, discarded after only a few wears.
The United Nations reports at least 1/3 of food produced is never eaten – it is likely a similar amount of clothing is wasted too. There are ethical issues – impacting on people, places and the planet.  Continue reading →