Slow clothing is a different way of dressing and thinking about clothing than the way most of the world sees it, says New South Wales teenager Eliza Kelly. "It is exciting to think that I can dress in a way that uses old, or out-of-fashion clothing to make something new. I love the way that I can create something original, unique and different. Isn't it awesome when someone says 'what a nice …… where did you get it?' and I can say that I made it! It makes me warm on the inside when I know that I have recycled something and given it another life," Eliza said.
"The attitude of the world today seems to be that 'new is better', and 'more, more, more', but I think that there is so much beauty, uniqueness and stories to be told about recycled and re-modelling clothing. There is so much to be gained by recycling and re-using the materials that we have been given, and changing things with older fit, style or fashion to be useable today and tomorrow," she said.
Eliza believes there is huge value in using your hands to create. "It is not only the end product that is so worthwhile (which I totally agree holds its own value), but the process of using your imagination, creativity, and skills to turn a few scraps of fabric, some thread and a needle into something useful … turning not a lot into a new useful item! The actual act of creating a product also gives the maker satisfaction and self-worth – something that is being searched for in today's society. Using your hands (whether it be woodwork, sewing, welding … whatever!) and taking the time to slow down, and put time and effort into making and producing something unique is rare in this day and age of consumerism where most things are cheap and bulk manufactured."
She and her siblings were and are being home-schooled by their mum Jen at Trundle in central west NSW and Eliza has been sewing ever since she can remember, at about five or six years of age. "Mind you, all the word sewing meant was two pieces of material stitched together (no pattern included)! All that I know about sewing either my mum, or Grandmothers have taught me or I have learnt via the internet or experimenting myself. I can remember when I was only about 5 – whenever we had any visitors, my older sister and I would rush out to the sewing room, and make this guest a small bag out of whatever scraps we could rustle up. We were not tall enough to reach the pedals while sitting in the seat, so one of us would man the pedal while the other steered the fabric. I can vividly remember one time sewing over my sister's finger! "
Eliza has sewn lots of different things – seat covers, dollies clothes, quilts, my own clothing, a ukulele case, beanbag, applique items, and bags among other things. "I tend to do a lot of modifications to my clothes. About 90 percent of my wardrobe is second-hand/hand-me-down and about 50 percent of that has been either remodelled, restyled, fixed up, or handmade. I have also just recently started exploring the world of leather and canvas work with an industrial machine and have made a few pocket knife cases and canvas bags for my dad and a few other people," she said.
For the Slow Clothing Project, Eliza created a denim wrap–around skirt from pieces of old jeans, which she originally planned to make into a dress.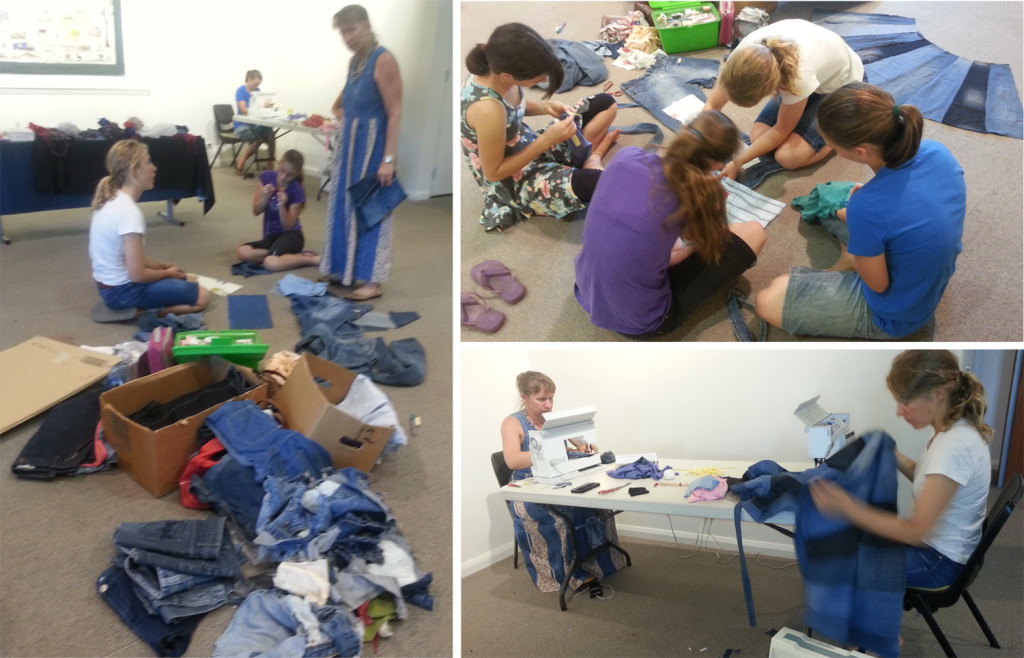 "I wanted to use old jeans, and I had a chambray shirt that I was going to make the bodice out of. First of all, I made the skirt part of the dress. An A-line pattern piece was made and 13 panels were cut from it out of the legs of jeans. These were then sewed together into one big circular piece. This was then going to be attached to the shirt, but after much consideration and advice from my mum and Jane Milburn (at a Parkes Shire Council upcycling workshop), I decided to make the dress into a shirt and skirt set instead. This would give me the option of wearing the skirt with other shirts, and create much more possibilities for use. The skirt then had a waistband and long ties added to make it into a wrap-around skirt, and some belt holders were unpicked from some jeans, and attached around the waist for the ties to be threaded through. The shirt then had the sleeves and collar cut off, and some home-made denim bias sewn around the neckline to match with the skirt."
My favourite Eliza memory from the Parkes upcycling workshop earlier this year was of her helping others while capably managing and finishing her own project. Great to hear Eliza won the High School Functional category in the Parkes Waste-2-Art competition with this creation – named the panel beater!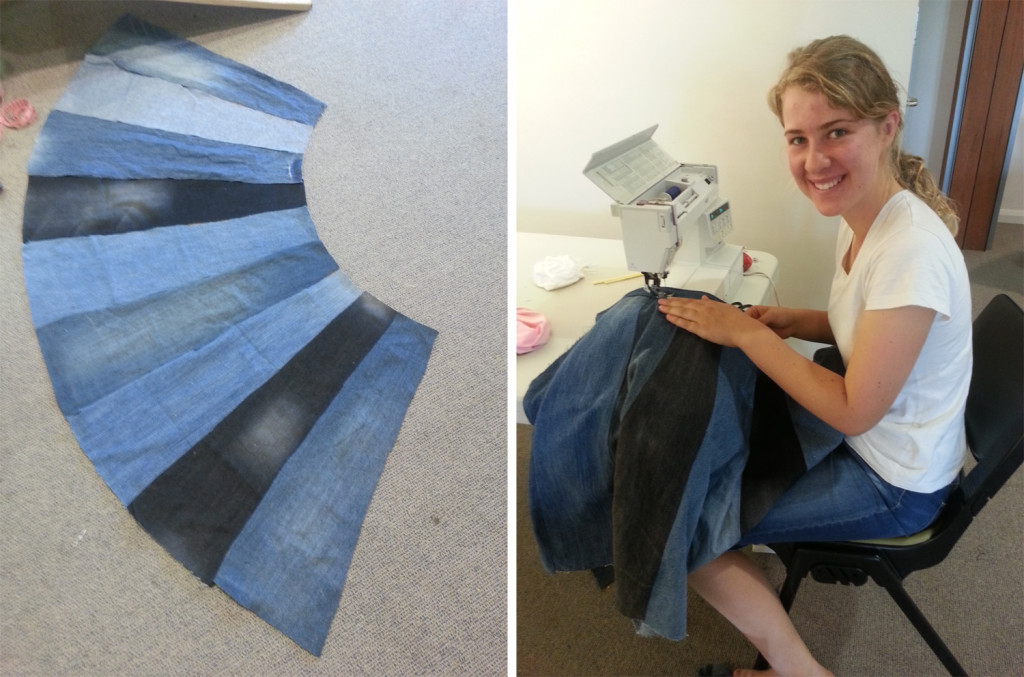 So what's next for Eliza? "I love to be outside. No matter what new technology and gadgets we invent, I think that getting outdoors, breathing in fresh air, and getting active is priceless. I find that when I go outside, and just spend time in nature, I feel small, and see that God is so big and in control of everything – it puts me into perspective. Another thing I do is cook. Not ordinary out-of-the-book, follow-the-recipe cooking, but radical, spontaneous, make-it-up-on-the-spot cooking. Most of my recipes are un-repeatable and consist of whatever I can find in the cupboard or the fridge, and (very generally speaking) turn out not too bad. I love the way that I am slowly learning from my past mistakes, and learning to create new and exciting tastes that are different and unique each time! "
As a creative maker, what advice does Eliza have for others just starting out? "Just have a go! It's amazing what you can do with just a needle and thread (or sewing machine!). Let's be honest… I find that often when I make my own clothing, it isn't perfect or flawless… it's handmade – and you can usually tell!!! They have a hand-made look about them, which makes them original. This can be off-putting for some, if they want their clothes to look 'just right', perhaps 'normal'. But I remind myself that home-made clothes are not shop-bought, and we shouldn't pretend they are. Making your own clothes is a journey, not a destination."
What a great ethos – go Eliza!