Melbourne-based Tamara Russell knows firsthand that handmade is so much more satisfying than a quick purchase. For many years, she has been remaking, revamping and reworking her own clothing from other people's hand-me-downs or op shop finds.
She believes the slow, meditative process of sewing, knitting, crochet and stitching is great for body and soul, slowing one down to enjoy life around them and to be proud of their own creations rather than a quick purchase to follow 'fashion' and then disposing of items as they go 'out of fashion'.
Tamara is a textile artist specialising in free machine embroidery and hand-stitching. She enjoys creating and sharing craft skills and ideas along with introducing people to creative ways they can incorporate upcycled, recycled or reclaimed materials into their craft.
"I love sitting and stitching, so remaking clothing is a great way to relax and add my own additions. I spend an awful lot of time with either a sewing machine before me or hand stitching as I find it not only enjoyable but inspiring to create," Tamara said.
"My cardigans are created from woollen jumpers/cardigans which have either worn out in the elbows or are strange shapes or sizes.  I then felt them in the machine and start cutting.  I combine different woollens or add cut-down linen and silk shirts, skirts or trousers or add hand-knitted pieces.  On to the final item I then add vintage buttons and embroidery.
"I don't purchase any fast fashion, only second hand.  I find it abhorrent the waste in materials and lives which go into this crazy need to always have new.  I hate shopping in malls and am fortunate to live in northern Melbourne where I can purchase from small shops and local makers.  My home is filled with all things second-hand, upcycled or recycled. I have been a reuser/slow life advocate forever preferring to renovate items."
That's why Tamara loves the concept of The Slow Clothing Project as a way of raising awareness of the wasteful way Australians consume fashion.
For the project, she upcycled a cardigan that was hand knitted but too large for her. "I machine-felted the cardigan and made adjustments to the design with some kimono silk offcuts from my stash, red stitching and some buttons a friend gave me from Paris.  To make it cover my rear-end I added a cable knit machine felted base to it."
"All my altered clothes are generally one or two items that are either worn, too large or too small and/or just need a good update. I then cut and reshape, stitch together by both machine and hand stitching.  A lovely slow project and as you can see in the making photo, a great way to spend a sunny Melbourne day."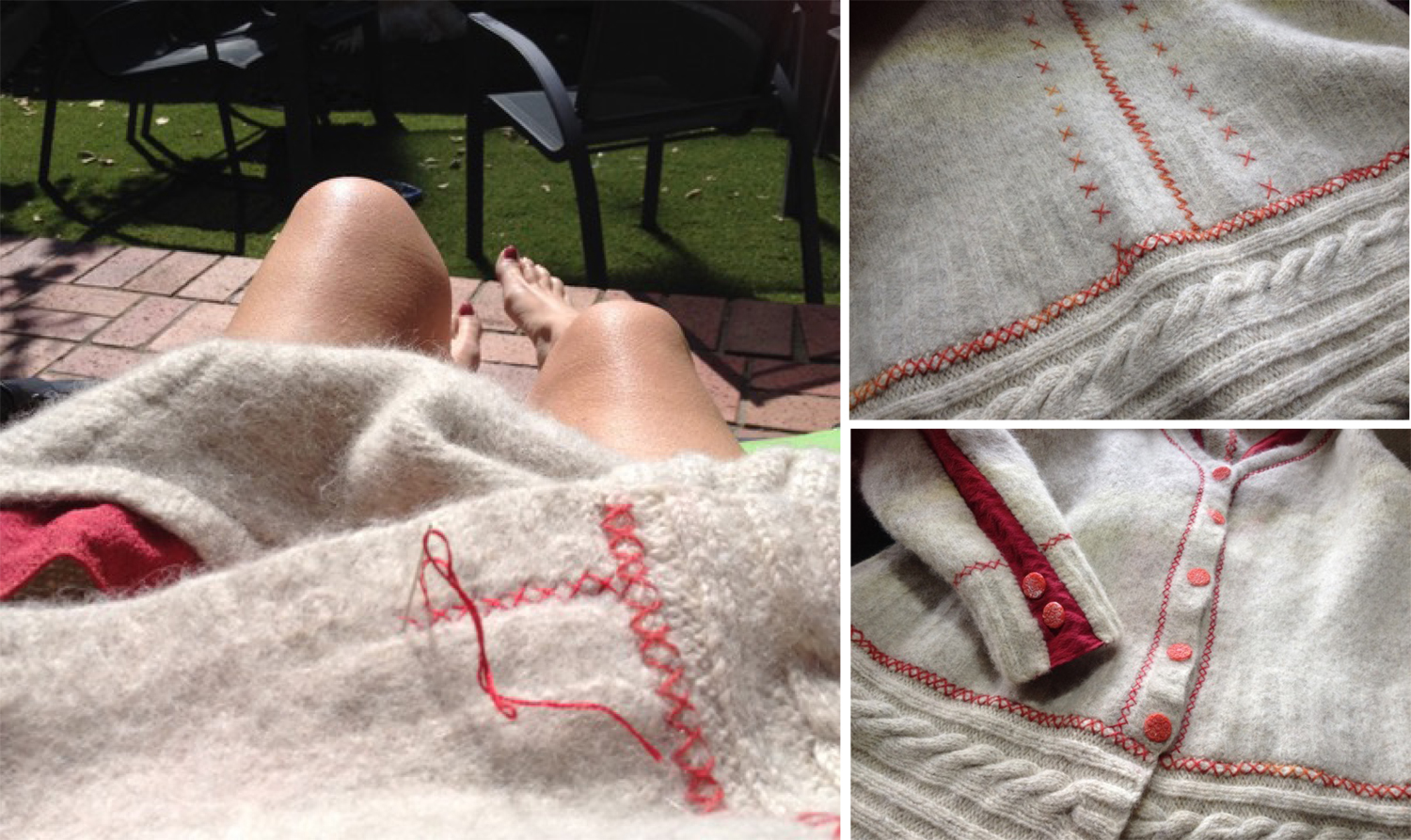 Tamara originally learned to sew with her mother. "She was a great seamstress and maker.  I was taught on an old Anchor sewing machine, which I still have now that my mother has passed away.  I went on to do textiles through high school and made the majority of my clothes through my 20s as I like to create my own style. I continue to make a lot of my clothes or to remake things I find in charity shops or recycled clothing shops."
"I sew pretty much everything! Curtains, cushions and other home wares, children's clothes, my clothes, wall art, sculptural items, bowls etc.  I would say that about half of my wardrobe would be homemade, restyled or vintage."
She loves slow cooking and eating too, enjoying the process of preparing meals and sitting down to enjoy them over conversation. The majority of her home is created with items saved from the tip, charity shops, second-hand shops or by ebay in later years. "I love to restore classic pieces rather than purchase new."
And what is Tamara's advice for others just starting out on their maker journey? "Enjoy! Being able to make individual clothes to be proud to wear is a true delight.  There are no errors as you can always recreate into another item."
So true Tamara, creativity emerges when you press on and find an original pathway to overcoming blights, blemishes or blunders!
In Melbourne, Tamara facilitates the creative website www.creativemoreland.com.au and her sustainable textile art website is www.karhina.com